SEXY FAMILY MAN - IT'S OFFICIAL
It's not all bad in politics, well, apart from a few red faces as to foreign funding. No problem, they gave the money back. We at Bushy Wood are hoping David will be up to tackling Planning Crime.
Tory leader David Cameron has made it into a poll of the world's 100 sexiest men - with the top place taken by Brad Pitt. Lord of the Rings star Orlando Bloom, 29, is the highest-ranking British actor, in third place. Jake Gyllenhaal, 25, star of gay cowboy movie Brokeback Mountain, is second. Johnny Depp is fourth in the list of the 100 Sexiest Men in the World, followed by British star Clive Owen. Shayne Ward, the X Factor winner, ranks higher than Jude Law and Bond star Daniel Craig by winning seventh place in the poll for New Woman magazine.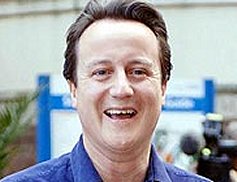 With 59 names in the top 100, more than half the Sexiest Men in the World are British, compared with 30 from the US. Mick Jagger is the oldest name, with the 62-year-old Rolling Stone in 67th place. The youngest on the list, where the average age is 33, is 16-year-old Soapstar Superstar Richard Fleeshman, at number 77. David Beckham is 14th New Conservative party leader David Cameron, 39, is the only politician to make it into the top 100, grabbing 92nd place. The Eton-educated MP has been voted more sexy than You're Beautiful singer James Blunt, fiery actor Russell Crowe, footballer Ashley Cole, and pop star Will Young.
Conservative leader David Cameron has said he is "really excited" after wife Samantha gave birth to their third child - a boy - by Caesarean section. Mrs Cameron, 34, gave birth at St Mary's Hospital in Paddington, London, with her husband, 39, at her bedside. Baby Cameron was delivered at 1155GMT, weighing 7lb 13oz. Both mother and child are said to be doing well. The Camerons, who have been married since 1996, have a son Ivan, three, and a daughter Nancy, two. Mr Cameron told reporters outside the hospital that his new son had blue eyes and black curly hair. He added that his wife was "sitting up" comfortably and said of the birth: "It was all over very quickly." Mr Cameron said: "We are going to be here for a couple of days while we make sure everything is OK. "We haven't got a name yet - I can't make decisions like that." Asked whom the baby most resembled, he said: "All of us." Mr Cameron had been in a meeting with his shadow cabinet in the House of Commons at 0845GMT when he got a call to say his wife was on her way to hospital. The baby was born slightly earlier than the expected date by Caesarean for medical reasons - both previous births have been by Caesarean.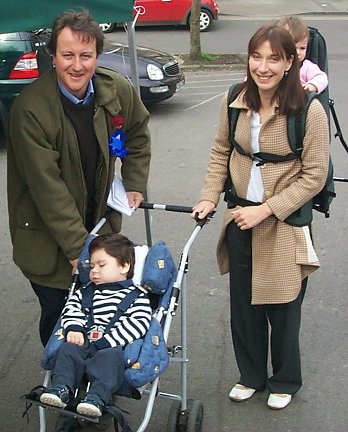 David and his family in Chippy Market Square back at
election time in May. With thanks to www.chippingnorton.net
Friday, Conservative leader David Cameron has announced his new baby son is to be called Arthur Elwen.
The Tory leader said the names did not have any particular significance but he believed somebody on his father's side of his family was called Arthur. "Arthur we've always liked as a name and Samantha found Elwen in a book. We thought it was a good name," he said. He said the family were doing fine, despite sleep deprivation. "It's absolutely great to be home and it's actually been very easy," he told reporters. Parliament has just begun a week's break but Mr Cameron defended his decision to take two weeks' paternity leave. The family are planning to go to their house in Mr Cameron's Witney constituency later on Friday.

Mr Cameron said Ivan and Nancy were getting used to the idea of a new baby brother. "They seem very chuffed about everything and it's lovely. I have had a better nights' sleep - but that's all part of it." The family later headed back to their home in posh Chipping Norton, Oxfordshire.

WELCOME TO CAMERON COUNTRY!
Chipping Norton Home

Finding us
A "secret" road
Description
Map of Chippy
Stay in Chippy
Stay nearby
Holiday Cottages
Things to see
Chippy's Pubs
Pubs Nearby
Restaurants
Some History
Party funding
The Conservative party


31.03.2006: Tories name some lenders, and pay back others
31.03.2006: Statement on Conservative party funding
31.03.2006: Cameron is forced to reveal names behind £24m loans
30.03.2006: Tories warned: come clean on loans or face court action
29.03.2006: Detectives to probe Tory loans as honours inquiry widens
This site is protected under Article10 of the European Convention on Human Rights and Fundamental Freedoms.
WE ACCEPT NO RESPONSIBILITY FOR THE ACCURACY OF ANY FEATURED LINKS