Councillor Raymond Parsons
Title: Cabinet Portfolio Holder for Corporate Services and Chairman Personnel Committee
Party: Conservative
Ward: Forest Row
Other Councillors representing this ward:
Contact Information
Home Phone: 01342 822499
Email: cllr.raymond.parsons@wealden.gov.uk
Home Address:
New Lodge
Colemans Hatch
Hartfield
East Sussex TN7 4EW
Fax: 01342 822499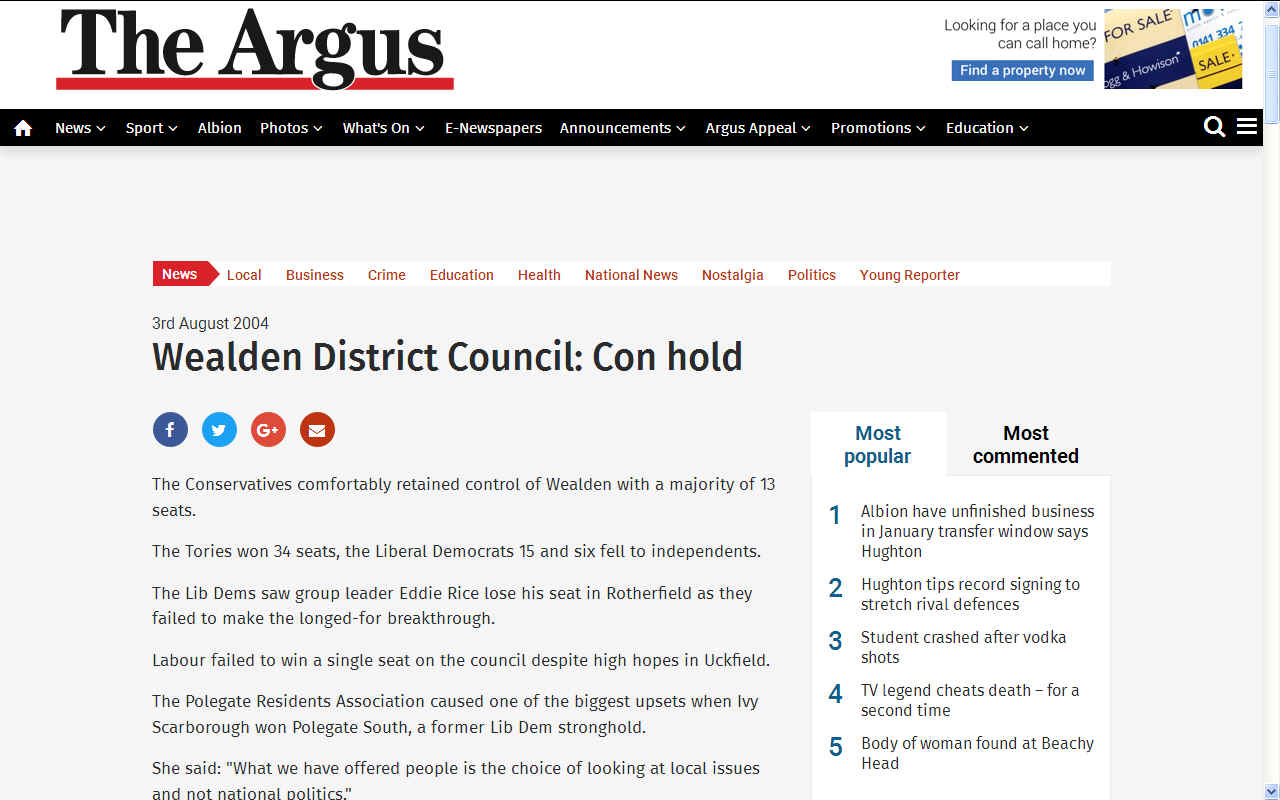 THE ARGUS 2004 - ELECTION RESULTS
.3rd August 2004
Wealden District Council: Con hold

The Conservatives comfortably retained control of Wealden with a majority of 13 seats.

The Tories won 34 seats, the Liberal Democrats 15 and six fell to independents.

The Lib Dems saw group leader Eddie Rice lose his seat in Rotherfield as they failed to make the longed-for breakthrough.

Labour failed to win a single seat on the council despite high hopes in Uckfield.

The Polegate Residents Association caused one of the biggest upsets when Ivy Scarborough won Polegate South, a former Lib Dem stronghold.

She said: "What we have offered people is the choice of looking at local issues and not national politics."

Independents also polled strongly in Hailsham and Crowborough but it was the Tories who continued to dominate.

Tory leader Nigel Coltman said: "I think people have respected that when we say we are going to be more careful with the council taxpayers' money we mean it and we have proved it."

The Lib Dems tried to hide their disappointment.

Stephen Shing, one of three victorious Lib Dems at Willingdon said: "I was quite disappointed we did not do as well as we wanted as a whole.

"In Willingdon we did extraordinarily well. If we work hard we will get a vote."

The new council has 55 seats. There have been major boundary changes since the last local elections in 1999, meaning none of the winners were sitting candidates.

RESULTS
ALFRISTON: Elected - Keith Whitehead (C) 673. Not elected - Caroline Adcock (LD) 327.

BUXTED AND MARESFIELD: Elected - Patricia Kennedy (C) 904, Norman Buck (C) 862. Not elected - Peter Selby (G) 357, Ken Ogden (I) 314, Graham Morgan (LD) 293.

CHIDDINGLY AND EAST HOATHLY: Elected - Sylvia Tidy (C). No contest.

CROSS-IN-HAND AND FIVE ASHES: Elected - Jonica Fox (C) 511. Not elected - Michael Bryant (LD) 177, Jennifer Evans (G) 53.

CROWBOROUGH EAST: Elected - Carolyn Clark (LD) 555, Ian Mein (LD) 540. Not elected - Anthony Edwards (C) 422, Neil Waller (C) 408, Derek Sivers (L) 118.

CROWBOROUGH JARVIS BROOK: Elected - Ian McKirgan (I) 222. Not elected - Peter Bucklitsch (LD) 221, Brian Hewitt (C) 126.

CROWBOROUGH NORTH: Elected - Chantal Wilson (I) 1038, Hector Munro (C) 671. Not elected - Nigel Mahony (LD) 328, Sonja Le Vay (L) 201, Michael Wallman (none) 131.

CROWBOROUGH ST JOHNS: Elected - Richard Broughton-Tomkins (C) 458. Not elected - Hilary Lyon (LD) 103, Jean McCarthy (L) 47.

CROWBOROUGH WEST: Elected - Diane Phillips (C) 814, Antony Quin (C) 812. Not elected - Edward Willis (LD) 394, Brendan Clegg (L) 238.

DANEHILL, FLETCHING AND NUTLEY: Elected - Sylvia Martin (C) 1052, Bernard Brown (C) 1024. Not elected - John Stevens (LD) 571.

EAST DEAN: Elected - Brian West (C) 612. Not elected - Robert Hillman (LD) 290.

FOREST ROW: Elected - Rowena Moore (C) 708, Raymond Parsons (C) 668. Not elected - Linda Graham (LD) 526, Norma McNamara (L) 270.

FRAMFIELD: Elected - John Gore (C) 563. Not elected - Susanna Mockridge (LD) 168, Keith Riddle (UKIP) 137.

FRANT AND WITHYHAM: Elected - Lord Abergavenny (C) 827, Lynda Myers (C) 822. Not elected - Briony Taylor (LD) 431, Keith Obbard (G) 404, Michael Clare (L) 179.

HAILSHAM CENTRAL AND NORTH: Elected - Paul Holbrook (LD) 494, Laura Murphy (LD) 434. Not elected - Richard West (C) 425, John Ball (C) 419, John Glover (I) 348, Madeleine Ellwood (I) 344, Steven Jordan (L) 146.

HAILSHAM EAST: Elected - Nigel Coltman (C) 170. Not elected - Brian Cock (LD) 128, Dudley Rose (L) 113, William Crittenden (I) 94.

HAILSHAM SOUTH AND WEST: Elected - Geoffrey Rowe (I) 713, Jonathan Ellwood (I) 702, Ian Haffenden (I) 685. Not elected - Sharon Cottingham (LD) 572, Sybil Bentley (C) 567, Edward Powell (LD) 554, Gavin Blake-Coggins (LD) 551, Jeffery Bentley-Astor (C) 524, John Kent (C) 511.

HARTFIELD: Elected - Jeremy Hollins (C). No contest.

HEATHFIELD EAST: Elected - Janice Dunk (C) 443. Not elected - John Evans (LD) 191.

HEATHFIELD NORTH AND CENTRAL: Elected - Richard Angel (C) 1082, Margaret Kirkpatrick (C) 1063, Veronica Oakes (C) 996. Not elected - David Hall (LD) 447, Timothy Rayner (G) 432.

HELLINGLY: Elected - John Blake (LD) 817. Not elected - David White (LD) 732, Barby Dashwood-Hall(C) 583, Brian Smith (C) 528.

HERSTMONCEUX: Elected - Andrew Long (C) 477. Not elected - Graham Love (LD) 279.

HORAM: Elected - Susan Stedman (C) 381. Not elected - Richard Benson (LD) 289.

MAYFIELD: Elected - Brian Redman (C) 459. Not elected - Allan Thurley (LD) 387.

NINFIELD AND HOOE WITH WARTLING: Elected - Pamela Doodes (C). No contest.

PEVENSEY AND WESTHAM: Elected - Dianne Dear (C) 1245, John Vincent (C) 1233, Linda McKeever (C) 1135. Not elected - Laura Parker (LD) 793, Christine Thomas (LD) 781.

POLEGATE NORTH: Elected - Roy Martin (LD) 888, Christina Berry (LD) 802. Not elected - John Harmer (I) 543, Gerald Carter (I) 478, Anne Hampson (C) 160, Michael Hampson (C) 152.

POLEGATE SOUTH: Elected - Ivy Scarborough (I) 349. Not elected - Patrick Trowell (LD) 241, Michael Richards (C)173.

ROTHERFIELD: Elected - David Logan (C) 379. Not elected - Edwin Rice (LD) 365, David Heritage (I) 55.

UCKFIELD CENTRAL: Elected - Claire Dowling (C) 425. Not elected - Michael Cooper (LD) 308. Eileen Wolley (L) 73.

UCKFIELD NEW TOWN: Elected - Ian Nottage (LD) 339. Not elected - Ian Smith (L) 144. Daphne Mainprice (C) 143.

UCKFIELD NORTH: Elected - Paul Sparks (LD) 632, Alan Whittaker (LD) 520. Not elected - Michael Heap (C) 356, Duncan Bennett (L) 250, Leonard Ashby (L) 246.

UCKFIELD RIDGEWOOD: Elected - Anthony Parker (LD) 483. Not elected - Silvia Buck (C) 51, Jane 'Espinasse (L) 320.

WADHURST: Elected - Anna Monaghan (C) 767, Robert Hodgson (C) 734. Not elected - Emma Sanderson-Nash (LD) 395, Rosalyn Bucklitsch (LD) 324, Jane Zacharzewski (L) 144.

WILLINGDON: Elected - Stephen Shing (LD) 1770, Anthony Seabrook (LD) 1559, Andrew Watkins (LD) 1516. Not elected - David Burtenshaw (C) 1043, Guy Woodford (C) 1000, Raymond Ingram (C) 949, Margaret Piper (I) 216, Patricia Brinson (L) 123, Helen Sedgewick (L) 114, Gillian Roles (L) 77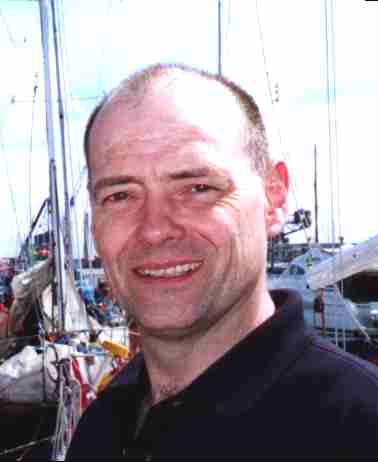 Nelson Kruschandl
Dear Councillor Parsons,
As a member of a council responsible for a great many historic towns and villages, and also caretaker of the public purse, could I ask you to be especially vigilant against maladministration within the Wealden District Council.
It is my experience that your council has allowed some departments to run riot with taxpayers money. Some officers have used council resources for their own goals and as a playground for acts of impropriety. Sometimes to cover up mistakes, and other times to pursue agendas for profit or personal ambitions and desires.
It has taken me more than 20 years to finally reach an understanding with your council about the Generating Station at Herstmonceux. I hope you agree that we cannot afford to let situations like that develop again to drain the council and lead to widespread bad feeling and mistrust.
You were elected to serve the community, not the officers. You were elected to run the council to the best of your ability, after consideration of the issues that matter. It is your duty to conserve the historic built and natural environments. It is also your duty to seek to secure adequate services, education, policing and health care.
These are particularly difficult times, where public funding is under scrutiny against local issues and terrorism and global warming are serious international issues that should be targeted for spending, rather than waste money pursuing lost causes.
Even as I write, identified international dangers are looming and if allowed to escalate unchecked, may put our country and indeed the world as we know it at risk. We can all play our part by doing what we do to the best of our ability.
If we run a tight ship with a clear desk, when something important finds its way on our laps, we will be better able to deal with it. We must conserve our energies for fights that matter.
I would be very interested to learn what sustainable policies your council, and your political party are putting in place, and if you agree whatever has been proposed is effective. I should also like to know if you support the current policies or oppose them?
As a resident of Wealden, I am relying on you to do the right thing for your district. As an inhabitant of planet earth I am relying on you to keep your eye on broader issues and play your part on the international team that is the human race.
Thank you for taking the time to read this message and I look forward to hearing from you in the near future.
Yours sincerely
COUNCILLORS SERVING IN 2017 INTO 2018

Councillor Dick Angel

Heathfield Nth & Cenrl - Cons


Councillor Kevin Balsdon

Pevensey and Westham - Cons


Councillor Jo Bentley

Hailsham South and West - Cons


Councillor Bob Bowdler

Heathfield East - Cons


Councillor Lin Clark

Pevensey and Westham - Cons

Deputy Chairman Standards


Councillor Nicholas Collinson

Hailsham Central & North - Cons

Portfolio Community Leadership Human Resources


Councillor Nigel Coltman

Hailsham Central and North - Cons

Chairman of Licensing


Councillor Dianne Dear

Pevensey and Westham - Cons

Dep Chair of Planning South


Councillor Phil Dixon

Rotherfield - Conservative

Dep Chair of Audit Finance


Councillor Pam Doodes

Ninfield & Hooe with Wartling

Conservative - Vice-Chairman


Councillor Claire Dowling

Uckfield Central - Cons

Dep Ldr Public Health Safety


Councillor Jan Dunk

Heathfield North & Central - Conservative


Councillor Philip Ede

Alfriston - Conservative


Councillor Helen Firth

Uckfield New Town - Cons


Councillor Jonica Fox

Cross-in-Hand/ Five Ashes - Conservative


Councillor Roy Galley

Danehill/ Fletching/ Nutley - Cons

Portfolio Economic Dev & Waste Man


Councillor Richard Grocock

Hailsham South and West - Cons


Councillor Chris Hardy

Hartfield - Cons- Chairman


Councillor Jim Hollins

Crowborough West - Cons


Councillor Peter Holloway

Forest Row - Conservative


Councillor Johanna Howell

Frant/ Withyham - Cons

Ch Planning North


Councillor Toby Illingworth

Buxted & Maresfield - Cons


Councillor Stephen Isted

Crowborough Jarvis Brook - Independent


Councillor Andy Long

Herstmonceux - Cons


Councillor Michael Lunn

Buxted & Maresfield - Cons


Councillor Philip Lunn

Crowborough East - Cons


Councillor Barry Marlowe

Uckfield Ridgewood - Cons

Dep Ch Licensing


Councillor Rowena Moore

Forest Row - Conservative


Councillor Kay Moss

Crowborough St Johns - Cons

Dep Chair Overview & Scrutiny


Councillor Douglas Murray

Willingdon - Conservative


Councillor Ann Newton

Framfield - Cons

Portfolio Planning & Dev


Councillor Amanda O'Rawe

Hailsham East - Conservative


Councillor Mark Pinkney

Hellingly - Conservative


Councillor Dr Brian Redman

Mayfield - Conservative

Chairman of Standards Committee


Councillor Ronald Reed

Crowborough North - Conservative


Councillor Carol Reynolds

Uckfield North - Cons


Councillor Greg Rose

Crowborough East - Cons

Chair Overview & Scrutiny


Councillor Peter Roundell

Danehill/ Fletching/ Nutley - Cons

Chairman Audit Finance


Councillor William Rutherford

Frant/ Withyham - Cons


Councillor Daniel Shing

Polegate South - Ind Democrat


Councillor Oi Lin Shing

Polegate North - Ind Democrat


Councillor Raymond Shing

Willingdon - Independent Democrat


Councillor Stephen Shing

Willingdon - Independent Democrat


Councillor Angela Snell

Polegate North - Conservative


Councillor Robert Standley

Wadhurst - Conservative

Leader of the Council


Councillor Susan Stedman

Horam - Conservative

Chair Planning South


Councillor Roger Thomas

Heathfield North & Central - Cons


Councillor Jeannette Towey

Crowborough West - Cons


Councillor Chriss Triandafyllou

Hailsham South and West - Cons


Councillor Peter Waldock

Uckfield North - Cons


Councillor Neil Waller

Crowborough North - Cons

Dep Chair Planning North


Councillor David Watts

Chiddingly & East Hoathly - Cons


Councillor Graham Wells

Wadhurst - Cons

Portfolio Housing & Benefits


Councillor David White

Hellingly - Independent


Councillor John Wilton

East Dean - Conservative
Dick Angel - Jo Bentley - John Blake - Bob Bowdler - Don Broadbent - Norman Buck - Raymond Cade - John Carvey - Lin Clark
Nicholas Collinson - Nigel Coltman - Ronald Cussons - Barby Dashwood-Morris - Dianne Dear - Phil Dixon - Pam Doodes
Claire Dowling - Jan Dunk - Louise Eastwood - Philip Ede - Helen Firth - Jonica Fox - Roy Galley - Richard Grocock - Chris Hardy
Steve Harms - Jim Hollins - Peter Holloway - Johanna Howell - Stephen Isted - David Larkin - Andy Long - Michael Lunn
Barry Marlowe - Nigel McKeeman - Huw Merriman - Rowena Moore - Kay Moss - Douglas Murray - Ann Newton - Ken Ogden
Amanda O'Rawe - Charles R Peck - Diane Phillips - Mark Pinkney - Major Antony Quin RM - Ronald Reed - Dr. Brian Redman
Carol Reynolds - Greg Rose - Peter Roundell - William Rutherford - Daniel Shing - Oi Lin Shing - Raymond Shing - Stephen Shing
Robert Standley - Susan Stedman - Bill Tooley - Jeanette Towey - Stuart Towner - Chriss Triandafyllou - Peter Waldock
Neil Waller - David Watts - Mark Weaver -Graham Wells - David White - John Wilton
THIS SITE CONTAINS MANY EXAMPLES OF WEALDEN D C'S UNREASONABLE BEHAVIOUR - With thanks to Action Groups across the country for the supply of real case history and supporting documents. *THAT THE PUBLIC MAY KNOW*
Vicarage Lane, Hailsham, East Sussex, BN27 2AX T: 01323 443322
Pine Grove, Crowborough, East Sussex, TN6 1DH T: 01892 653311