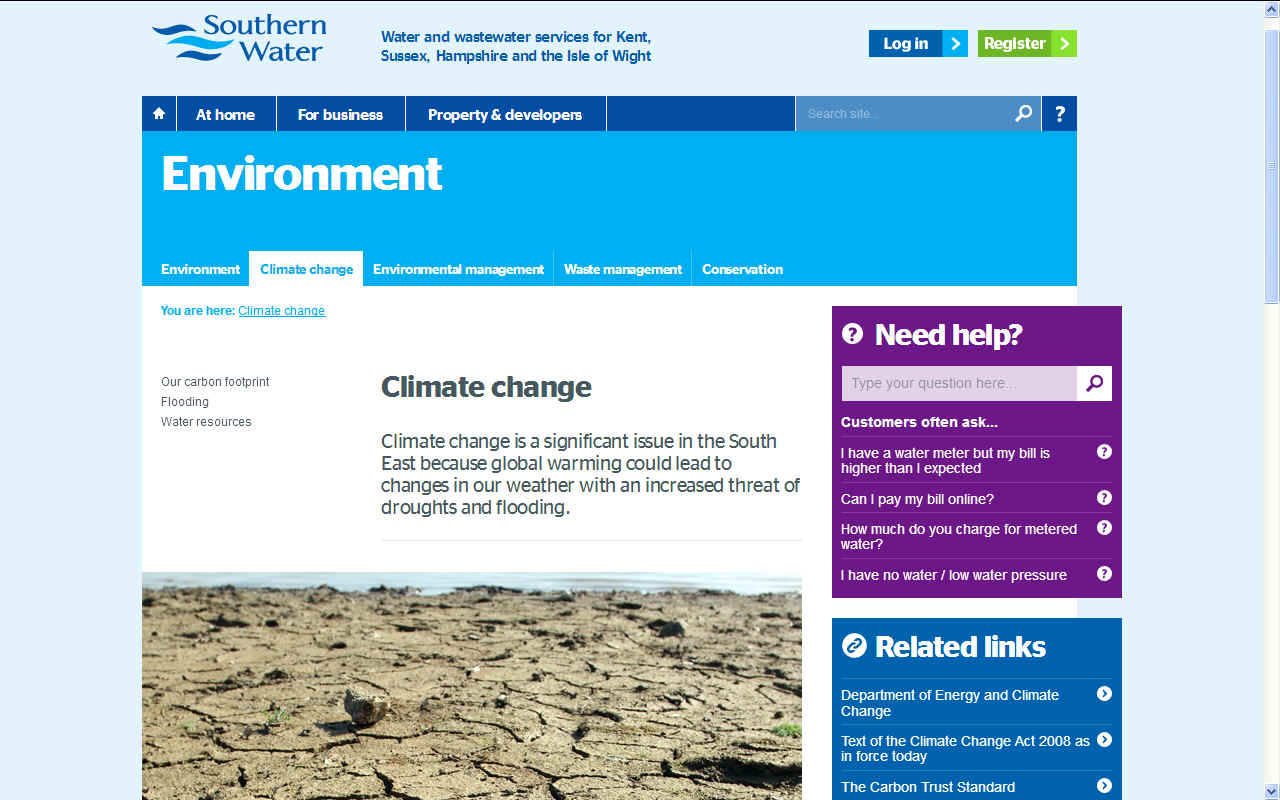 Southern Water is the private utility company responsible for the public wastewater collection and treatment in Hampshire, the Isle of Wight, West Sussex, East Sussex and Kent, and for the public water supply and distribution in approximately half of this area. Some areas within the Southern Water region are supplied by a number of smaller water supply companies.

It is regulated under the Water Industry Act 1991.
Sussex Water promote saving water all year round, but here are some extra things you can do to reduce your use in hot weather:
1. Keep a jug of water in the fridge - then you won't need to run the tap while you wait for the water to go cold.
2. Avoid using hosepipes or sprinklers (which can use as much as 1,000 litres of clean water an hour)
3. Re-use dishwater or water used to boil vegetables or pasta, and fill a watering can instead.
4. Avoid non-essential chores, like washing cars and windows.
5. Take a short shower instead of a bath (it uses much less water).
6. Leave the paddling pool in the shed and visit a local beach or open air swimming pool instead.
7. Water plants after 9pm - then it's less likely to evaporate, and will do the most good.
8. Lawns don't need constant watering, and going brown is the natural survival mechanism of grass in hot weather according to Brown Lawns are Cool by the Turfgrass Growers Association
9. Check your home for dripping taps or leaks - or if you see one out and about, report a leak to them.
Southern Water supplies drinking water to roughly one million households through its 95 water supply works and 13,700 kilometres of water mains. Wastewater is treated by the company's network of 370 wastewater treatment works and almost 40,000 kilometres of sewers. Also, the treatment of sludge results in a nutrient-rich granulated fertiliser which the company sells to the farming industry.

Southern Water has also opened up some of their activities to the public. This includes the company running guided tours of the Victorian sewers of Brighton and Hove and public access to Bewl Water, one of the largest reservoirs in England.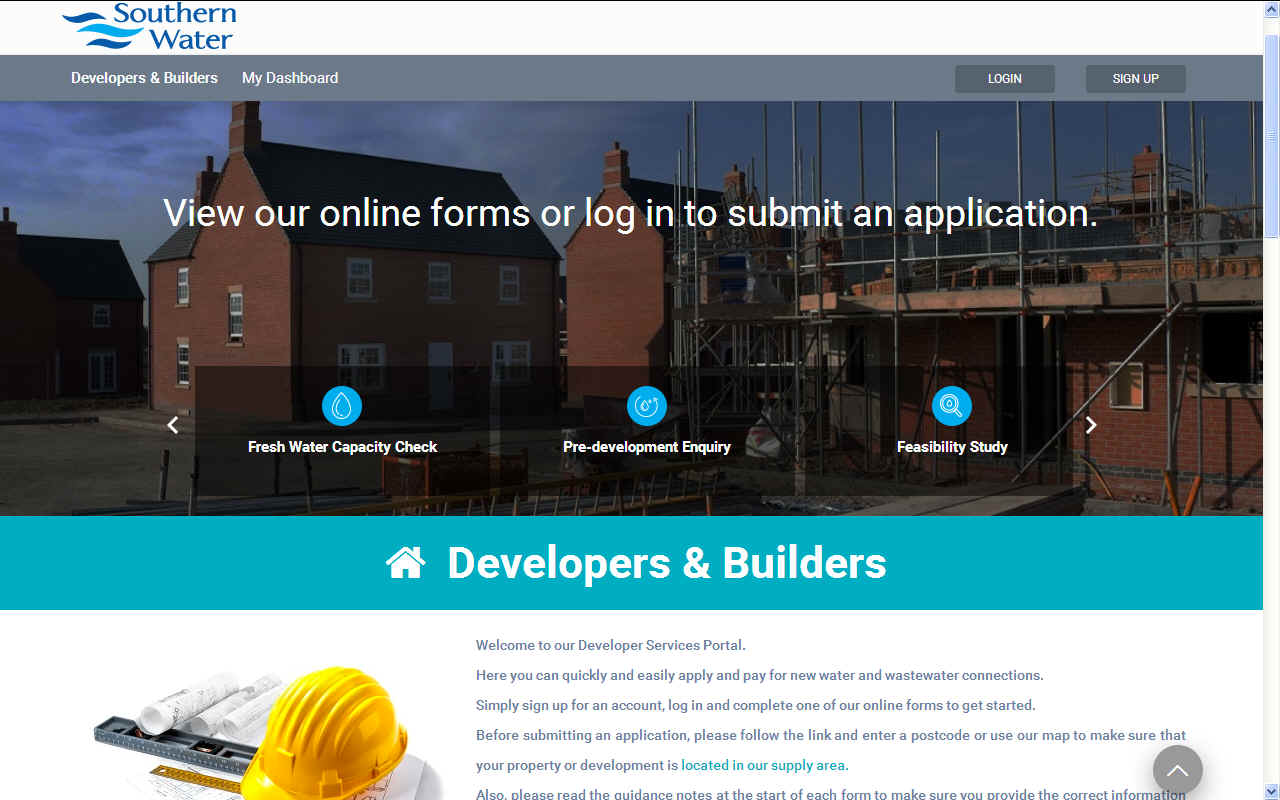 LEGAL ISSUES

In 2007 Southern Water was fined £20.3 million for 'deliberate misreporting' and failing to meet guaranteed standards of service to customers. Southern Water Chief Executive Les Dawson said: "Today's announcement draws a line under a shameful period in the company's history".

In 2011 Southern Water Ltd was fined £25,000 when sewage flooded into Southampton water.

The company was ordered to pay £10,000 in fines and costs after sewage seeped into a stream at Beltinge in Kent.

A leak of sewage from Southern Water's plant at Hurstpierpoint pumping station, West Sussex, lead to fines and costs of £7,200 in 2011.

Southern Water was fined £50,000 in April 2011 for two offences relating to unscreened discharges into Langstone Harbour, Hampshire, between November 2009 and April 2010.

In June 2010 Southern Water was fined £3,000 after it admitted polluting 2 km of a Sussex stream with raw sewage, killing up to a hundred brown trout and devastating the fish population for the second time in five years. Crawley Magistrates' Court heard that the Environment Agency received calls from members of the public after dead fish were seen in the Sunnyside Stream in East Grinstead on 30 August 2009.

In November 2014 Southern Water were fined £500,000 and agreed to pay costs of £19,224 at Canterbury Crown Court after an Environment Agency investigation found that untreated sewage was discharged into the Swalecliffe Brook, polluting a 1.2 kilometre stretch of the watercourse and killing local wildlife. (www.gov.uk/government/news)

In December 2016 Southern Water was fined a record £2,000,000 for flooding beaches in Kent with raw sewage, leaving them closed to the public for nine days. The Environment Agency called the event "catastrophic", while the judge at Maidstone crown court said that Southern Water's repeat offending was "wholly unacceptable". The company apologised unreservedly, as it did when fined £200,000 in 2013 for similar offences. Due to health concerns, Thanet district council was forced to close beaches for nine consecutive days, including the Queen's diamond jubilee bank holiday weekend. (The Guardian, 19 December 2016)

INVESTMENT

Southern Water is investing £1.8 billion in its assets between 2010 and 2015. This will maintain high quality supplies of drinking water to customers as well as the quality of the environment through safeguarding discharges from wastewater treatment works across Kent, Sussex, Hampshire and the Isle of Wight. The investment is broken down as follows:

* £230 million water resources and growth
* £510 million environmental improvements
* £676 million to maintain water and sewage treatment works
* £250 million to maintain water mains and sewers
* £24 million flooding and service improvements
DEVELOPERS CAPACITY CHECK
Southern Water provides an optional Capacity Check service to assist developers in identifying possible constraints that may be associated with servicing a development site. The Capacity Check can assist developers in understanding the potential costs and timescales involved in servicing a site prior to land acquisition or the submission of a planning application. The results of the Capacity Checks are for information only and should not be regarded as an approval or rejection of your proposals, nor should the results be used as a basis for design.

Level 1 – Preliminary Fresh Water Capacity Check

This is a simple check that will identify whether the required capacity is available adjacent to or close to the proposed development. Should capacity not be available, you will be provided with an indication of the nearest point at which capacity is available. It should be noted that a charge will be made for any repeat enquiries.

Should lack of capacity be identified a Level 2 Indicative Hydraulic Assessment can be considered.

We will endeavour to provide you with a written reply within 15 working days of receipt of a complete application. If we are unable to do this you will be contacted and given the reason why.

Important Note: The results of the Level 1 Preliminary Capacity Check do not necessarily provide an identified solution for servicing the proposed development site. The Level 1 Check is aimed at simply providing an indication of whether capacity is available. Please refer to the application form for the fee required. This service is only available for developments which are less than 500 units. The impact of a development greater than 500 units is substantial and the more extensive Level 2 Indicative Hydraulic Assessment (see next section) is required. Should you wish to take advantage of this service, please complete the Capacity Check Application Form and submit together with the appropriate fees and drawings.

Level 2 – Indicative Hydraulic Assessment

This is a more in-depth service. In addition to identifying the nearest point of capacity, (as per the Level 1 Preliminary Capacity Check) this service will identify an indicative hydraulic assessment for servicing the site.

We will endeavour to provide you with a detailed report within 25 working days of receipt of a complete application. If we are unable to do this you will be contacted and given the reason why.

Please refer to the application form for the fee required. Should you wish to take advantage of this service, please complete the Capacity Check Application Form and submit together with the appropriate fees and drawings. (If you have previously completed a Level 1 Fresh Water Capacity Check, a new application form is not required for this site).

Important Note: Level 1 and Level 2 Capacity Checks do not provide indicative costs of the works required to service the site, nor of the construction works required.

Southern Water claim that each day they supply 524 million litres of drinking water along 13,753 kilometres of water mains and treat 718 million litres of wastewater through a sewer network of 39,600 kilometres.
MAJOR OUTLINE APPLICATION HERSTMONCEUX WD/2015/0090/MAO - CONDITIONS

The officer dealing with the above application for Wealden District Council is Graham Kean. His Memorandum dated 12 May 2015 records these observation for Mrs Claire Turner:
1.2. In accordance with that condition:

· A survey has been undertaken by the Sewerage Undertaker (Southern Water) which has resulted in a Section 98 Sewer Requisition in order to provide a suitable offsite sewer for the disposal of foul water from the development. Southern Water's reference is SWS-S98-000519 v2, dated 10/11/2017 (copy of letter attached in Appendix 1) and has been accepted and payment made in order to progress; and · A full drainage design has been undertaken for the onsite foul drainage

The site is located off Gardner Street, to the south-east of Herstmonceux, and is centered on national grid reference E563798, N112404.


Existing public foul sewers have been located within Gardner Street to the north. To the northwest, within Gardner Street, is a foul network which runs east-west before running north to a pumping station (Gardner Street WPS). The pump main from the existing pumping station runs south to Gardner Street and then west-east along Gardner Street, discharging into a gravity main approximately 300m east of the site. This gravity sewer runs north-east to the Windmill Hill Waste Water Works.

3.6. A second foul network runs from a point to the south of the site discharging into the Lime Park Herstmonceux Waste Water Works, approximately 300m to the south.

The existing site is greenfield and no existing connections to foul infrastructure have been identified.

4.2. Investigations were undertaken as to whether the existing Lime Park Waste Water Works could be connected to under gravity and it was confirmed that the works themselves were not adequately sized to receive flows from a further 70 residential dwellings and would require reconstruction and consenting.

4.3. Any foul drainage solution would need to be received by existing or new infrastructure to the north of the site and would require a pumped solution, to overcome the topography.

4.4. Under Section 98 of the Water Industry Act, Southern Water were instructed to progress a solution of the offsite infrastructure upgrades required to support the development. Appendix 1 contains the offer letter received from Southern Water under this process.

4.5. The technical solution offered by Southern Water is to provide new and improved infrastructure in Chapel Row and Gardner Street as part of the Section 98 Requisition.

A gravity system of foul drainage has been proposed, based upon the approved illustrative layout, which collects the waste from the 70 units and drains to the south-west corner of the site, adjacent to Chapel Row.

5.3. A private pumping station has been proposed adjacent to Chapel Row which will collect the foul flows and pump them into the proposed foul rising main provided by Southern Water under the Section 98 application.


Pumping station design (Private)

5.6.1. The design of the pumping station has been based upon the following design standards and documents:

· BS EN 752; and

· Building Regulations 2010 part H.

5.6.2. Storage capacity within the pump station has been provided in accordance with the requirements setout by Building Regulations, Clause 2.39. The receiving chamber has been sized to contain 24 hour inflow to allow for disruption of service. The following design criteria has been applied using the mix of residential units and flow volumes (in accordance with British Water Flows and Loads 4) below:

5.6.4. Due to the overall depth of the pump chamber installation (circa 6.5m) it is likely to be adversely impacted by groundwater, which has been profiled at a depth of 42.000m AOD in the area. Additional measures both in the final design and construction of the chamber will be required to counter buoyancy and groundwater infiltration of the excavation.

CONTACT SOUTHERN WATER

Developer services helpdesk: 0330 303 0119
Automated telephone service: 0330 303 1263
Billing and account enquiries: 0330 303 0277
Water and wastewater enquiries: 0330 303 0368


Enquiries regarding the Water Regulations.

Telephone: 01962 716042
(Lines open 8am–3pm. After 3pm please leave a message and we will contact you the following working day).

For billing enquiries please call 0330 303 0277 (calls charged at local rate) or for technical enquiries call 0330 303 0368 (calls charged at local rate).

Fax: 01962 716208
Email: water.regs@southernwater.co.uk

You can write to us at:

Water Regulations
Sparrowgrove House
Southern Water
Otterbourne
Hampshire, SO21 2SW

Steve Collins: steveM.collins@southernwater.co.uk

Tel: 01903 272056

Paul Fitz-Hugh: paul.fitzhugh@southernwater.co.uk

Tel: 01903 272054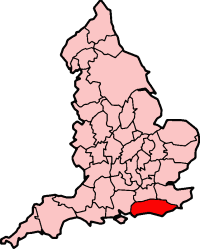 SUSSEX INDEX A - Z
CHIDDINGLY - HORSE SHOW and GYMKHANA
CUCKMERE VALLEY - EXCEAT
HERSTMONCEUX - MUSEUM - COSTS SCANDAL - PARISH COUNCIL - 70 HOUSES - RAF
TWISSELLS MILL, OLD HEATHFIELD
https://developerservices.southernwater.co.uk/CapacityCheck/FreshWater
https://developerservices.southernwater.co.uk/
https://www.southernwater.co.uk/