SUNDAY 14 MARCH 2004 BBC PANORAMA REPORT
The Government is forced to lie about its taxation policies to get elected. Once elected they skirt around the issues and apply stealth taxes to pay for council corruption, rather than tackle the root cause of the problem; too many civil servants all trying to build up their part.
Experts warn that taxes may have to go up. On the eve of the budget, Panorama asks what we want from tax?
Gordon Brown the Budget and Council Tax
Tony Blair's former economic adviser has warned that taxes will have to rise to avoid serious trouble with the economy, ahead of the Budget which will be presented to Parliament next Wednesday.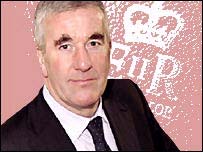 Derek Scott - tax rises impending
Derek Scott told the BBC's Panorama programme that public spending cannot continue to rise as it has done, without damaging the economy. He said "My own view is simply that if you have a rate of increase in public spending that is faster than sustainable rates of growth, then over a period it will have a damaging effect.
" It may not happen for two or three years, it may be longer or whatever, but somewhere along the line, if you do that for too long, you will have trouble.
Undermining
"I believe in as low a tax as possible that is consistent with delivering the public services and we certainly can't continue to increase public spending in the next three or four years, in the way we have done in the past three or four years." Mr Scott, who was Economic Adviser to the Prime Minister from 1997 until December 2003, also warned that the government needs to cut the tax burden if they win the next election or risk undermining the economy. He added: "I think we have to adjust the rate of public spending and the Chancellor has acknowledged that, so that actually there is an opportunity certainly in a third term to start cutting the burden of tax." Panorama also reveals that the public would rather income tax went up rather than being hit by stealth taxes.
Extra income tax?
More than a third of people quizzed in an ICM poll for the programme claimed that a 1p income tax increase was the best way for the government to raise money if it had to. A further 29 per cent of people thought there should be a 50 per cent tax rate for people earning £100,000 or more. But there seemed to be little support for stealth taxes, with just 19 per cent claiming that increasing petrol duty or increasing taxes on flying would be the best way to raise revenue. This opinion poll seems to be at odds with the view of the former paymaster general Geoffrey Robinson, who defended the rise in National Insurance after the 2001 General Election by saying that political parties who advocate tax rises do not get elected.
Real world
The government was pilloried for pledging before the election not to increase income tax and then batting away questions about raising national insurance instead. He told Panorama: "You think we've been less than honest in telling people at the time of the election by how much your taxes are going to go up. "It's very difficult to win an election if you go out there saying "look, if you elect me I promise you I'm going to absolutely smash you with taxes you've never heard of in your life", you know, it isn't like that in the real world."
If the Government had to raise a lot more money to keep up its spending on hospitals and schools, which should they choose?
50p tax ate for those on over £100,000: 29%
Increase duties like beer and petrol: 19%
Introduce charging ie for using motorways and seeing doctors: 10%