UK: Politics Wednesday, March 4, 1998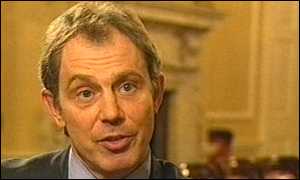 Tony Blair is warning councils they must modernise
The Prime Minister, Tony Blair, is warning councillors and local government officials that if they fail to modernise, some of their powers could be given to businesses and voluntary organisations. Mr Blair says too many local authorities are mediocre, and there is a lack of coherence in some local services. Tony Blair outlines his "deal" with local councils (38"
He says those councils which are prepared to change could be given improved powers, but those who were not could see their role diminished. Mr Blair took the unusual step of outlining his ideas in a pamphlet for the centre-left think tank the Institute of Public Policy Research. He puts forward the idea of directly elected mayors and referendums on important local issues. There would also be a tough new code of conduct for councillors. Local authority leaders, speaking on BBC Radio 4's Today Programme, give their reaction to the proposals (4'23")

Mr Blair warned: "If you accept this challenge, you will not find us wanting. "You can look forward to an enhanced role and new powers. Your contribution will be recognised, your status enhanced. "If you are unwilling or unable to work to the modern agenda then the Government will have to look to other partners to take on your role."
Criticism for Blair's plan
Directly-elected mayors and local referendums are ideas formerly rejected by chairman of the local government Association, Sir Jeremy Beecham. He said he was unhappy about the Prime Minister's indication that he was willing to involve business in local government.
"We do need a more open democracy at all levels in our country," he said. "But we need people who are accountable to the electorate and business, for all its virtues, is not accountable to the public."
WE MAY NOT BE ALONE - CHECK OUT THE LINKS BELOW - WE ACCEPT NO RESPONSIBILITY FOR THE ACCURACY OF ANY FEATURED LINK ON THIS SITE AND THE VIEWS EXPRESSED THEREIN.