Sunday, 14 May 2006 - Labour's foreign criminal crisis
Watch Panorama on demand to find out how big the failure to deport foreign-national criminals really is.
Our investigation shows that the authorities have failed to put the public's safety first because they have tried so hard to meet Tony Blair's asylum targets. Panorama decided to investigate why at least one thousand foreign-national prisoners have been released since 1999 when they should have been considered for deportation under laws introduced by David Blunkett as Home Secretary. Panorama spoke to three whistleblowers, who are senior officers in the immigration service, and found out that the crisis was made worse by a deliberate policy carried out in secret.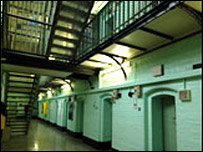 The whistleblowers told Panorama about a prison service struggling to cope with an influx of foreign inmates while the government focuses resources on failed asylum seekers rather than prisoners eligible for deportation. At the Labour Party conference in 2004, Tony Blair said he would remove more failed asylum seekers every month than those applying to live in Britain. This target was called Tipping the Balance.
The Home Office told Panorama in a statement: "We don't dispute that the Tipping the Balance target has been important but not at the expense of other immigration controls." One of Panorama's whistleblowers said that he was asked why he was wasting his time trying to get information on a person he was told was 'unremoveable'. And Panorama has evidence to back up what our insiders told us.
We obtained a secret immigration service document dated March this year. It lists five national operational priorities for enforcement and removals. The top two are 'failed asylum seeker removals' and 'illegal working operations targeted at failed asylum seekers'. The list does not mention crime or criminality. It is possible some team was tasked separately.
Before foreign prisoners, who might be deportable, are due for release the prisons are meant to contact the Immigration and Nationality Directorate (IND). Prisons have no legal choice but to release their foreign prisoners at the end of their sentences unless they receive information from the IND. An absence of up-to-date information has given Britain's prisons no choice but to release hundreds of foreign nationals back onto the streets.
Brian Caton from the Prison Officers' Union told Panorama that when there are problems with that system the public are put at risk.
Production team:
Reporter: Steve Bradshaw
Producer: John O'Kane
Deputy editors: Andrew Bell, Frank Simmonds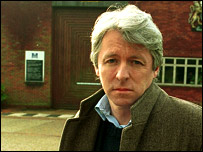 Ask Panorama reporter Steve Bradshaw a question about his investigation
---
Thursday, 24 July, 2003 - Blunkett attacks BBC asylum day
The BBC played into the hands of a "Powellite anti-immigration agenda" in its prime time programming on asylum, David Blunkett has said.
The home secretary particularly singled out Wednesday's special edition of Panorama for criticism. Writing in the Guardian, Mr Blunkett accuses the programme of using claims by the "right-wing anti-immigration pressure group, Migration Watch" uncritically.
But a BBC spokesman insisted: "It is not Powellite for the BBC to facilitate a debate about asylum. "Panorama illuminated the chaotic management of the system as it attempts to deal with record numbers of asylum applicants, and above all the abuse which Mr Blunkett and his ministers have admitted is widespread."
The home secretary's criticisms come after weeks of dispute over the BBC's coverage of the way the case for war with Iraq was made.
And they follow those of Immigration Minister Beverley Hughes, who singled out a programme called 'You the Judge' which was also broadcast on Wednesday.
She said the programme turned the issue of asylum into a "gameshow". In his article Mr Blunkett was particularly critical of the programme's presenter, John Ware.
The home secretary derided Ware's claim that since Enoch Powell - the right-wing politician who was anti-immigration and made the notorious 'Rivers of Blood' speech - there had been a 35-year taboo on discussing the issue. People only had to read a daily newspaper to know that this claim was "frankly risible".
'Undermining'
Mr Blunkett also accused Panorama of "wilfully undermining confidence that the asylum system works to provide a news angle for BBC asylum day". "The real issue is whether we are going to face up to the need for properly managed migration.
"Almost a third of our doctors were born outside the UK, and sectors such as construction, agriculture and hospitality depend on foreign-born labour. "The realistic alternative to managed migration is not a Fortress Britain that no-one can enter.
"It is illegal working and clandestine entry, with all the exploitation, abuse and suffering that causes for both the illegal workers and legitimate workforce."
---
Monday, 14 July, 2003 - The asylum game
The asylum game was broadcast on BBC One on Wednesday, 23 July, 2003 at 21:00 BST.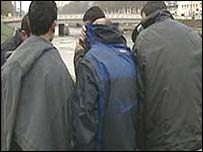 For six months a Panorama reporter has been on a journey through Britain's asylum system. Her task was to find out why so many people seek asylum in the UK and why the system cannot cope.
In January Panorama's reporter turned up at a Channel port police station, seeking asylum. Posing as Mihaela Cornea, a Moldovan national fleeing a violent boyfriend, she told her story. It was flawed and the authorities appeared not to believe it but they gave her papers to stay for six months and she was released. Within hours they had lost track of her.
Once free, Mihaela faced a dilemma encountered by many asylum seekers: her asylum application would take months to process but she was not allowed to work. Refused benefits and accommodation, she had little alternative but to enter the world of illegal employment.
Chaos
Within days she obtained the false documents she needed to work and hooked up with criminal gangs - themselves asylum seekers - who ply a lucrative trade in forging documents for others.
Mihaela discovers this is not a fluke encounter. She meets crooks who are able to make a fortune out of a system groaning under pressure and wide open to abuse. The genuine asylum seekers she meets are also victims of the system, kept in limbo for months waiting for their cases to be adjudicated.
Britain's asylum system is based on the principle of providing a safe haven to victims of persecution but it is in chaos because it cannot speedily distinguish between the refugee and the economic migrant.
When her six month permission to stay runs out, Mihaela puts the asylum system to one final test. Earlier this year, Home Secretary David Blunkett introduced fingerprinting of all asylum seekers to root out fraud and multiple applications.
Our reporter was fingerprinted at the time of her first application. Now, her first asylum request turned down, she adopts a different name, and makes another application. Panorama will reveal if Mr Blunkett's new detection system is up to the job.
---

LINKS
Clarke interview
Reports and interviews


Watch You The Judge
Watch Face The Nation


WE ACCEPT NO RESPONSIBILITY FOR THE ACCURACY OF ANY FEATURED LINKS