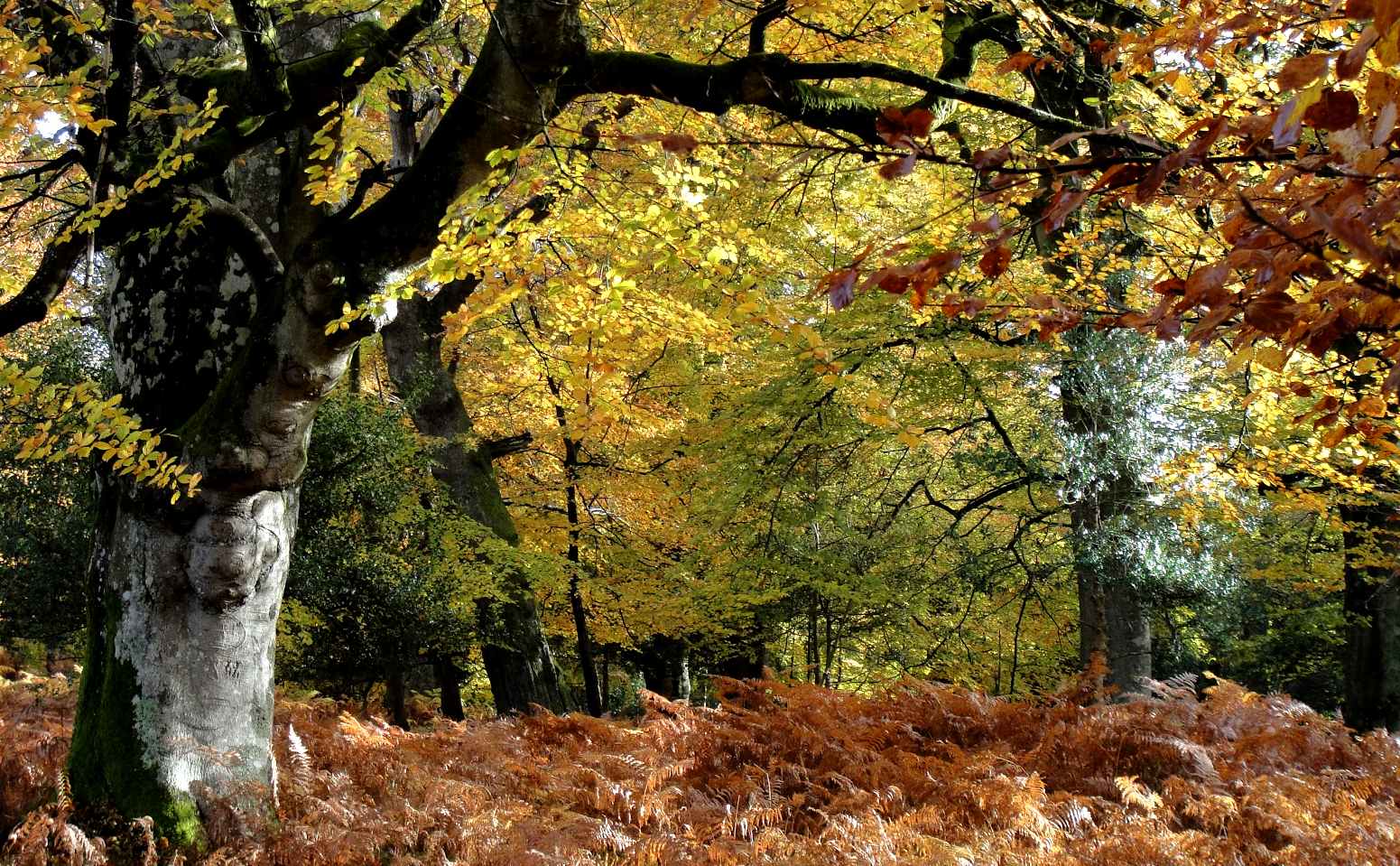 DAILY MAIL Thursday March 22 2001
Your house is illegal but it's your human right
A £750,000 house condemned as the most flagrant breach of planning permission has been saved from the bulldozers so as not to infringe the human rights of the owner.
Planners ordered Ken Duffy to demolish his five-bedroom 'chalet bungalow' at Lyndhurst in the New Forest saying he had built it twice the size they gave him clearance for. But he has successfully appealed against the order, even though the inspector hearing the case agreed the house seriously harmed an area of natural beauty and should never have been built.
Howard Russon said it would not be right to render the former night club owner, his wife Jacky and children Connor, six, Eamonn, four, and baby Melissa, homeless and bankrupt. It is the first time the human rights legislation which came controversially into force in October has been used in a planning dispute and could have serious implications for development laws.
Even Mr Duffy, 46, who spent two years building the property after moving to Hampshire from London, is surprised by the view taken by Mr Russon. Mr Duffy simply maintains he broke no laws in the first place. 'I am obviously over the moon but a bit surprised by the reason for allowing the appeal' he said. 'I believe that I built a home I was fully entitled to build and so accordingly I appealed against the council's order.'
Mr Russon backed the view of New Forest District Council that the house, in Ossemsley, near Lymington, bore no relation to the bungalow the plot of land had planning permission for, but decided they were not entitled to knock it down. 'The erection of this large detached dwelling has seriously harmed the character and appearance of this vulnerable rural area,' he said. I am therefore in no doubt that the retention of this dwelling has undermined the objectives of local planning policies aimed at protecting the very special landscape of this part of the New Forest.'
But he went on: 'The appellant drew my attention to the human rights legislation that makes it clear that everyone has the right to respect for his private and family life, his home and correspondence'. 'In this case I recognise that by upholding the enforcement notice in its present form the appellant and his young family will be made homeless.' 'In this situation it seems to me there would be a violation of the appellant's Human Rights under ARTICLE 8.
'I fully accept that these rights have to be balanced against the public interest and the need to protect the environment through the application of restrictive planning policies. However, the private costs in this case are very substantial and include the loss of the family home and possible financial ruin of the appellant.'
The Council is preparing an appeal to the High Court. 'The implications of this decision are so great that it is inevitable we shall appeal,' said Chris Elliot head of development control. 'My planning colleagues across the country would expect us to appeal because it will effectively mean we are rarely if ever able to correct things that have already been done.'
Mr Elliot says his officers repeatedly warned Mr Duffy that his building was not in line with the planning permission, but by the time they realised how far he had contravened the plans it was too late to prevent it being finished. Local Government Association planning officer Lee Searle said: 'A lot of human rights decisions are in the test process. If this case goes further, through the full legal process, the nit will enable case law to be argued in the future. "This particular one sounds difficult and quite alarming.'
Contacts for this case are John Bosworth and Chris Charlton, both experienced planning lawyers. See the foot of this page for details.
ARCHITECTS JOURNAL MARCH 2001
'We think the inspector got it wrong; but if he's right, the implications for the planning system are tremendous, ' said Chris Elliot, head of development control at the council. 'If someone can break all the rules, where does that leave the system? We have an obligation to challenge this in the courts.'
Permission was granted for a small bungalow in 1995, after which foundations were laid. Duffy bought the site three years later and continued building, but only after destroying part of the original foundations, altering the orientation of the house and increasing its size. Importantly, the house was meant to serve as accommodation for workers on a farm, although agricultural activity ceased when Duffy bought the land in 1997.

'The sheer size and scale of the works represent a significant departure from the original plans, ' said Elliot. 'We'd been giving Duffy advice for more than a year, but he continued arguing with us. Few people would ignore such clear advice.'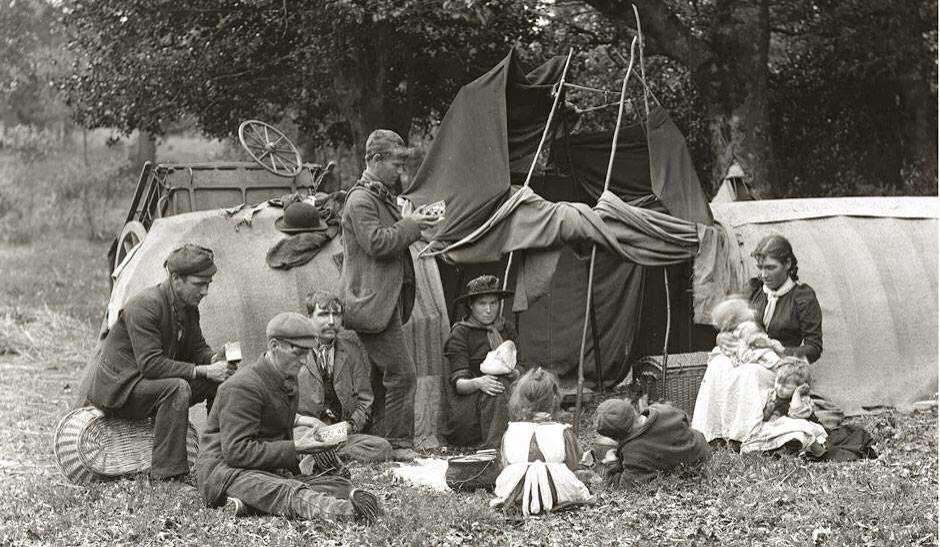 TRAVELERS TIMES (EXTRACT)
The New Forest is really the very Old Forest, enclosed as a Royal hunting ground by William the Conqueror. Since ancient Saxon times, this open heathland and forest has run through the counties of Hampshire, Dorset and Wiltshire, until it finally met with the sea.

Courts in Royal Stuart times over 400 years ago, periodically refer to the New Forest Gypsies and talk about the theft of timber and deer poaching. King Charles II's mistress was a Forest Romany and under Royal Warrant was gifted three enclosures of Forest land. Romany Gypsy Priscilla Wells lived and predominated as matriarch at Shave Green in the New Forest for many years of her life.

By 1926 the Forest Commission had put the 'compound' system into place to corral the New Forest Gypsies into official enclosures. Seven such places were identified to which the unsuspecting Gypsies would be herded. Establishing compounds breached the New Forest Act of 1877 – but this was tactically disregarded by the authorities involved. Black Hamsley, Broomfield, Hardley, Latchmoor, Shave Green, Millersford and Thorney Hill were the locations chosen. Families were rounded up and herded onto these sites, along with their animals and impelled to remain there under threat of harsh fines. By the 1930's, Thorney Hil, numbered 400 residents at a time.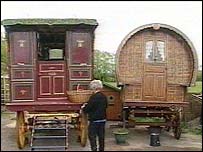 Traditional Gypsy Caravans
After the war, in 1946, the New Forest Committee published a report that was to herald disastrous changes for the families. Once put in motion, it would prove impossible to stop. By the late 1950s over 600 Gypsies were living in the compounds, though no permanent structures were allowed, nor floors or windows.

The draconian actions of the UK authorities were condemned by many. The Centre for Holocaust and Genocide Studies recognizes that: "It is hard to believe that civilized Britons would herd innocent people into compounds because of their race, just as Nazi Germans would a few decades later". Some that were forced into housing fared little better.

By the middle of the 1960s most of the families had been removed, although stubborn stragglers hung on until the 1970s. Juanita Casey, speaking on behalf of the authorities- observed: "Like an unruly harvest, the Gypsies have been safely gathered in, to council. By Ryalla Duffy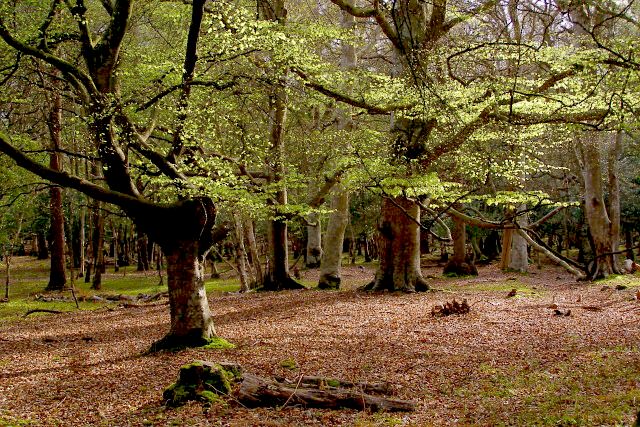 HISTORY
The New Forest is one of the largest remaining tracts of unenclosed pasture land, heathland and forest in Southern England, covering southwest Hampshire and southeast Wiltshire.

It was proclaimed a royal forest by William the Conqueror, featuring in the Domesday Book. Pre-existing rights of common pasture are still recognised today, being enforced by official verderers. In the 18th century, The New Forest became a source of timber for the Royal Navy. It remains a habitat for many rare birds and mammals.

Following the Norman Conquest, the New Forest was proclaimed a royal forest, in about 1079, by William the Conqueror. It was used for royal hunts, mainly of deer. It was created at the expense of more than 20 small hamlets and isolated farmsteads; hence it was then 'new' as a single compact area.

The New Forest was first recorded as Nova Foresta in Domesday Book in 1086, where a section devoted to it is interpolated between lands of the king's thegns and the town of Southampton; it is the only forest that the book describes in detail. Twelfth-century chroniclers alleged that William had created the forest by evicting the inhabitants of 36 parishes, reducing a flourishing district to a wasteland; however, this account is thought dubious by most historians, as the poor soil in much of the area is believed to have been incapable of supporting large-scale agriculture, and significant areas appear to have always been uninhabited.

Two of William's sons died in the forest: Prince Richard sometime between 1069 and 1075, and King William II (William Rufus) in 1100. Local folklore asserted that this was punishment for the crimes committed by William when he created his New Forest; 17th-century writer Richard Blome provides exquisite detail:

In this County [Hantshire] is New-Forest, formerly called Ytene, being about 30 miles in compass; in which said tract William the Conqueror (for the making of the said Forest a harbour for Wild-beasts for his Game) caused 36 Parish Churches, with all the Houses thereto belonging, to be pulled down, and the poor Inhabitants left succourless of house or home. But this wicked act did not long go unpunished, for his Sons felt the smart thereof; Richard being blasted with a pestilent Air; Rufus shot through with an Arrow; and Henry his Grand-child, by Robert his eldest son, as he pursued his Game, was hanged among the boughs, and so dyed. This Forest at present affordeth great variety of Game, where his Majesty oft-times withdraws himself for his divertisement.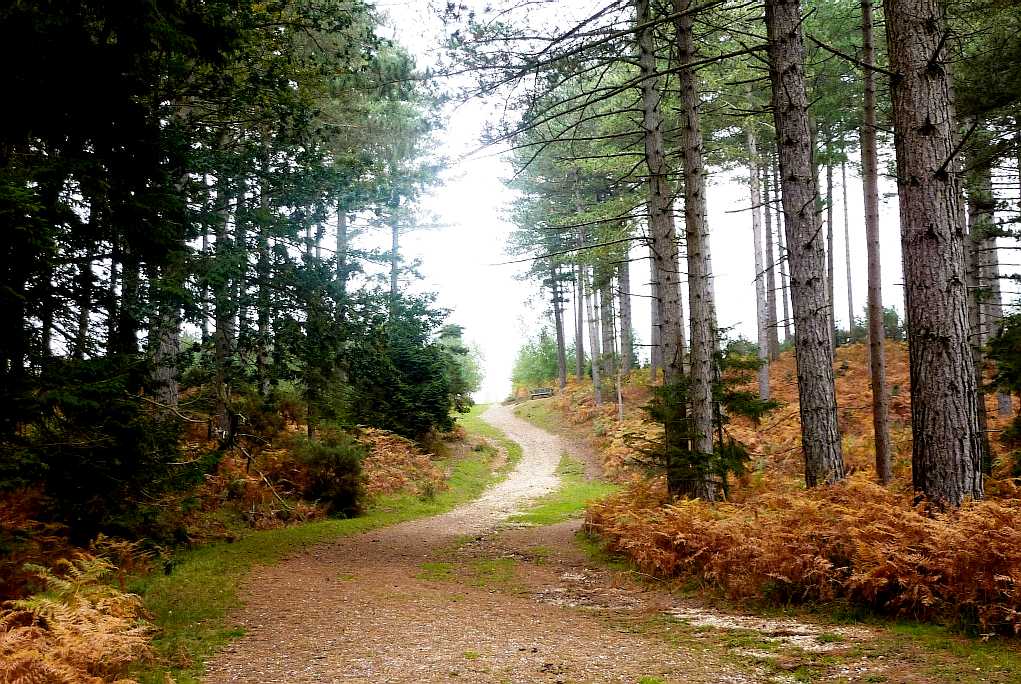 The common rights were confirmed by statute in 1698. The New Forest became a source of timber for the Royal Navy, and plantations were created in the 18th century for this purpose. In the Great Storm of 1703, about 4000 oak trees were lost.

The naval plantations encroached on the rights of the Commoners, but the Forest gained new protection under the New Forest Act 1877, which confirmed the historic rights of the Commoners and entrenched that the total of enclosures was henceforth not to exceed 65 km2 (25 sq mi) at any time. It also reconstituted the Court of Verderers as representatives of the Commoners (rather than the Crown).

As of 2005, roughly 90% of the New Forest is still owned by the Crown. The Crown lands have been managed by the Forestry Commission since 1923 and most of the Crown lands now fall inside the new National Park.

Felling of broadleaved trees, and their replacement by conifers, began during the First World War to meet the wartime demand for wood. Further encroachments were made during the Second World War. This process is today being reversed in places, with some plantations being returned to heathland or broadleaved woodland. Rhododendron remains a problem.

During the Second World War, an area of the forest, Ashley Range, was used as a bombing range.

Further New Forest Acts followed in 1949, 1964 and 1970. The New Forest became a Site of Special Scientific Interest in 1971, and was granted special status as the New Forest Heritage Area in 1985, with additional planning controls added in 1992. The New Forest was proposed as a UNESCO World Heritage Site in June 1999, and it became a National Park in 2005.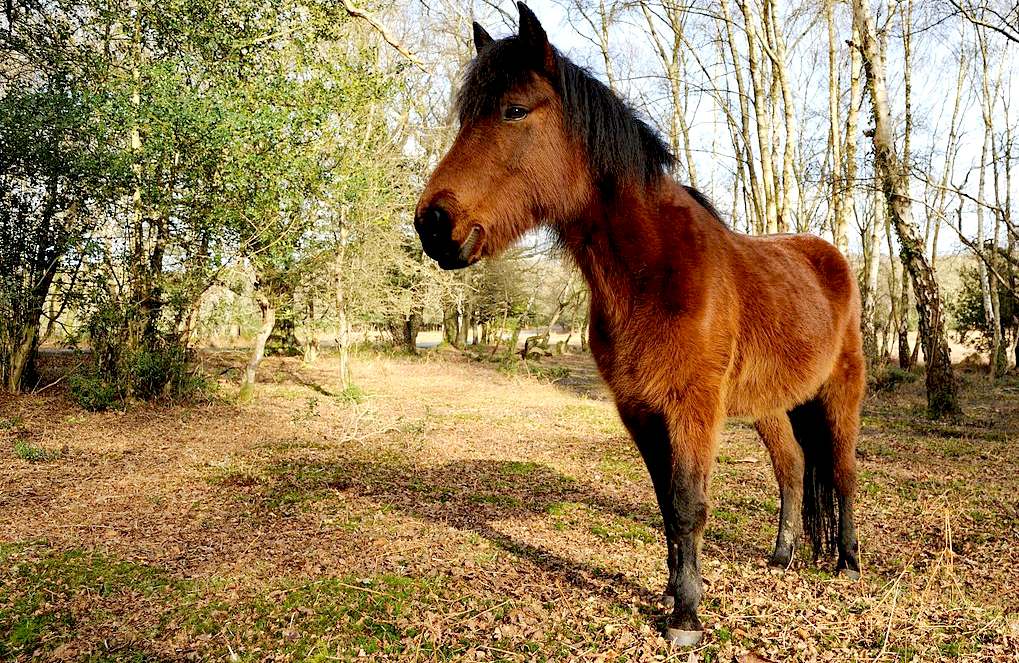 COMMON RIGHTS

Forest laws were enacted to preserve the New Forest as a location for royal deer hunting, and interference with the king's deer and its forage was punished. But the inhabitants of the area (Commoners) had pre-existing rights of common: to turn horses and cattle (but only rarely sheep) out into the Forest to graze (common pasture), to gather fuel wood (estovers), to cut peat for fuel (turbary), to dig clay (marl), and to turn out pigs between September and November to eat fallen acorns and beechnuts (pannage or mast). There were also licences granted to gather bracken after Michaelmas Day (29 September) as litter for animals (fern).

Along with grazing, pannage is still an important part of the Forest's ecology. Pigs can eat acorns without a problem, but for ponies and cattle large quantities of acorns can be poisonous. Pannage always lasts 60 days, but the start date varies according to the weather – and when the acorns fall. The Verderers decide when pannage will start each year. At other times the pigs must be taken in and kept on the owner's land, with the exception that pregnant sows, known as privileged sows, are always allowed out providing they are not a nuisance and return to the Commoner's holding at night (they must not be "levant and couchant" in the Forest, that is, they may not consecutively feed and sleep there). This last is an established practice rather than a formal right.

The principle of levancy and couchancy applies generally to the right of pasture. Commoners must have backup land, outside the Forest, to accommodate these depastured animals when necessary, for example during a foot-and-mouth disease epidemic.

Commons rights are attached to particular plots of land (or in the case of turbary, to particular hearths), and different land has different rights – and some of this land is some distance from the Forest itself. Rights to graze ponies and cattle are not for a fixed number of animals, as is often the case on other commons. Instead a "marking fee" is paid for each animal each year by the owner. The marked animal's tail is trimmed by the local agister (Verderers' official), with each of the four or five forest agisters using a different trimming pattern. Ponies are branded with the owner's brand mark; cattle may be branded, or nowadays may have the brand mark on an ear tag. Grazing of Commoners' ponies and cattle is an essential part of the management of the forest, helping to maintain the heathland, bog, grassland and wood-pasture habitats and their associated wildlife.

Recently this ancient practice has come under pressure as benefitting houses pass to owners with no interest in commmoning. Existing families with a new generation heavily rely on inheritance of, rather than mostly the expensive purchase of, a benefitting house with paddock or farm.

The Verderers and Commoners' Defence Association has fought back these allied economic threats. The EU Single Payment Scheme helped some Commoners significantly. Commoners grazing animals can claim up to £850 per cow per year, and £900 for a pair of ponies. If registered for and participating in the stewardship scheme, greater. With 10 cattle and 40 ponies, a Commoner qualifying for both schemes would receive over £30,000 a year and more if they put out pigs: net of marking fees, feed and veterinary costs this part-time level of involvement across a family is calculated to give annual income in the thousands of pounds in most years. Added to this a small dairy farming income would accrue.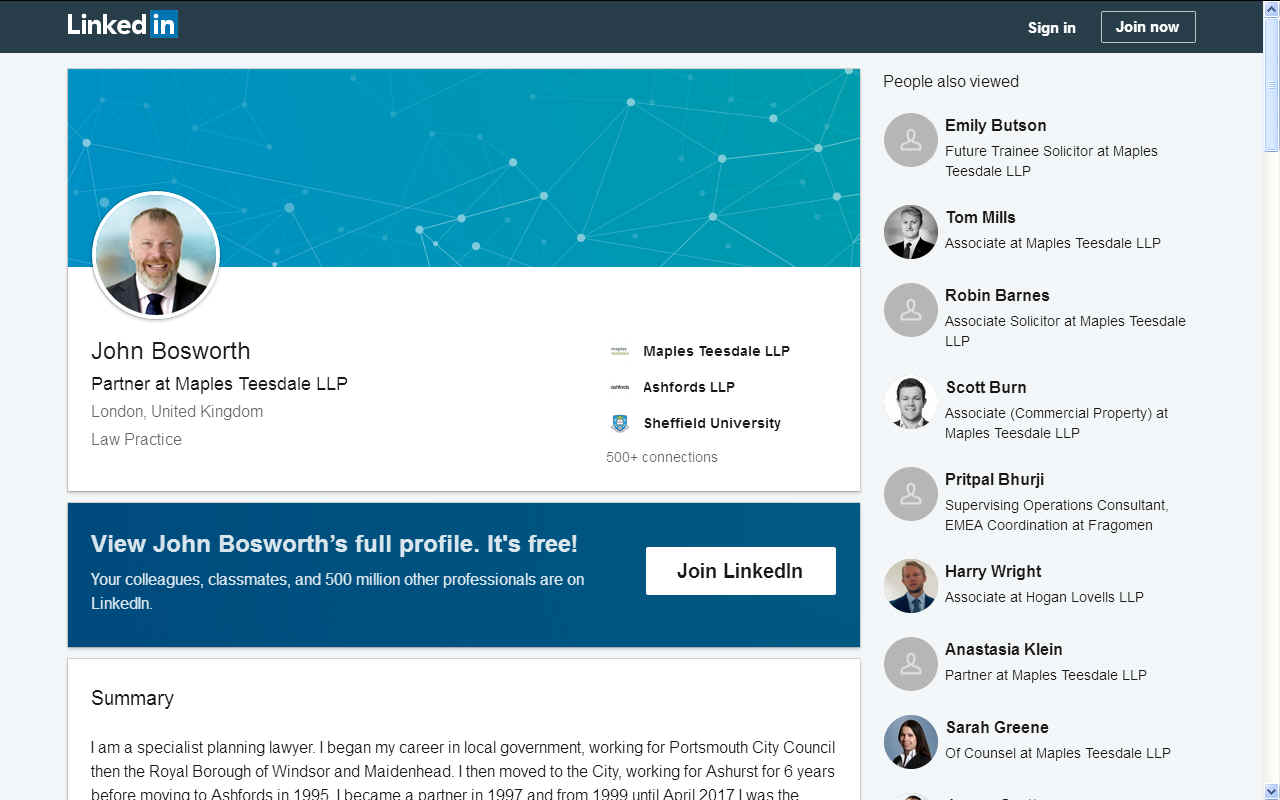 JOHN BOSWORTH - SOLICITOR & RTPI ASSOCIATE
According to his Linkedin profile Mr Bosworth is a specialist planning lawyer. He began his career in local government, working for Portsmouth City Council then the Royal Borough of Windsor and Maidenhead.
He then moved to the City, working for Ashurst for 6 years before moving to Ashfords in 1995. He became a partner in 1997 and from 1999 until April 2017 was the Head of Planning. In July 2017 Mr Bosworth joined the specialist property law firm Maples Teesdale as a partner.

John Bosworth is a legal associate of the Royal Town Planning Institute. He has previously been a Planning Aid Volunteer and a Member of the Planning Inspectorate's Advisory Panel on Standards.
Specialties: All aspects of planning law including planning applications, environmental impact assessment, planning obligations, judicial review, planning appeals, historic buildings, compulsory purchase and compensation, town and village greens, enforcement and lawful development certificates, highways and drainage law. Mr Bosworth has also worked on new residential settlements including Cranbrook new settlement, Devon, Newquay Growth area (for the Duchy of Cornwall), North Yate urban extension and sites in Faversham.
This planning lawyer has advised in connection with the redevelopment of many redundant hospital sites, including listed ones. He has also advised in connection with several new hospitals including the development of the Great Western Hospital, Swindon. He acted in respect of the expansion of London Ashford Airport, the redevelopment of Hayle Harbour and new waste facilities proposed by the NWLWA in Edmonton.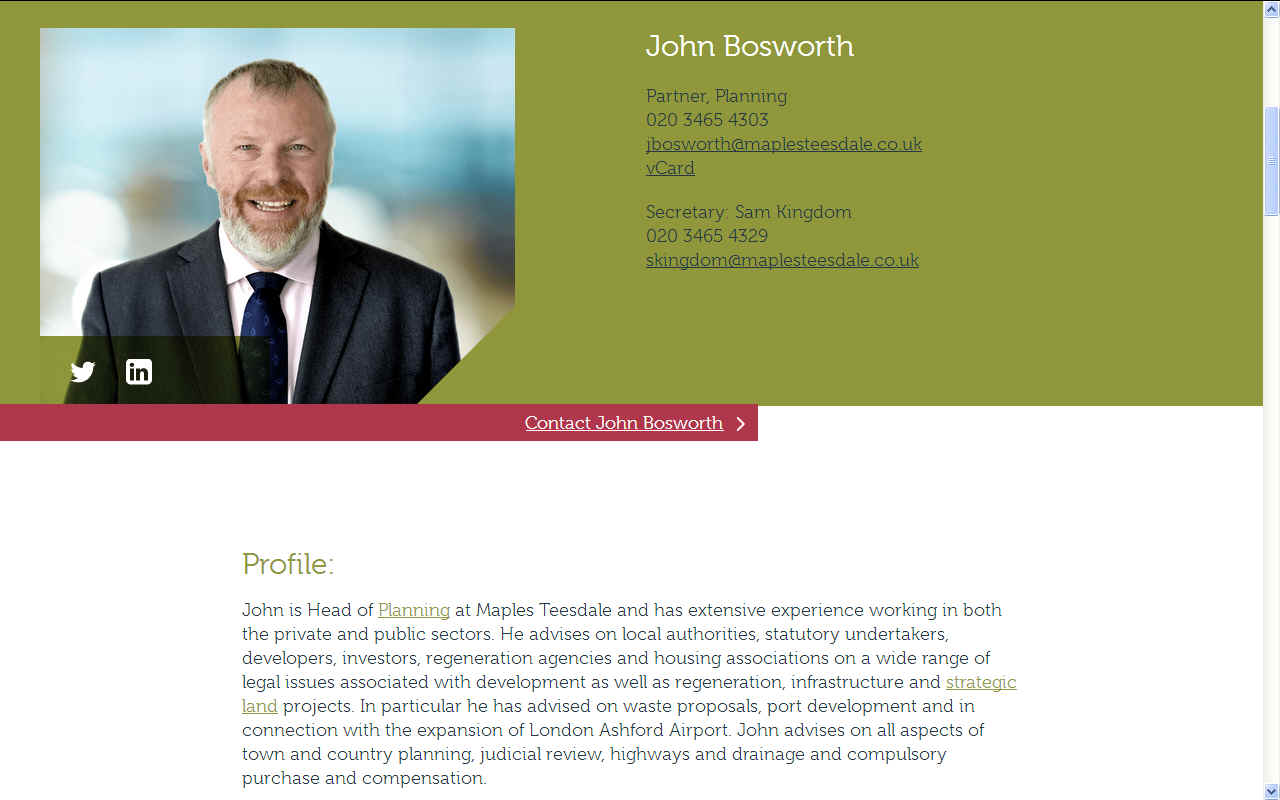 MAPLES TEESDALE - John Bosworth
Partner, Planning 020 3465 4303
jbosworth@maplesteesdale.co.uk

John is (Sept 2019) Head of Planning at Maples Teesdale and has extensive experience working in both the private and public sectors. He advises on local authorities, statutory undertakers, developers, investors, regeneration agencies and housing associations on a wide range of legal issues associated with development as well as regeneration, infrastructure and strategic land projects. In particular he has advised on waste proposals, port development and in connection with the expansion of London Ashford Airport. John advises on all aspects of town and country planning, judicial review, highways and drainage and compulsory purchase and compensation.
Professional experience:
Throughout his career John has advised upon some of the largest regeneration schemes in London and the south of England including London Docklands, Nine Elms and Wembley Park in London and also Ashford town centre, Temple Quay, Bristol and the Camborne Pool Redruth Urban Regeneration Area in Cornwall.
Advising in connection with the negotiation and renegotiation of various section 106 agreements at Wembley Park, including in respect of a new Masterplan providing 4850 new homes, one million sq ft of offices and start up workspaces and the provision of £140 million of investment into community infrastructure across Wembley, including a primary school and nursery, GP's surgery and community meeting spaces. The agreements included cascade and review mechanisms for affordable housing, low cost employment space and community provision; highways improvements; public access; contributions towards education facilities; landscaping; public open space; public art; car parking management and travel plan measures.
Advising in respect of the called-in planning application for extensions to London Ashford Airport, including the negotiation of a planning obligation regulating the operation of the airport.
Advising a County Council in respect of a new settlement of 7500 new homes, including the provision of highways infrastructure, public transport, new primary and secondary schools and a library
Advising a landowner in connection with a supermarket development on an edge of centre site, including establishing a base lawful use position and negotiating a section 106 agreement in connection with a planning appeal.
Professional history:

Trainee and Solicitor Portsmouth City Council/ Royal Borough of Windsor and Maidenhead, 1986 – 1990
Solicitor Ashurst Morris Crisp, 1990 – 1996
Partner Ashfords, 1997 – 2017
Partner Maples Teesdale, 2017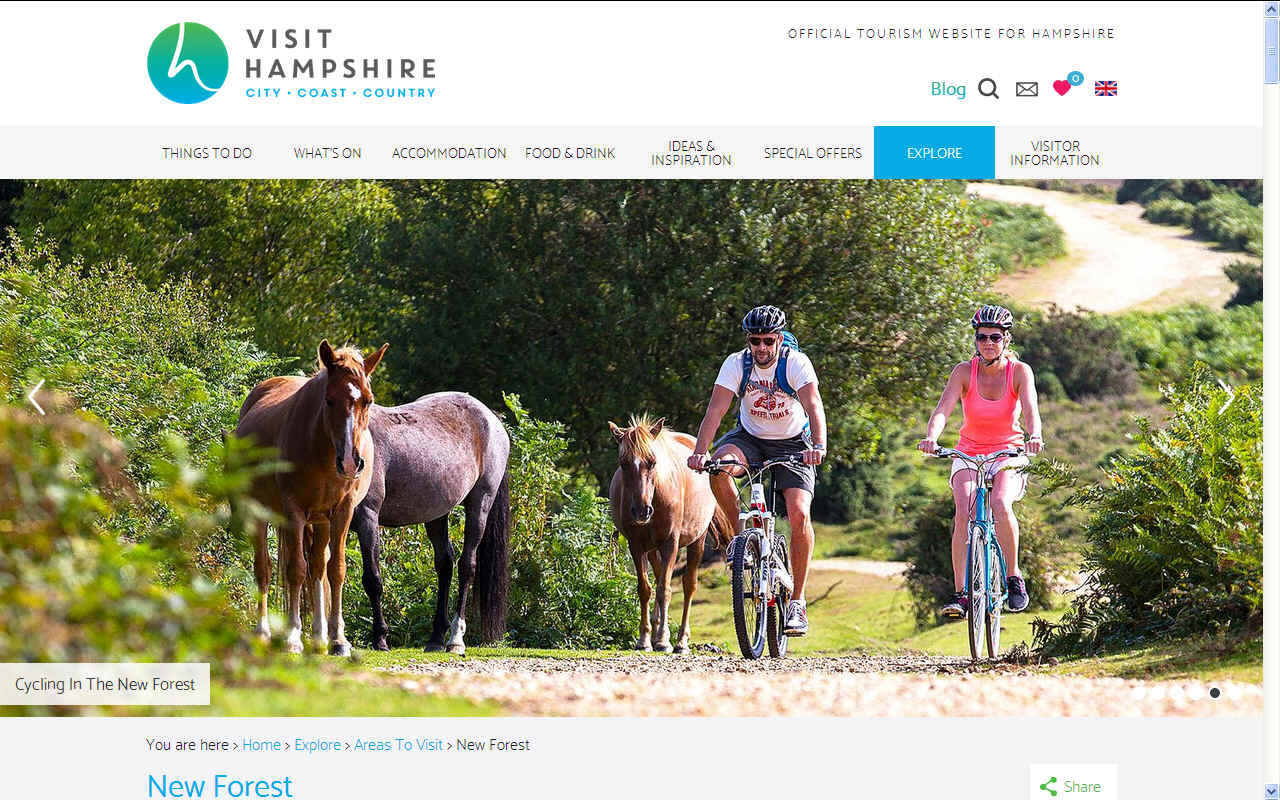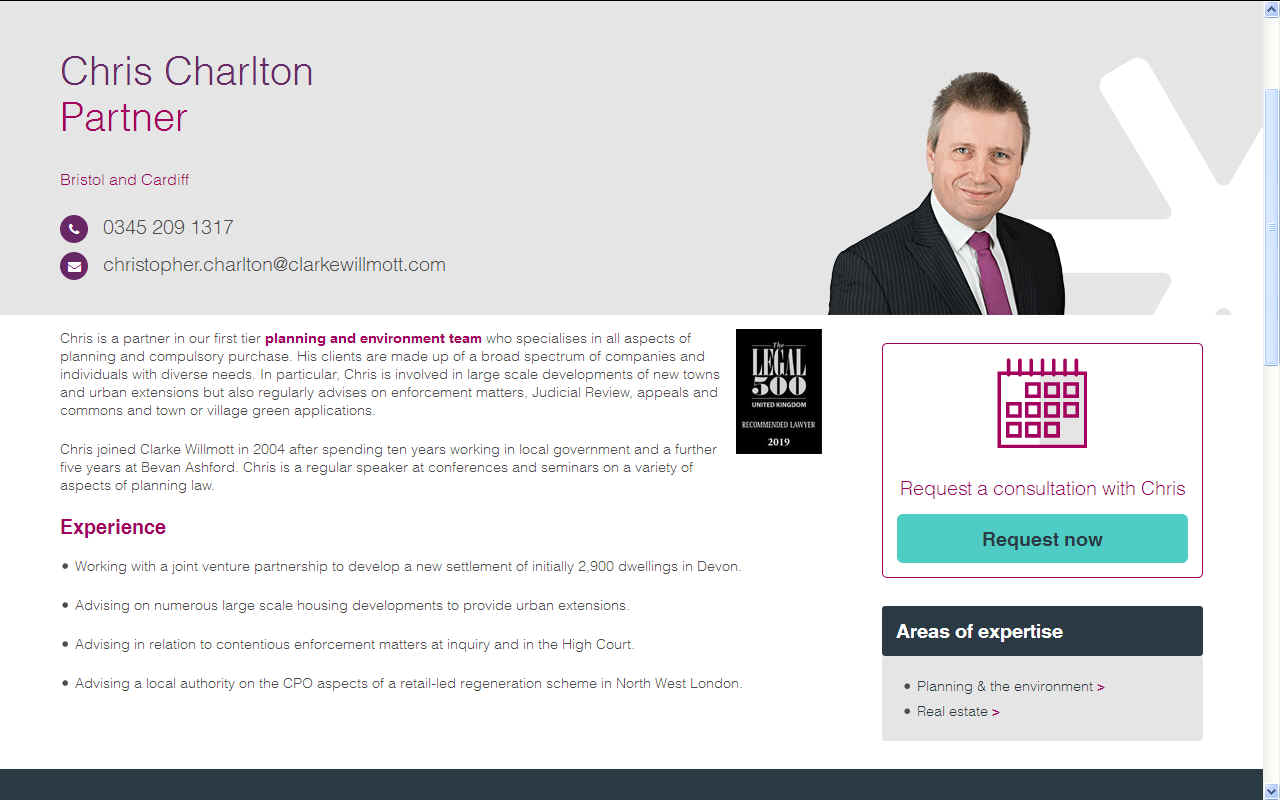 CHRIS CHARLTON - LAWYER - Legal 500 UK Recommended 2019
Chris Charlton is a partner in Clarke Willmott's first tier planning and environment team. He specialises in all aspects of planning and compulsory purchase. His clients are made up of a broad spectrum of companies and individuals with diverse needs. In particular, Mr Charlton is involved in large scale developments of new towns and urban extensions but also regularly advises on enforcement matters, Judicial Review, appeals and commons and town or village green applications.

He joined Clarke Willmott in 2004 after spending ten years working in local government and a further five years at Bevan Ashford.
Chris is a regular speaker at conferences and seminars on a variety of aspects of planning law.
Admitted as a solicitor: 15/02/95

SRA ID:
167512
SRA Regulated

Clarke Willmott LLP
1 Georges Square,
Bath Street,
Bristol,
BS1 6BA,
England
View in Google Maps
DX 78247 Bristol 1

Tel: 0345 209 1317

Tel: 0345 209 1317
Email: christopher.charlton@clarkewillmott.com
LINKS & REFERENCE
https://uk.linkedin.com/in/john-bosworth-32170616
https://uk.linkedin.com/pub/dir/john/bosworth/gb-0-united-kingdom
https://www.maplesteesdale.co.uk/our-people/john-bosworth/
https://www.clarkewillmott.com/find-a-solicitor/chris-charlton/
https://www.architectsjournal.co.uk/home/planning-hit-by-test-case-on-human-rights-legislation/180296.fullarticle
https://www.visit-hampshire.co.uk/things-to-do/activities-and-sport/walking-and-hiking
https://www.travellerstimes.org.uk/heritage/gypsies-new-forest-photo-story-ryalla-duffy
HUMAN RIGHTS APPEAL QUASHED - OCT 2001
NFDC challenged that decision in the high court and the Secretary of State and Mr Duffy have submitted to judgement. If this decision is used against authorities they need to be aware that it has been quashed. Details awaited from the Planning Inspectorate and New Forest District Council.
Ashford Solicitors are a firm of solicitors based in Tiverton, Devon.
To contact Ashford Solicitors, please call their phone number on 01884 242 111

Ashford Solicitors, Gotham House, Hammett Square, Tiverton, Devon, EX16 6LT.

http://www.solicitors-barristers.co.uk/devon/tiverton/bevan-ashford/
Original contact details provided in 2001: John Bosworth tel. 0117 975 1731 or john.bosworth@bevanashford.co.uk
Christopher Charlton Tel. 0117 975 1616 christopher.charlton@bevanashford.co.uk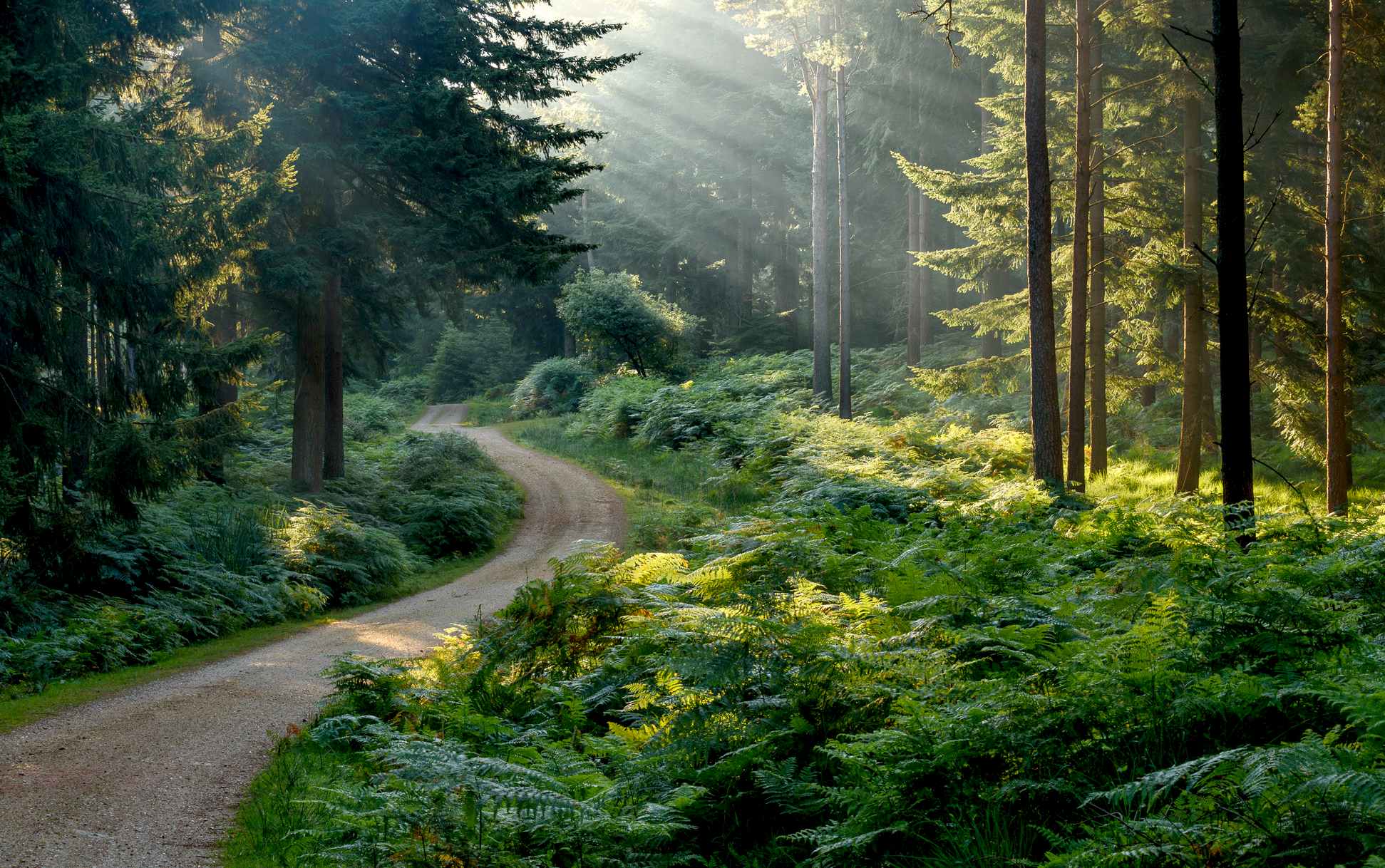 New Forest District Council Contact details
Councillor Melville Kendal, leader of the council
Tel: 023 8028 5000 Email: melville.kendal@nfdc.gov.uk

David Atwill, head of public relations and media
Tel: 023 8028 5142 Email: david.atwill@nfdc.gov.uk
The New Forest District Council was created by Act of Parliament on April 1 1974, and embraces the whole of the former Borough of Lymington, the New Forest Rural District Council that was established in 1895, and the greater part of the former Ringwood and Fordingbridge Rural District Council.

The area covered by the New Forest District Council stretches from the borders of Wiltshire in the north to the Solent in the south, and from the borders of Dorset in the west to the waterside towns of Totton, Hythe and Marchwood in the east.

The council's headquarters are at Appletree Court, Lyndhurst with other key departments based at the Town Hall, Avenue Road, Lymington.

Area: 290 square miles (75,100 hectares) Population: 173,000 Total electorate: 138,500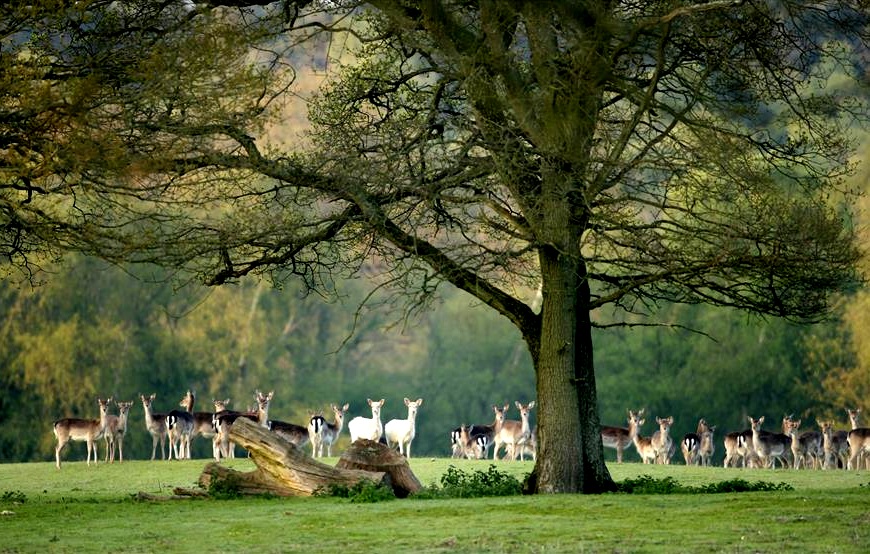 Local Councillors
Local Councils
ENVIRONMENT HORSES LEGENDS LAW SITE INDEX WHISTLEBLOWING