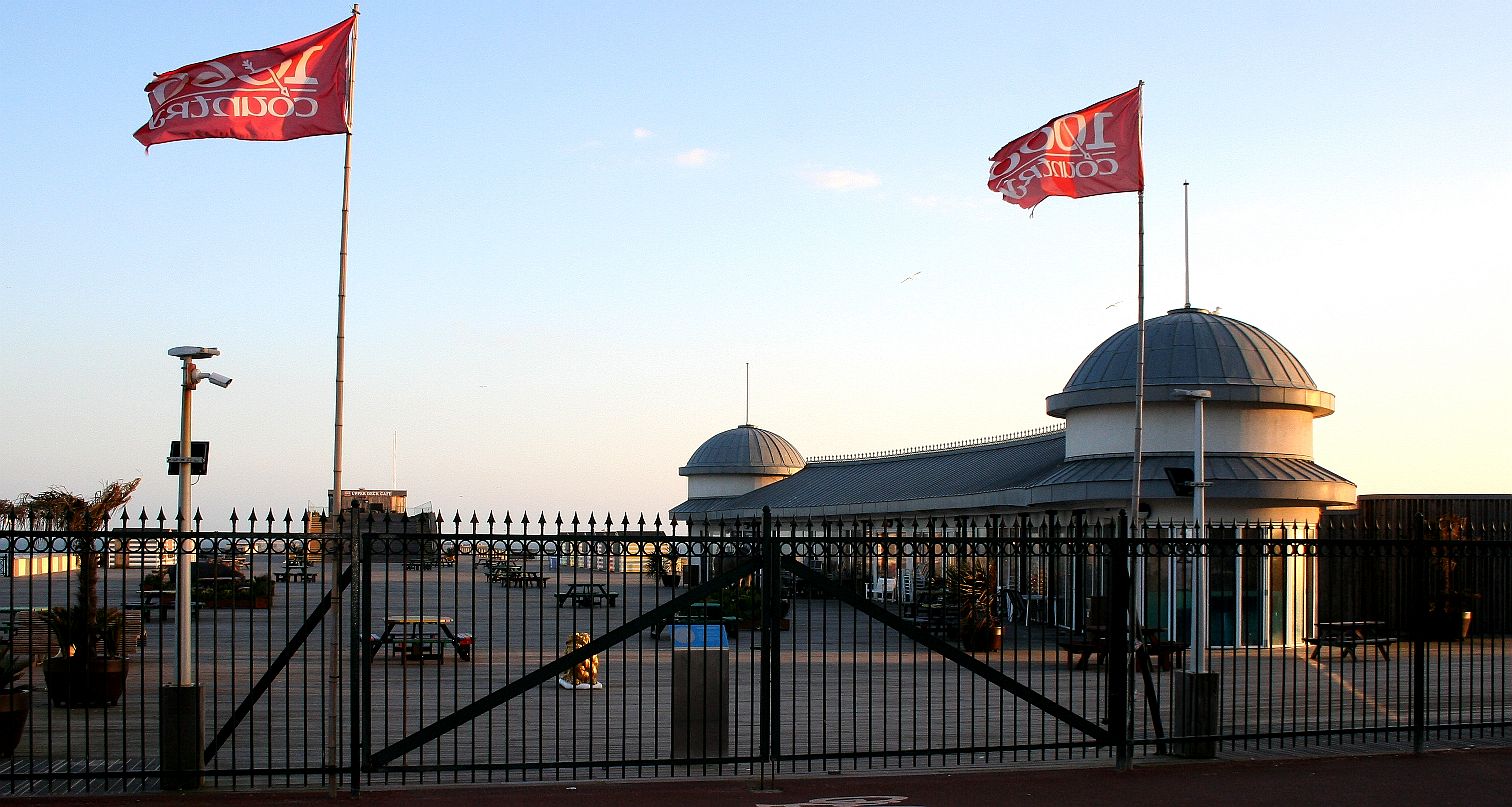 MARCH 2019 - The public are shut out from their beloved pier. £14,000,000 million pounds of Heritage Lottery Fund money was poured into this icon, to get it back to this condition. Hasting pier was shut in January for what was said to be essential repairs to electrical wiring after a small fire. Delays meant that opening would not be until May, causing marches and a petition by the public to get things moving. What a bargain though. Even with a little fire and structural works to complete. If the pier was only £60,000 (according to the land registry) it would not hurt to spend a few bob more. The cafe alone will bring in enough to cover the initial outlay. There are a lot of unsightly posts at the rear of the pier that need attention. The same applies to Eastbourne pier. Both piers could work together to run pleasure boat trips in the summer if there were the appropriate landing stages, but we doubt that such a service would cover the costs of these works. It would need money to be donated from Mr Gulzar's other business interests.
The flamboyant entrepreneur is famous for controversy in one arena or another. Yes, he is a risk taker, and yes he gets into a few tough scrapes, but he has the courage to step in where others fear to tread. We only hope that he recovers his financial equilibrium to be able to resume his not for profit objectives, for that is surely what running two piers must be like. The closure of Hastings pier has led to a petition to re-open it and a letter from Amber Rudd to local residents expressing concern that this local attraction should be open by May 2019.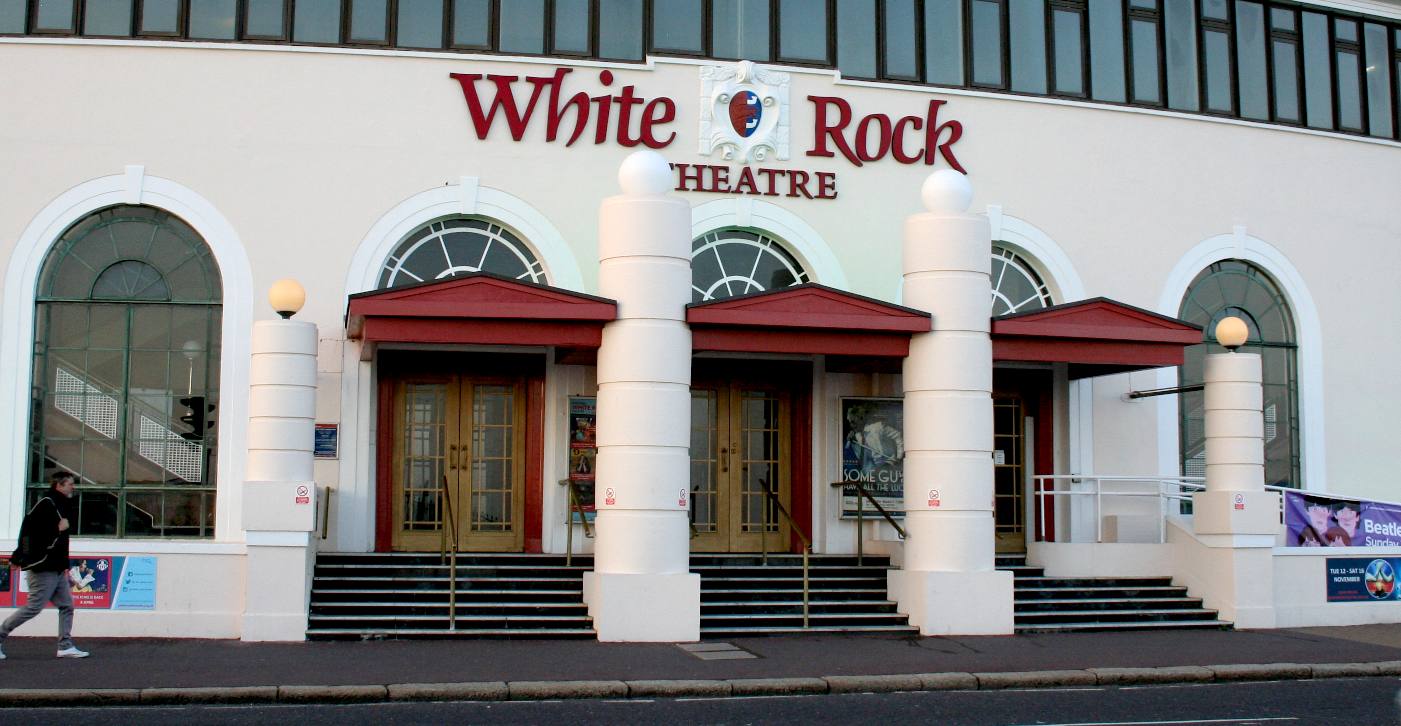 BEATLES DAY 2019 - Just over the road from Hastings pier is the famous White Rock Theatre.
News came in January of 2019 Mr Gulzar has been awarded the honorary title of Mister Ocean: Sussex Coastal Heritage Champion for his work in conserving Eastbourne and Hastings piers through 2018.
We understand from a source that it is possible to run both piers and make a handsome return using innovative technology, something that a traditional hotelier may fight shy of. We heard about such plans a few years ago when a charity was in the running for the Eastbourne pier. Unfortunately we are bound by a non disclosure agreement. The not-for-profit had planned attractions the like of which would have pleased the public and Eastbourne and Hastings councils - and the profit and loss account of the operators. It was not to be. But that doesn't mean that the man who loves golden lions could not stage a recovery with something truly amazing like this once the blinkers are off.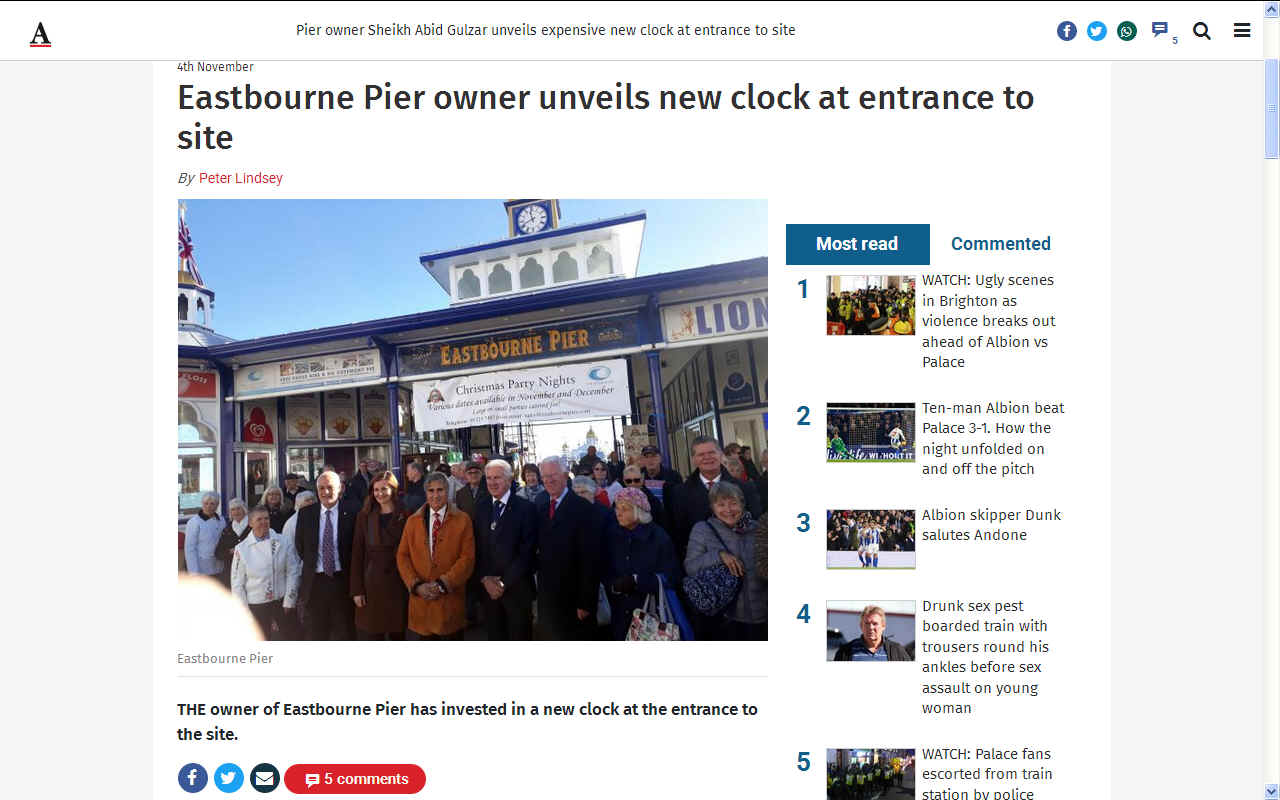 THE ARGUS 4 NOVEMBER 2018 - The owner of Eastbourne Pier has invested in a new clock at the entrance to the site. Sheikh Abid Gulzar welcomed around 100 members of the public for the unveiling on Friday.
Also present were Eastbourne MP Stephen Lloyd, council leader David Tutt and Councillor Jim Sheppard, vice chairman of the county council.

Mr Gulzar said: "I have invested heavily into the new clock. "It's very expensive and it has four faces so you will be able to see it whichever angle you are looking at it. "It's not been working for more than 15 years, which is a very long time. "Now it's up and can be seen, I hope people like the blue and gold colours. "I'm very proud of it, it's going to be a focal point for our wonderful town."

Mr Gulzar now also owns Hastings Pier and he has just applied for planning permission for five new retail units. The units are described in his application as 'log cabin' with glass windows and doors along with timber frames.

Mr Gulzar said: "We have to continue to make the open deck area of the pier more appealing. "That is why we want permission for these five temporary units on the pier. "We are asking for permission for five years and they will enhance the offering to people." By Peter Lindsey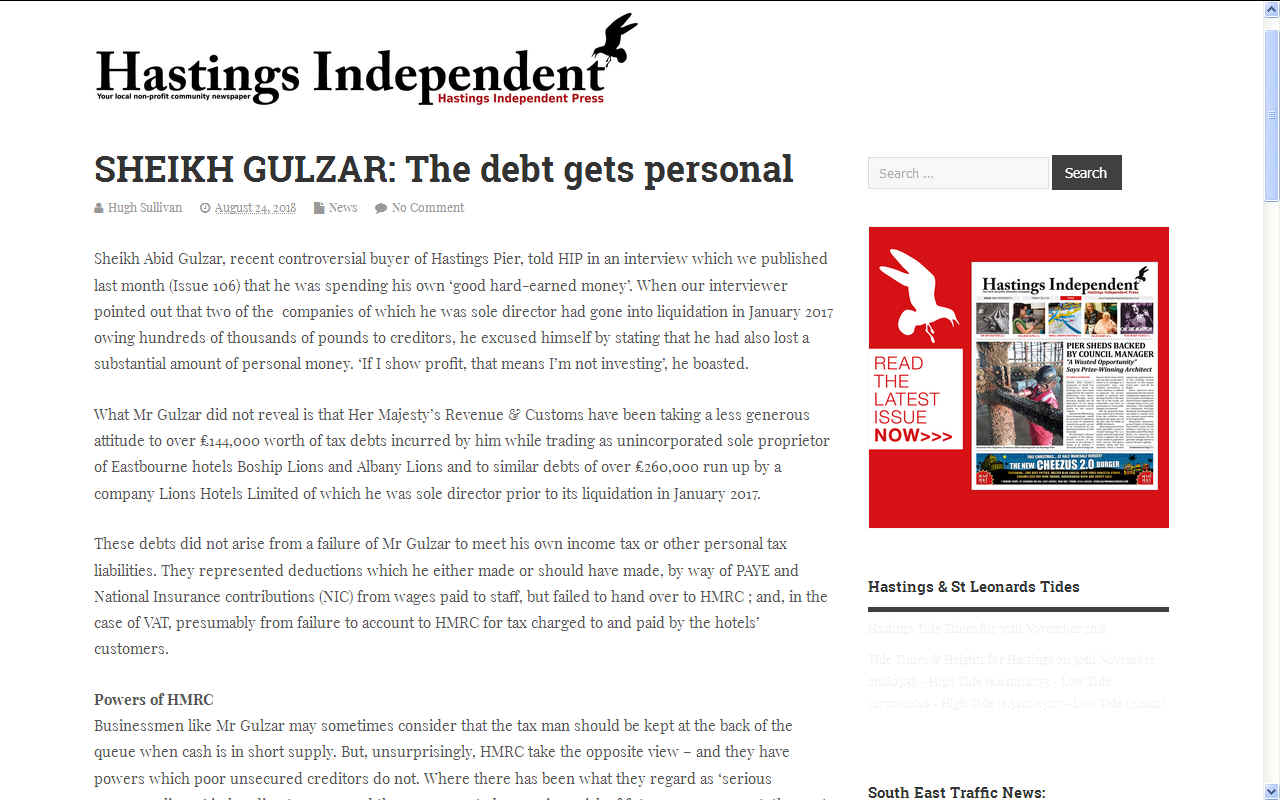 TAXES AUGUST 2018 - It appears from the above article by the Hastings Independent that the Inland Revenue are after Mr Gulzar for national insurance contributions. This is not his first scrape with the tax man, and it will probably not be his last. We wonder why he does not settle such sums in sufficient time to avoid any late payment penalties. Surely, paying in arrears is not good business sense? And now disgruntled pier engineers are staging a legal challenge for which they seek crowd funding.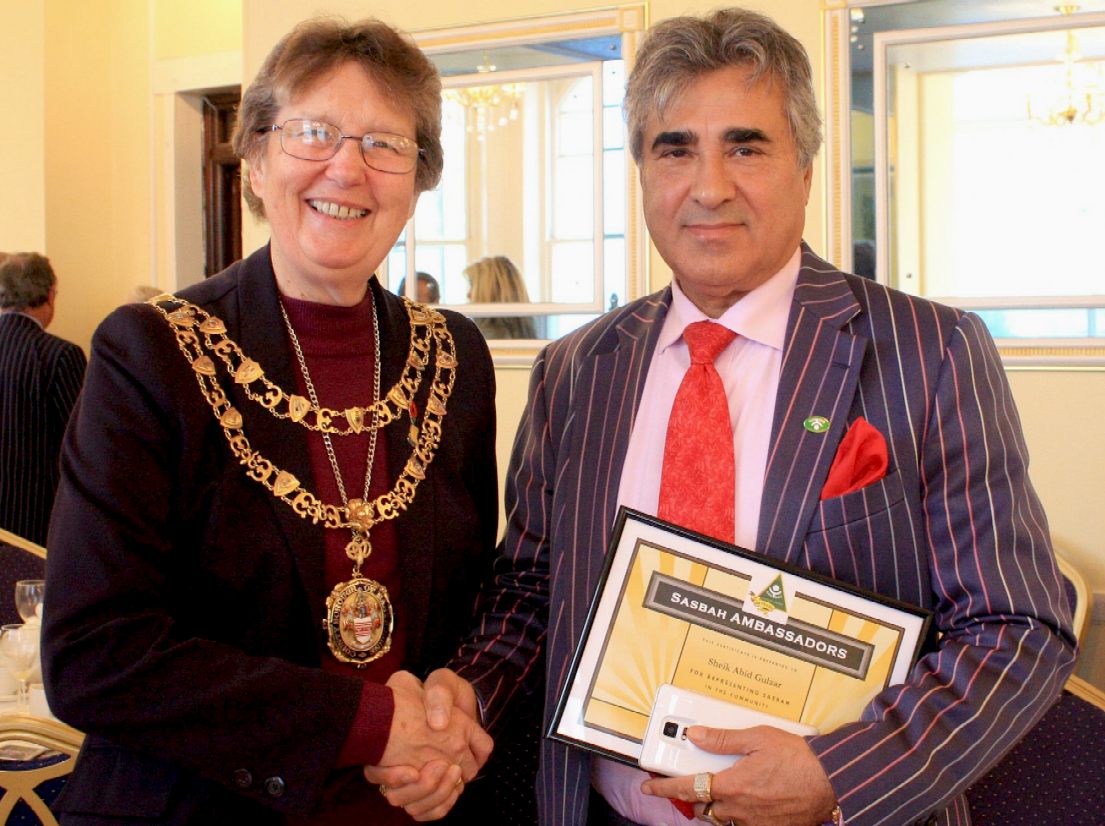 INDEPENDENT 9 NOV 15 - The new owner of Eastbourne Pier has been given a top award by a charity celebrating its 50th birthday in 2015. Sheikh Abid Gulzar has been supporting SASBAH - the Sussex Association for spina bifida and hydrocephalus - for many years. At a business breakfast he was made an Ambassador of SASBAH - and said he was truly delighted and proud. He is pictured being congratulated by Eastbourne Mayor Janet Coles. Rom Sanglaji, CEO of SASBAH, said, 'Mr Gulzar has been an absolute star to our charity with committed support. Our families are very grateful to him.'
This is of course great news. We are though slightly confused where having stated that he would make Eastbourne's pier the best in England, that Mr Gulzar now appears to be saying that he does not have the money himself to do that. He says he is not a millionaire and agrees that is what is needed to rebuilt the fire damaged music pavilion. We are sure that the new owner must have something up his sleeve. We doubt the latest reported murmuring of a £2 charge will make a dent on the £3-4 million needed to give the South Coast the Blue Room back. Not in this lifetime. Mr Gulzar is of course a smooth operator and does a lot of work for good causes, so we remain hopeful. There has been a lot of talk on Facebook. Mr Gulzar benefits from a great sense of humor in good times and bad and has latched onto the "Sheikh's Pier" (Shakespeare) play on words. We love it. Nice one Mr G.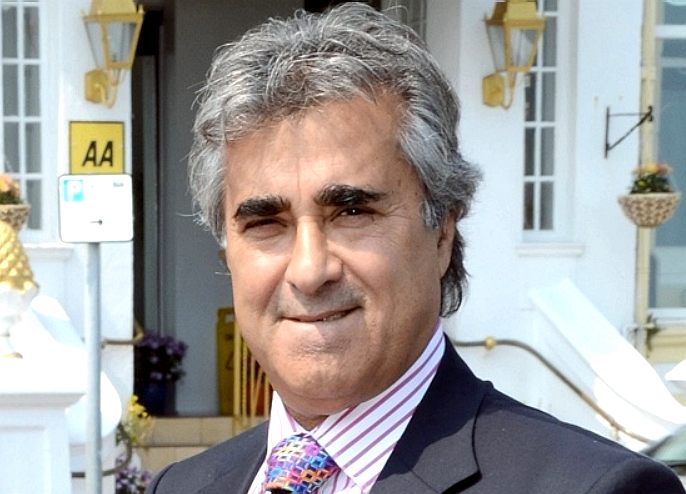 THE TIMES 12:01AM, October 24 2015 - Seventy years wise and still looking good. An Indian-born Eastbourne hotelier with a penchant for gold rings and stone lions has acquired the seaside resort's fire-ravaged historic pier and vowed to make it "the best pier in the country".

Sheikh Abid Gulzar, chairman of Lion Hotels, has exchanged contracts on the purchase of the grade II listed pier from Trevor Hemmings' Crown Entertainment Centres. The Victorian pier was put up for sale in 2009 for £5 million, but in July last year it was ravaged by fire that destroyed about one third of the GradeII* listed structure. by Dominic Walsh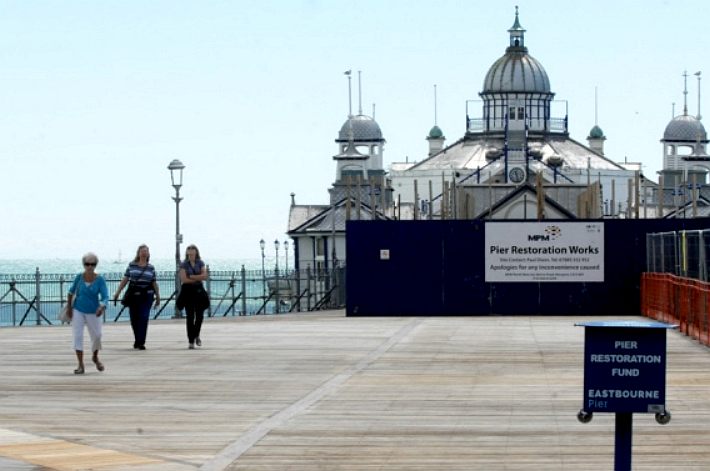 WHITE ELEPHANTS - Here is where the Blue Room should be, the missing third of Eastbourne pier. How much longer will it be before it is put back, if ever? That is the question everyone is waiting to have answered. The steelworks alone are estimated to cost around £3 million pounds. A landing stage to the rear will cost another seven figure sum and then there is the purchase price, which we guess to be considerably less. All in all restoring this important heritage asset carries a hefty price tag that current trading will not support, hence Mr Gulzar is quoted as saying that it is a white elephant. But then he does have his hotel chain to support good causes, if as it appears, he is minded to donate those profits to this heritage project. Congratulations then to Mr Gulzar on his latest purchase. The whole of Eastbourne is waiting to learn of his plans for the pier that made it onto the At Risk register last year - and again this year.
BBC NEWS 22 October 2015
The sale of Eastbourne Pier, badly damaged by fire 15 months ago, has been agreed according to a local hotel chain owner. Sheikh Abid Gulzar said he agreed the deal with owner Cuerden Leisure on Wednesday.

He would not disclose the cost, but the BBC understands it is less than the £5.5m asking price when the pier was last for sale in 2009. Cuerden said the sale was not completed and it would comment later.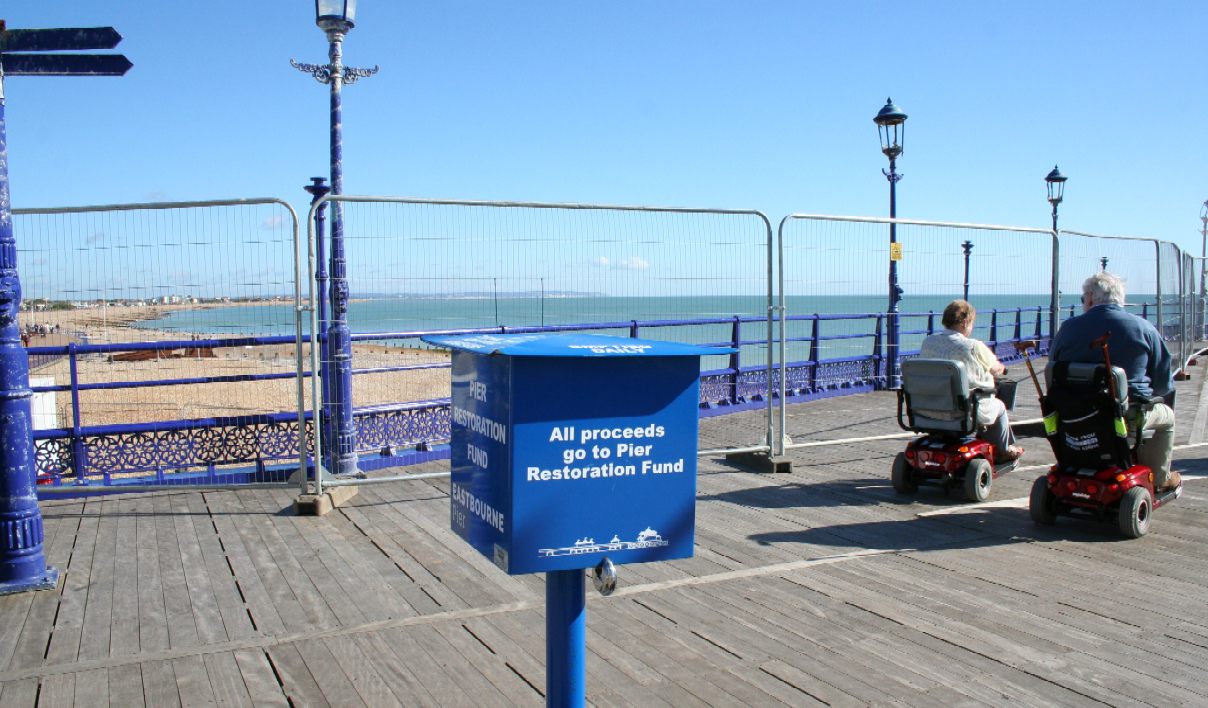 'DADDY OF THE PIER' - About one third of the 1870 Grade II* listed structure was destroyed in the blaze on 30 July 2014. It was partially reopened in September 2014 but a large section remains empty.

The pier was put up for sale this summer when Eastbourne Borough Council refused Cuerden Leisure permission to install temporary children's rides on the vacant section of the structure.

Sheikh Gulzar, who owns two hotels in Eastbourne and another near Hailsham, said he was now "the daddy of the pier" but would work with the council to ensure any plans had its full approval. "I have got a lot of love and affection for it and I will look after it," he said. "I can see the pier from my bedroom."

'DELIGHTED' - Cuerden director St John Stott said: "A sale of Eastbourne Pier did not complete yesterday. "We will let you have a statement if and when anything happens."

Chamber of Commerce chief executive Christina Ewbank said she was delighted a local business person was investing in the pier. "If Abid Gulzar is looking at a series of changing events that will bring people on to the pier that can only be good," she said.

Council leader David Tutt said the council was keen to work with whoever owned the pier to ensure it remained the landmark attraction for Eastbourne.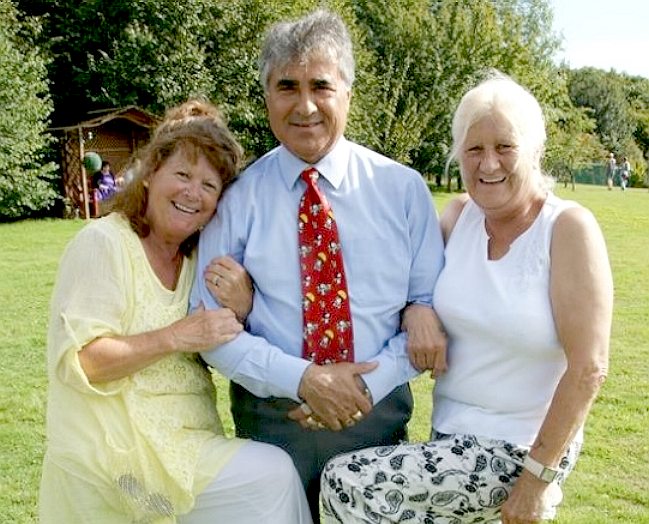 HAPPY BIRTHDAY - All of us here at the Horse Sanctuary Trust wish Mr Gulzar the very best on his 70th birthday. Thanks also to all of those that joined in the fun to make this a special day to remember.
EASTBOURNE INDEPENDENT, Friday 25 September 2015

HOTELIER Sheikh-Abid Gulzar will be celebrating his 70th birthday tomorrow by staging a second charity barbecue BBQ to raise money for Sussex charities.

In August, he welcomed more than 250 guests to the Boship Lions Farm Hotel on the A22 at Hailsham. The event made about £1,000 for the Polegate-based Children with Cancer Fund and SASBAH (Sussex Association for Spina Bifida And Hydrocephalus).

Now Mr Gulzar, who also owns The Mansion and The Albany hotels in Eastbourne, has decided that before autumn sets in he will open his doors once again.

His birthday barbecue at the Boship will be from 2pm to 6pm on Saturday. He will be welcoming the public in for food and drink and family entertainment including a children's bouncy castle.

He said: "I am 70 at the end of September and what better present for me than hundreds of people to join me at the Boship for this fundraising event?

"It will be my birthday weekend. I don't want presents, I want families, groups and individuals to come along and help me support local charities."

The groups to benefit this time will be:

* Macmillan Cancer Support
* Rockinghorse children's charity
* The Chaseley Tust
* Alzheimer's Society
* Lark in the Park
* Children with Cancer Fund
* SASBAH

Mr Gulzar is planning a really big event this time and he needs the support of the public to make it a big success. He said: '"The Boship is a wonderful hotel and we have a huge garden at the back. I want the public to make the most of the land I have, and to enjoy it,"' he said.

Tickets will cost £5 per person or £15 for a family ticket (maximum of four) but Mr Gulzar is also inviting those in need to attend free of charge.

'"We do not limit how much food and drink people have, I just want them all to have a good time, and there will also be plenty of entertainment for all the whole family. This is about supporting charities in Sussex - and also making a 70-year-old a happy man on his birthday."

To book, call 07710 934574. by Peter Lindsey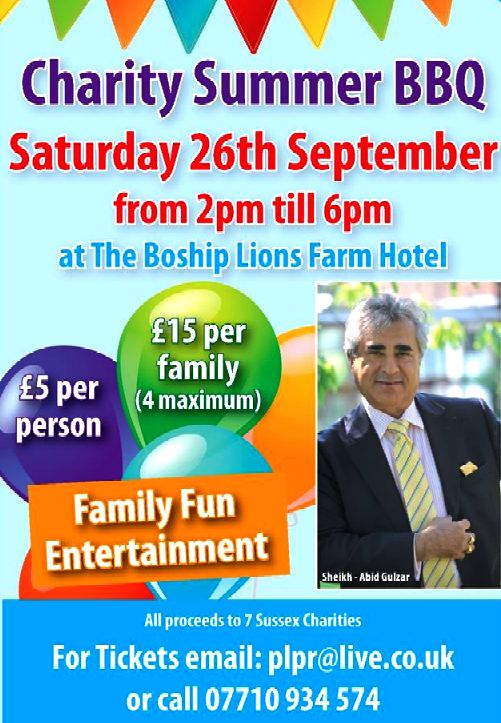 HOTELIER - Sheikh-Abid Gulzar will be celebrating his 70th birthday by staging a second charity BBQ to raise money for some of his favourite Sussex charities. In August he welcomed more than 250 guests to the Boship Lions Farm Hotel on the A22 at Hailsham, raising around £1000 for the Polegate-based Children with Cancer Fund and SASBAH (Sussex Association for Spina Bifida and Hydrocephalus).
Monday 24 August 2015

A group from the Hastings Pensioners Association were treated to a free day out at a top hotel.

Around 20 people travelled to Hailsham on Friday August 21 to attend a big charity barbecue event at the Boship Lions Farm Hotel.

They were accompanied by Lord Brett McLean from Hastings.

Hotel owner Sheikh-Abid Gulzar decided to invite the Hastings group free of charge simply so they could enjoy an afternoon out at the beautiful 17-acre site.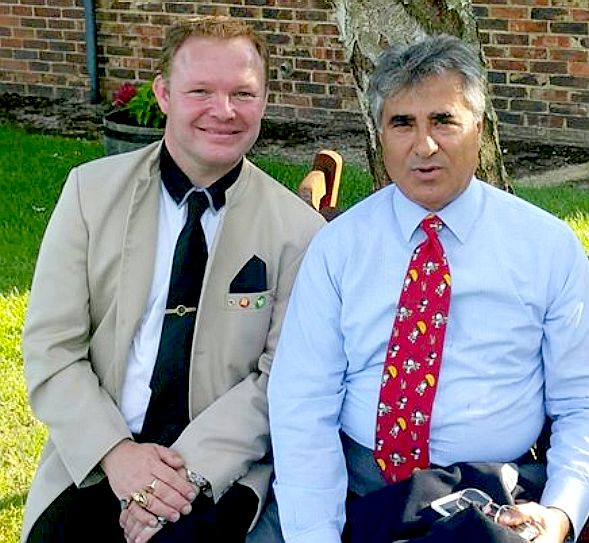 ESCC ECONOMICS - Lord Brett McLean and Sheikh-Abid Gulzar enjoy a moment or two in the shade.
Chair of Hastings Pensioner's Association Jean Gillam said, 'It was a wonderful day. Mr Gulzar was so kind to invite us all. There was a great BBQ, drinks galore, bouncy castle for the children who were there, and a magician, even some belly dancers.

'We all really enjoyed it and we can't wait to go back to the Boship. Mr Gulzar was so respectful to my group, he spoke to every one of them."

Brett joined in the fun in his capacity as an Ambassador for SASBAH - the Sussex Association for spina bifida and hydrocephalus - whose members also attended.

Mr Gulzar said: "I was delighted to see so many people coming to the Boship and making the most of the wonderful facilities on offer here.

"I was also pleased to raise substantial funds for SASBAH as well as the Children with Cancer Fund. It was a great success, and I want to repeat it again soon."

The Boship is a three star hotel based at Lower Dicker, near Hellingly.

For more on SASBAH go to www.sasbah.org.uk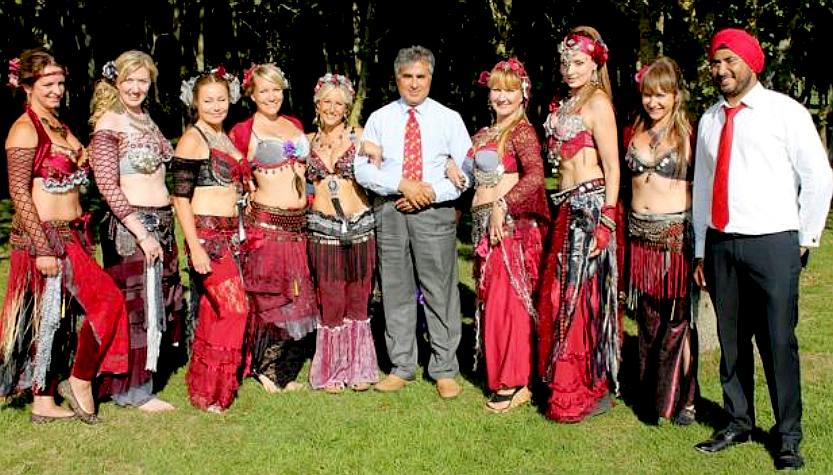 PISTON HEADS Friday 27th July 2012 - SASHA GULZAR

Lol yep my father - I refused to be filmed because I did not agree with letting them in in the first place! They approached us with the idea of giving Eastbourne some publicity/helping us make a four star hotel (which we never suggested and don't particularly want - Eastbourne's three star hotels thrive and the four/five star hotels struggle - that's just how it is!).
But I know hotel inspector and what angle they come in as to have a bit of drama, scandal and confrontation. For example the lady Alex who interviewed my father raised her voice to my father and said Mr Gulzar if you carry on treating customers this way it'll be just you staying in this building! My fathers reply was: "Your family owned a chain of Forte Hotels did they not? How many did you have?" "We had 40 hotels" she replied, "And today how many do you have?" , "2" was the answer. My father then said "so you went from 40 down to 2 and I went from nothing to 5 and in the last 10 years there hasn't been a year that our turnover hasn't increased at least 10% than the last, I think I know what I'm doing!" she then went red faced and changed the subject - that bit almost definitely wont be aired! Anyways will be entertaining to watch nevertheless but I'm almost certain they will edit it in a bad way! At the end of the day drama, scandal, confrontation and arguments pull in viewers!

Tony Hetterington: "So why did she turn up in the first place then? Normally the hotels on that program are very obviously either owned by eccentrics, or people with no idea what-so-ever. I assume your father is neither, judging by his response to her?"

Sasha Gulzar - They were scouting for hotels and really wanted to film our Mansion Lions Hotel and visited us 3 times to try and convince us and eventually my father relented as they sold it to him that "it'll be wonderful publicity for your lovely hotel and this lovely town!".

And re Trip Advisor: Its well known among hoteliers especially in Eastbourne that its bull--t, the best ranking hotels in Eastbourne for example are absolute crap with the same person cleaning your room, cooking you breakfast and serving you at the bar. They have time to make fake accounts, get their hotels to the top and put down their competitors with again fake reviews. This is well known and a particular hotel beginning with the letter "A" in Eastbourne was doing this to us to the extent where we threatened legal action! And surprise, surprise it all suddenly stopped!


CHANNEL 5 EPISODE 5, SERIES 9
Alex visits Eastbourne and the three-star, 110-bedroom Mansion Lions Hotel. The flamboyant owner, Mr Sheikh Abid Gulzar, dreams of turning the hotel into a four-star establishment. Mr Gulzar describes the hotel's design as 'rich and good looking, just like myself'; however, Alex soon discovers the hotel's décor and customer service is desperately lacking.

Alex worries that the steady stream of coach tours are being badly served by a diet of unimaginative food and entertainment, and wants the Mansion Lions to drop its four-star pretensions and concentrate upon improving its reviews. But her plan to make the hotel the best three-star in Eastbourne soon suffers a serious setback.

CHANNEL4 - Planning Outlaws broadcast - During this TV broadcast, that also became a Youtube video about a planning issue on the Pevensey Levels, the gentleman participant above accused Mr Gulzar of flouting the law. Odd that, when his comments were racist and perhaps he should have been prosecuted for inciting racial hatred? We have no issues with the right to share information (freedom of speech), as per Article 10, but that should be compliant with Article 14 (prohibition of discrimination).
Having seen that broadcast, we should correct the gentleman: In planning law all development is lawful until it is challenged successfully with an enforcement notice - and that notice is upheld on appeal. Thus, the owner of the land was simply exercising his right to test a development. This is an Article 8 convention right. We wonder if the fact that the landowner is not native to the UK has anything to do with it? The owner of the land acted strictly correctly in law. The same cannot be said for the vandal that smashed the two ornamental lion statues. Was there a criminal investigation as to the damage to property and what was the outcome?

THE GUARDIAN, PLANNING OUTLAWS - LUCY MANGAN 21 JAN 2011

Ah, planning law enforcers. I see them as a thin municipal line of defence against humanity's innate greed, selfishness and persistently misguided sense of its own good taste and righteousness. Others see them as pettifogging bureaucrats in love with the letter of the law and careless of its spirit. Let us, as Playschool almost used to say, go through the recently installed and development-certificated round window and take a look:

".....then, there's the (possibly self-styled) sheik Gulzar, who has erected 6ft white stone lions on the ancient Pevensey Levels without planning permission. His pride in his pride is understandably not shared by the locals, although the xenophobic undercurrent to their dealings with him ("We fought the Romans, the Normans and the Saxons here, and we'll fight you for ruining our country!") undoubtedly buys him some sympathy from the viewer."
The comments above and in the actual Youtube video were clearly racist remarks. You can no longer see the Youtube video online, most probably because of that. The gentleman pictured above made what was a planning issue into a sovereign issue that appears to have spread to Wartling Parish Council and even infected Greg Barker, the MP who it seems urged Natural England and/or Wealden District Council to take action. Wealden DC are of course serial abusers of Human Rights and hypocrites in planning terms, enforcing against a development when there is an owner they want to victimize, but granting permission on greenbelt to an owner they want to do a favour. Where's Robin Hood when you need him?
WHITE ELEPHANT - The Pier suffered a fire on July 30, 2014 that ripped through a large amount of the central domed building. Sussex Police initially said that the fire was not to be treated suspiciously, though later the police said arson was suspected. East Sussex Fire & Rescue Service deployed up to 80 officers to tackle the blaze, which allegedly started in wood paneling in the walls of the games arcade. After fighting the fire through the night, fire officers eliminated the main 'hotspots', and saved two thirds of the pier with the main arcade being the only large building affected. The outer pavilion was not reached by the fire.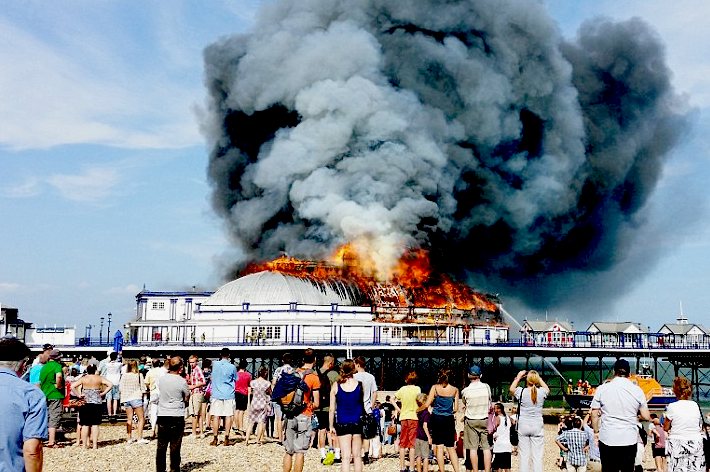 It's a strange thing that links Brighton and Hastings with Eastbourne; all their piers have had fires. Why is that? What is the common denominator? Well, pier operators rarely make significant profits from their seaside palaces, and profits are needed to keep historic buildings like this in good condition. Perhaps standards slide. The police took a different view in investigating possible arson, but came up with nothing in the way of evidence.
EASTBOURNE HERALD 11 AUGUST 2015
A local hotelier has revealed his interest in buying the fire-ravaged and iconic Eastbourne Pier.

Sheikh-Abid Gulzar, who owns the Mansion and Albany hotels along Eastbourne seafront, has met with the pier's owners to discuss the possibility of the purchase, but has said he "needs some more answers" before progress is made.

Pier owners Cuerden Leisure said last month, on the first anniversary of the devastating fire, it was considering its options regarding the pier after Eastbourne Borough Council's (EBC) planning committee refused permission to install temporary children's rides on the pier. [We note that EBC have deliberately made it difficult to find information about councillors on their website, in denial of local government transparency requirements. Such efforts to mask operations hardly inspires confidence.]

Mr Gulzar, who is also chairman of Lion Hotels, which includes the Boship Lions Farm Hotel in Hailsham, said the pier is a great asset to Eastbourne and who owns it next is crucial to the town's economy.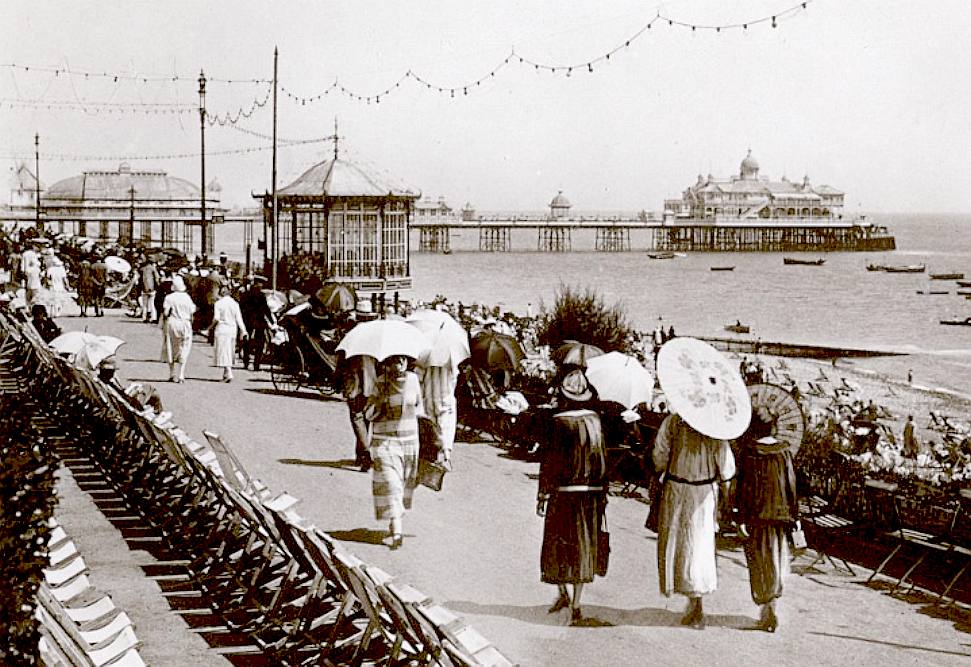 PIER HEYDAY - The good old days, when flights were not unrealistically cheap (carbon unfriendly) and package deals to Majorca and other popular destinations could not be contemplated by the ordinary man in the street. Now of course, it's cheaper to jet overseas than it is to stay in the UK - with more to brag about on your return.
According to the Independent (Charlie Cooper) in April 2013, anything that spooks holidaymakers is seriously bad news for the "seaside economy". Tourism brought in £346m to local businesses in Eastbourne in 2010, according to Tourism South East. It is the crucial thing that keeps the communities in such places working. For the shopkeeper and café owner, fewer visitors means fewer people hitting the streets, fewer ice creams, fewer sticks of rock – and less money in the till. With so many people employed in the sector, that soon has a knock-on effect which can lead to widespread decline in the local economy.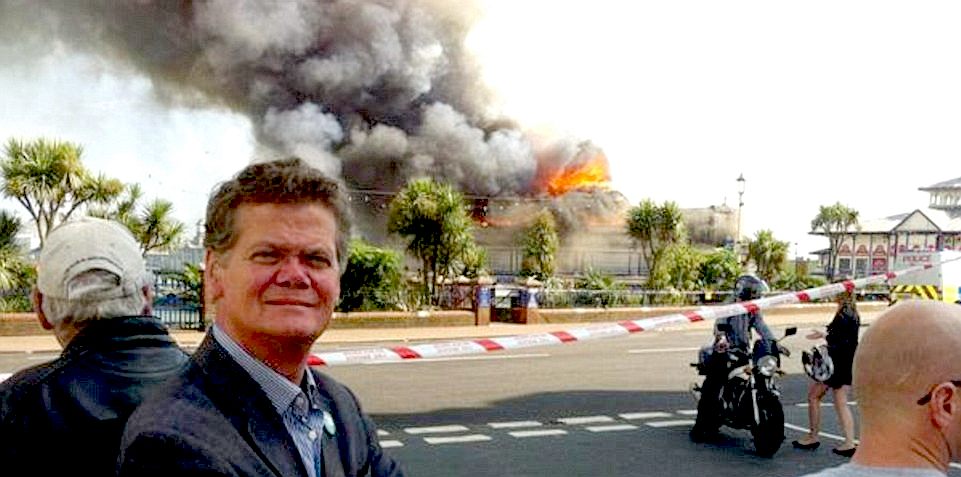 Jimmy Keeley, who runs Bobster's gift shop, on Terminus Road is quoted as saying "We are down 45 per cent on last year for the Easter weekend." His shop is decked out with all the staples of the traditional British seaside holiday: buckets, spades, windmills and a handsome array of dubious postcards. Working with his nephew Michael, he opened little more than a year ago and has seen things get progressively worse since. His chief nemesis has been the weather, but the Olympics didn't help either. Fears of overcrowding meant that tourist numbers were down 5 per cent last summer, and of those who did come to the UK, few diverted from their Olympic itinerary to visit humbler destinations such as Eastbourne. The Keeleys and their supplier, Ricky Webster, who often pops in for a chat, are also slightly sceptical about reports of the rise of the staycation.

THE PIER SEPT 2015 - "When the economy slowed down, people just downgraded where they were going. Those who used to go to America go to Europe, those who went to Europe go to a seaside town, and those that went to seaside towns don't take holidays," theorises the elder Keeley. "So overall it's been the same." But this year has been a shocker. Mr Webster, who supplies more than 250 gift shops like Bobster's all along the south coast and has been in the business for years, said he has never seen an Easter weekend so bad. He is down 80 per cent on last year, because the shops he supplies just aren't selling their wares fast enough. "There was a time when we wouldn't worry about a bad spring," he said. "You could always rely on the summer. With the past two summers we're not too sure. But my old boss used to say: 'The bucket-and-spade business is recession-proof – all it takes is for the sun to come out and you're selling again.' " [But is that all it is - we doubt it - there is a perceived lack of vision from the local authority. If you are not moving forward, you are going backwards. Other south coast havens like Portsmouth in Hampshire and Plymouth in the West Country are plowing ahead.]
Mr Gulzar is quoted as saying: "The pier has lots of problems and lots of major works which have to be done. It does need a lot of love, of that there is absolutely no doubt."

"I would be interested in a project which I can put my heart and mind in to. If I am given the chance, I would want to know a lot more before we do a deal. It is a big white elephant and you have to know exactly what you are buying."

"I know sometimes I may shock people with my views but I always speak from the heart and I always say what I believe is the best for people."

"If I was to take over the pier it would be an amazing asset to Eastbourne - but let me be clear, we are a long way from this at the moment."

"I thought when I tried to buy the Cavendish Hotel recently that I would be successful, but you never know what may happen around you, and I didn't succeed with that one."

"I love Eastbourne and Hailsham, I care passionately about the people, and I will always try to do my best, whether that is supporting local charities or supporting the town's economy."
COMMENT: Full marks to Mr Gulzar for even considering taking on the pier. If anyone can restore this heritage asset and perhaps some of the lost confidence in the town, it could well be him.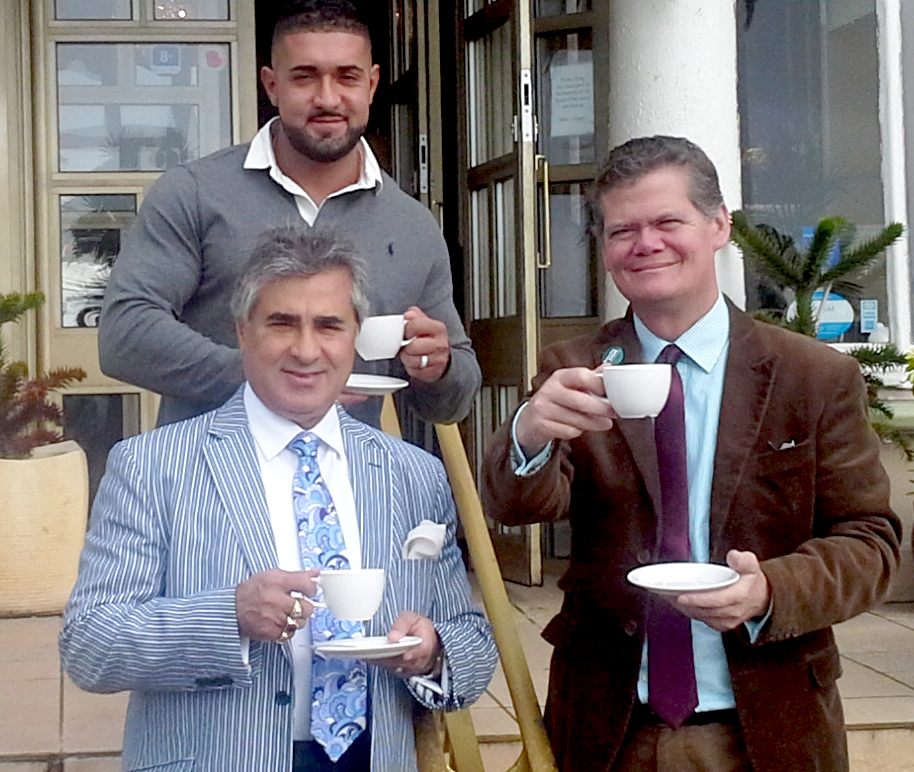 EASTBOURNE HERALD 1 FEB 2014
The Chatsworth Hotel on Eastbourne seafront has been put up for sale with a £3.25 million price tag because its owner says he is fed up with the town and the local council.

Flamboyant hotelier Sheikh Abid Gulzar says he isn't selling the hotel because he needs the money but because he feels he does not have the backing of Eastbourne Borough Council which he says is constantly nit picking.

Mr Gulzar, who is well-known in the town for his often outspoken views and who also owns the Albany and Mansion plus the Boship and the Lions Cub Nursery opposite the Fishermen's Club, said this week, "I have ploughed millions of pounds into the East Sussex economy in recent years, securing hundreds of jobs for people, yet I do not feel I have the backing of Eastbourne Borough Council.
THE MANSION - One place where things are stable is the Mansion Hotel on Eastbourne's promenade, owned by Sheikh Abid Gulzar – a man who wears his wealth on his sleeve with three golden rings and a gold-trimmed black Land Rover, but has a passion for the simple joys of a British seaside holiday. His customers – mostly elderly people and coach parties – appear not to be so worried about the weather. "Our visitors love a good breakfast, a warm room, a good English dinner and a 1960s sing-song in the evening. I love it too," he is quoted as saying. "We will not be praying to God for better weather. We'll just do our job, and He'll do his. I said to some English visitors recently – don't knock the English weather, it's the only country in the world to have green grass all year." Now all hopes rest on the coming summer, but many remain doggedly optimistic. Eastbourne is not a town low on confidence. Then the pier caught fire in 2014.
"I have had my run-ins with them in the past and I acknowledge that, but they make absolutely no effort to engage with Lion Hotels in a positive way – and I think they should. I'm not asking for them to come to me begging for co-operation but the constant negativity and nit-picking from the council really is getting me down, and that shouldn't be the case.

"I am not being negative myself. I love Eastbourne and I love the town's people, and I remain committed to what I believe is the most wonderful town in the country."

Mr Gulzar says he may yet decide to invest the money from the Chatsworth – once sold – into a new project but he says he hasn't decided that yet, and will wait until any sale is concluded.

"It will be sad if the Chatsworth is sold but this is a business decision and one that I feel would be best for Lion Hotels," he is quoted as saying.

Mr Gulzar is currently locked in a legal battle with Natural England and appealing after being fined £45,000 with £90,000 costs after being found guilty of damaging a protected conservation site on Pevensey Levels.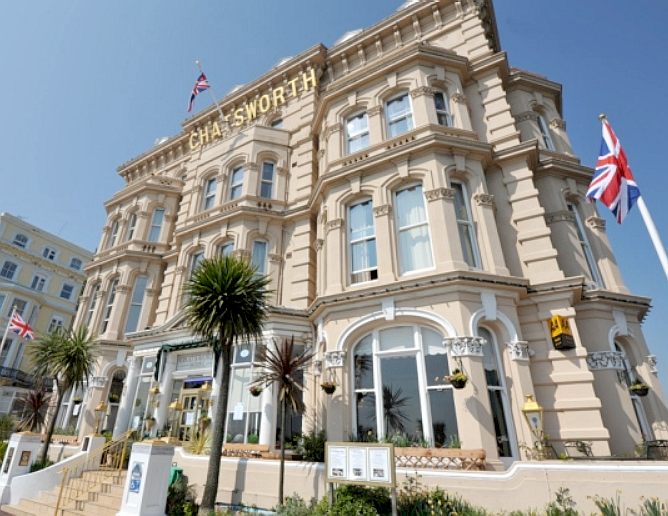 CHATSWORTH HOTEL 26 SEPT 2014
We like to support annually Macmillan Cancer Relief's World's Biggest Coffee Morning, which normally takes place on the last Friday in September.

This picture is from 2013 when we were kindly hosted at the Mansion Hotel by chairman of Lion Hotels Sheikh Abid-Gulzar. He is pictured with the town's MP Stephen Lloyd, who is an AM member and was also the guest speaker. Macmillan is a charity close to our heart!
Well actually it was a breakfast at the Chatsworth hotel Eastbourne put on by Rotary AM and sponsored by Sheik Abid Gulzar the owner of the Lions Hotel, good to see all the local Rotarians there enjoying themselves and raining £750 pounds for the charity, this was rounded up by Mr. G to a round £1,000.

I was also asked to present Sheik Gulzar with a certificate from the Eastbourne Rotary Club for all that he does for charity although not a member himself.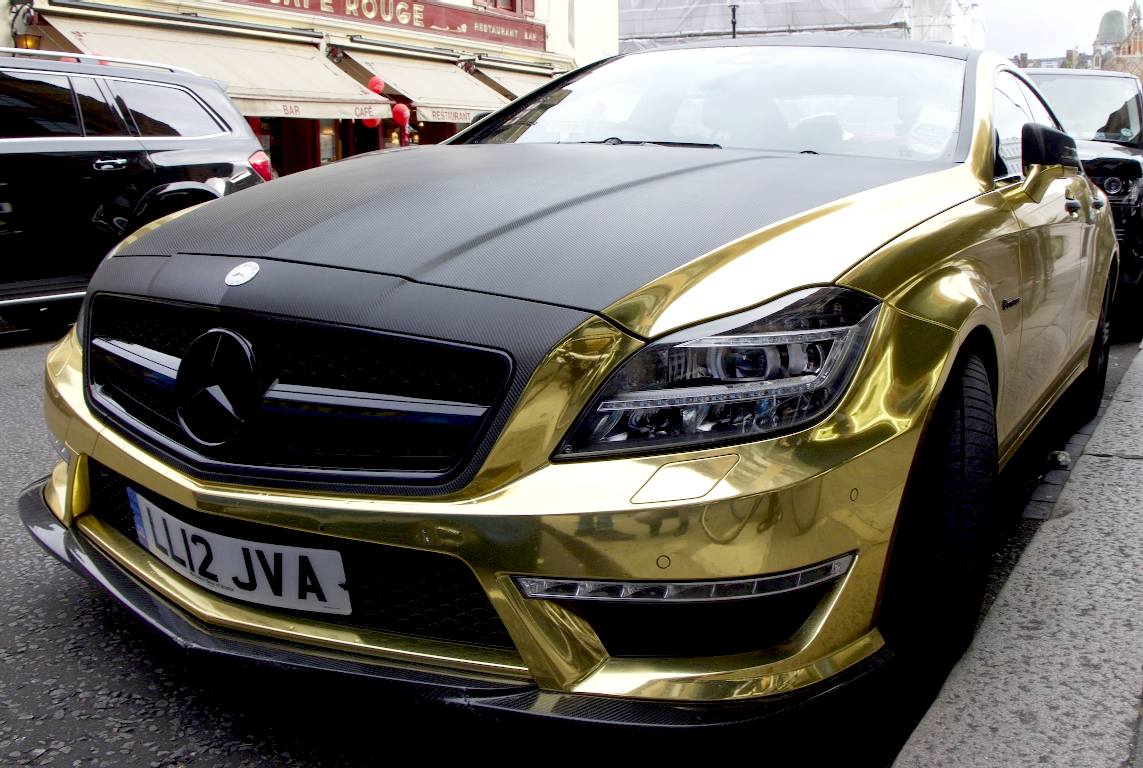 FOR SPECIAL OCCASIONS - A Mercedes CLS63 AMG that has had the power upped from 550BHP to 700BHP and the exterior wrapped in gold. You can listen to the 6.2L V8 with some thunderous revs in the Youtube video below. This car is available to guests for very special events. We should warn you that it is rather fast and conspicuous and that that sometimes causes problems for Mr Gulzar, who (living in the fast lane) on occasions puts his foot down.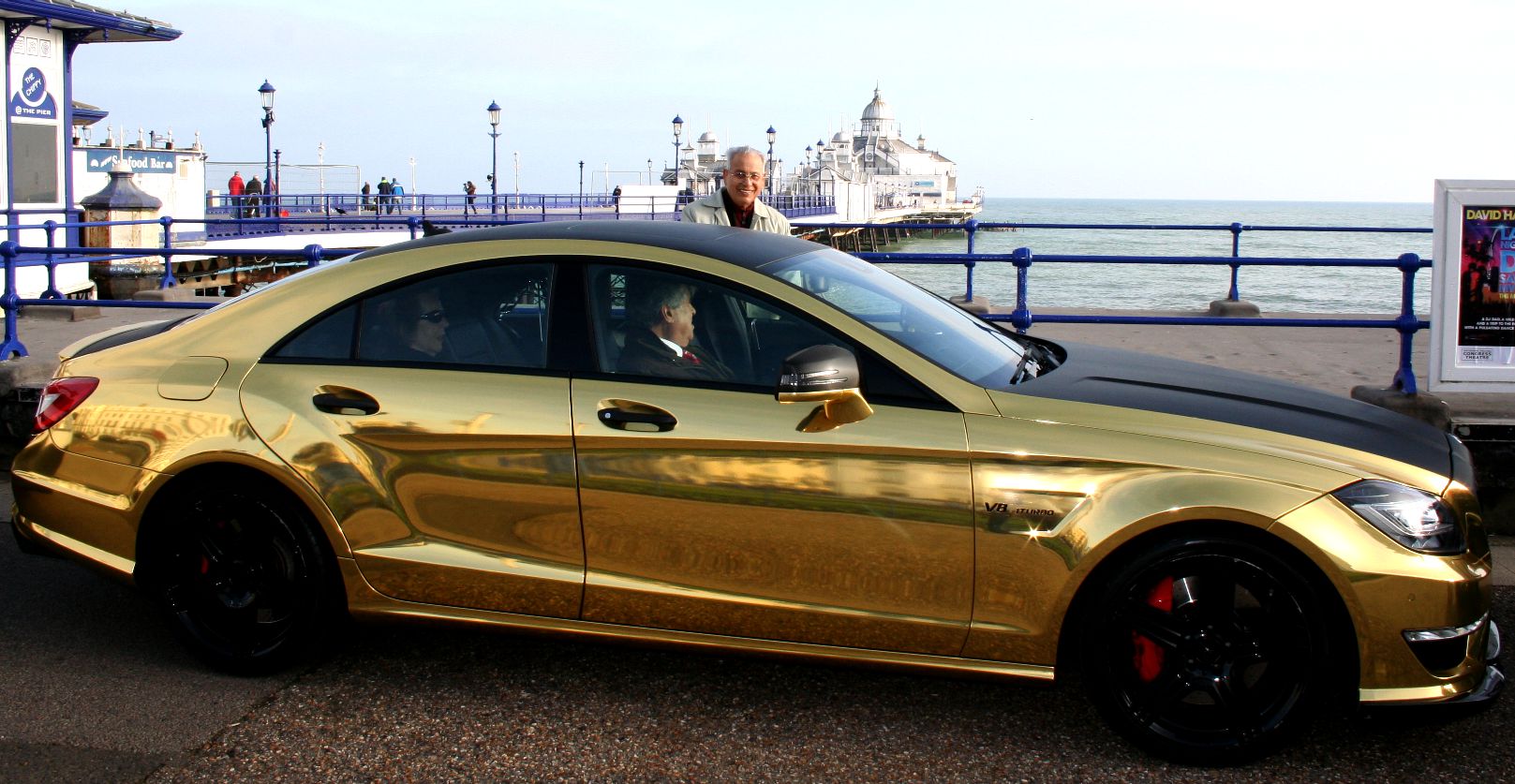 SWEET RIDE - This Merc has a V8 engine with turbo boost and what looks like a carbon fibre bonnet. It really motors. The gold film is plastic but not single use and it looks rather fetching in our view. Copyright © photograph, October 2015, courtesy of the Cleaner Ocean Foundation Ltd. All rights reserved. You may not reproduce this picture without the prior written permission of the copyright owner.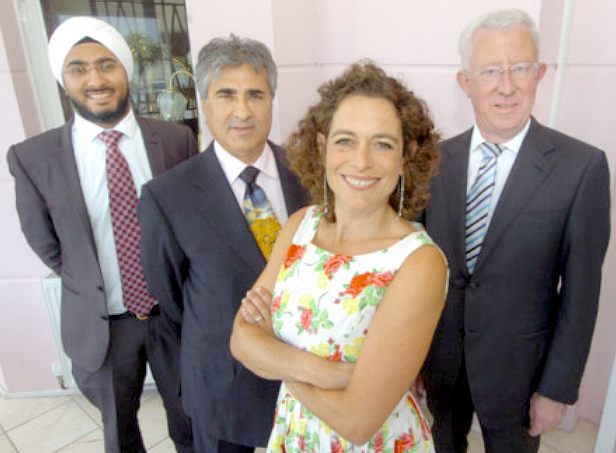 THE HOTEL INSPECTOR - Left to right: Manas Singh, Sheikh Abid Gulzar, Alex Polizzi and Peter Hawley. The Hotel Inspector is an observational documentary television series which is broadcast on the British terrestrial television station, Channel 5, and by other networks around the world.

Since 2008, each episode of the Hotel Inspector sees celebrated hotelier and businesswoman Alex Polizzi visit a struggling British hotel and try to turn its fortunes by giving advice and suggestions to the owner. (Between 2005 and 2008, Ruth Watson was featured in this role) Episode number 67 was about the "Mansion Lions" hotel in Eastbourne. It was aired on the 2nd of August 2012. The viewing figures for this broadcast were 1,589,000. The tagline was: "Alex walks into the lion's den when she helps a struggling establishment in Eastbourne."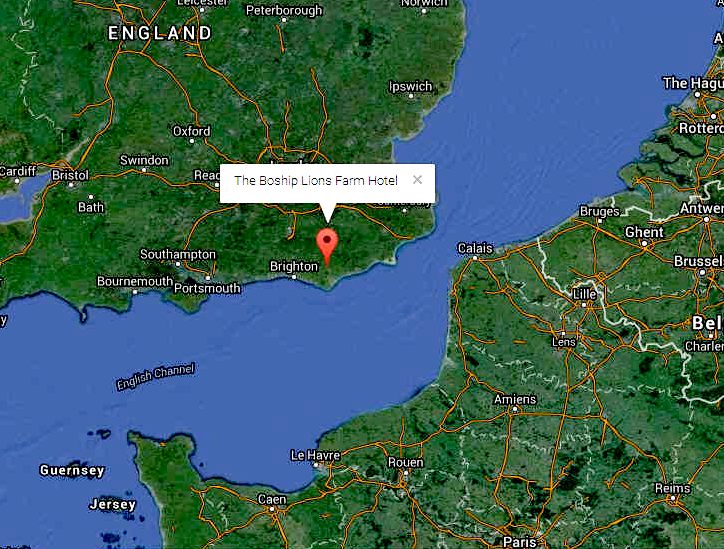 EASTBOURNE HERALD Friday 10 August 2012

Colourful Lion Hotels owner Sheikh Abid-Gulzar appeared on Channel 5's The Hotel Inspector last Thursday night (August 2).

Mr Gulzar – who owns the Chatsworth, Mansion, Claremont and Albany hotels – locked horns with TV celebrity Alex Polizzi at his hotel.

It was the Mansion Lions which entered the national spotlight after it was named 41st out of 41 hotels in the town on the Trip Advisor website.

Alex and her team filmed for eight days in a bid to improve customer service and decor at the three-star venue.

She claimed that the steady stream of coach tours were being badly served by a diet of unimaginative food and entertainment, and pleaded with Mr Gulzar to drop any plans he had of going for four-star rating. In the end, she settled for trying to make the Mansion the best three-star hotel in Eastbourne.

Mr Gulzar said after the show, "Channel 5 tell us that up to two million people tuned in to watch us on Thursday evening, which is great publicity both for Eastbourne and Lion Hotels.

"Alex did criticise some of what we did, but then that's natural with any hotel I guess. Most of what we do is fine. It is true we had four guests come to us who weren't entirely happy with our service, and it was them who posted negative comments on Trip Advisor."

"But we invited them all back for a second try, and all four said on television how delighted they were with our service second time around. In fact, the programme was so popular the phone hasn't stopped ringing from people all over the country."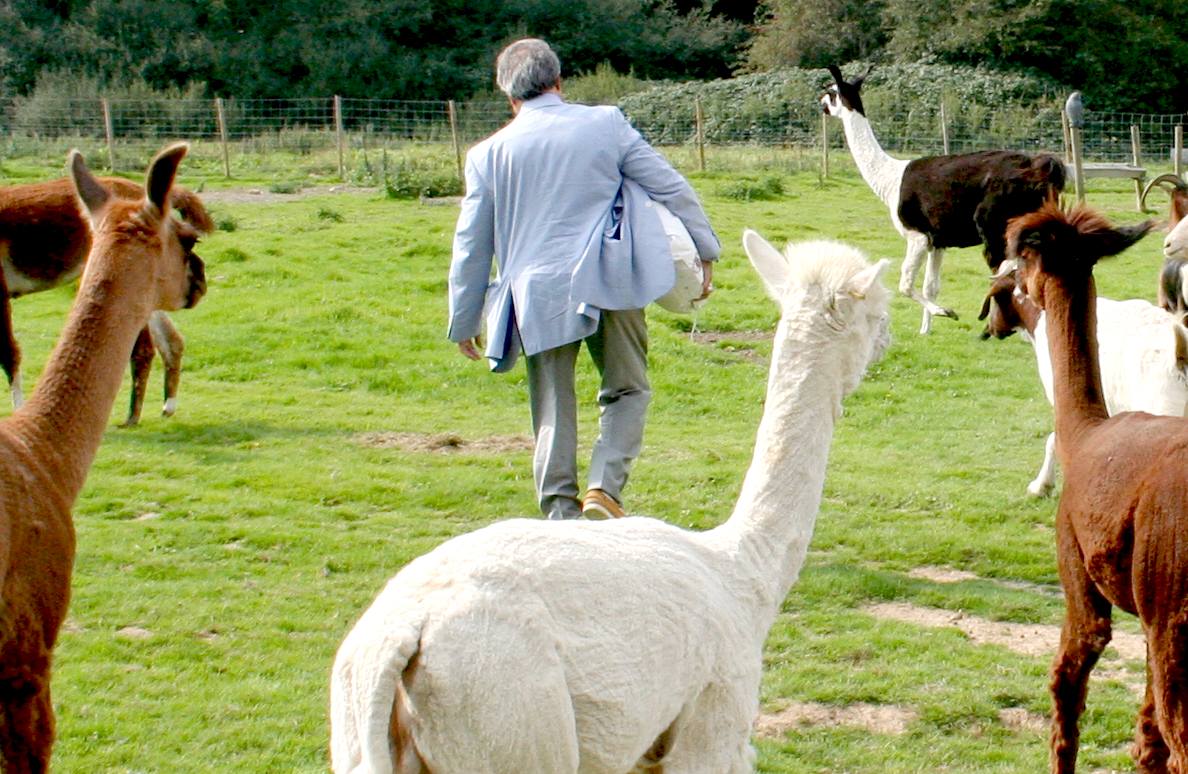 GIVING BACK - Sheikh Abid Gulzar tends to the animals at the Boship Lions Farm Hotel. There is a good selection of animals on the farm, to include deer, ducks, chickens and other more exotic breeds. Mr Gulzar insists on feeding the animals whenever he is as the Hotel, and indeed, anywhere there are animals that need tending.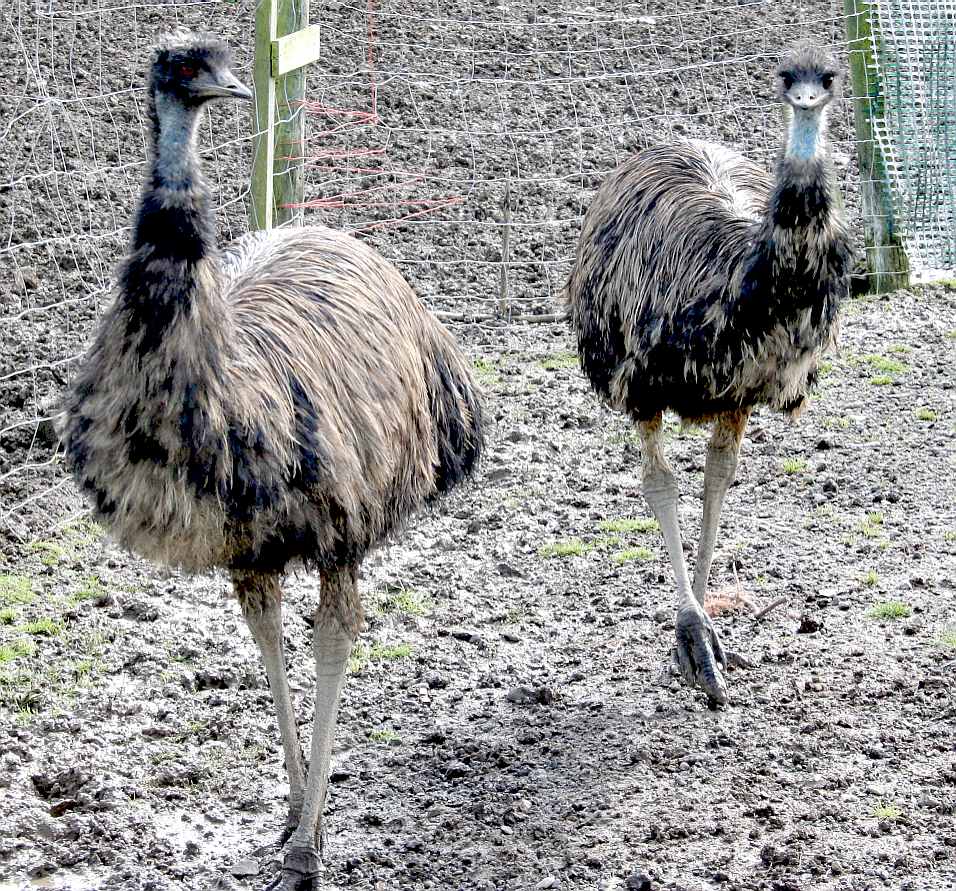 BOSHIP LIONS HOTEL, HAILSHAM
The Boship Lions Farm Hotel offers a choice of one-bed, two-bed, or standard double room, beautifully decorated with a cozy cottage-feel – all exuding grace and elegance with affordable prices. After an active day of site seeing, shopping, or visiting the beach, guest can choose to take a load off in this brightly coloured, old-school charmer which provides plenty of in-room entertainment for the utmost in relaxation. In addition, guestrooms include standard features such as television, coffee/tea maker, large work desk, direct-dial phone, and en-suite bathrooms well equipped with extra towels, complimentary toiletries, and hairdryer.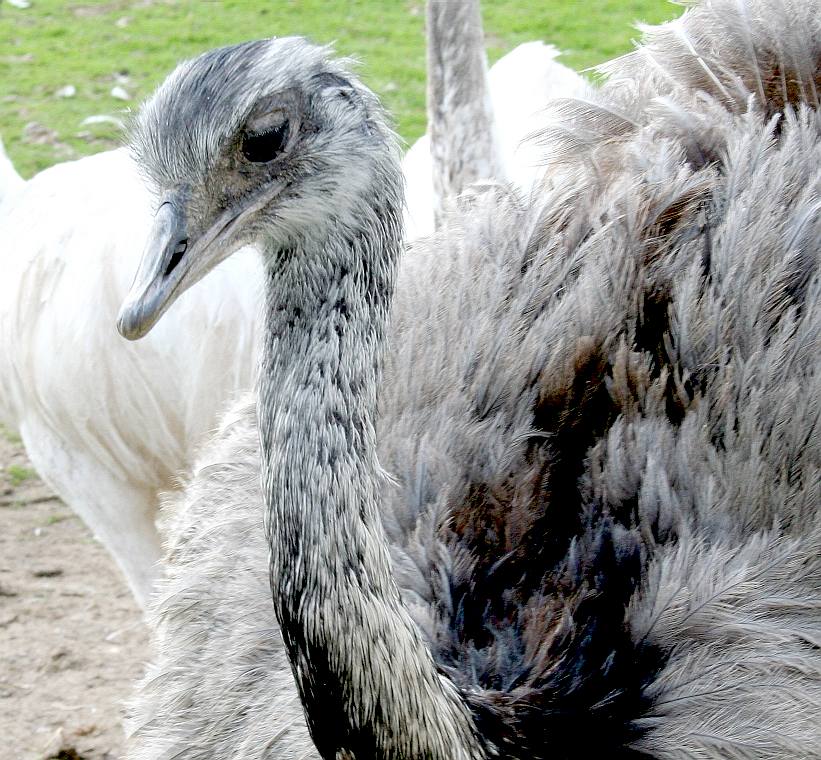 Built in 1662, this 47-room 3-star hotel captures the breathtakingly beautiful 15th Century aesthetic – keeping visitors coming back year after year. At The Boship Lions Farm Hotel, there are plenty of opportunities for recreation. Patrons can lounge in the alluring outdoor swimming pool, de-stress in the steam room, revitalize in the sauna, read a book in the garden, take lunch to the picnic area, or exercise in the state-of-the-art fitness centre. What's more, a generous breakfast served every morning, at no extra charge, and a multi-lingual staff at the 24-hour front desk is always available to give recommendations for local places to eat as well as assist with virtually any guest need. Furthermore, those wishing to unwind with a refreshing cocktail can after an exciting day can simply head to the welcoming in-house bar lounge.

UK Tel: 0808 145-3778
US Tel: 888-205-7322
EU Tel: 00-1-469-610-3608

Lower Dicker, Hailsham, BN27 4AT, United Kingdom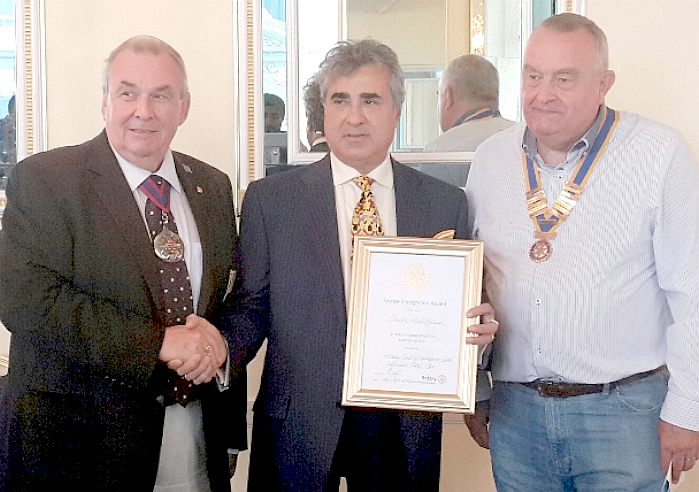 COMMENT
Eastbourne (England) needs entrepreneurs like Mr Gulzar. He is warm and approachable and always willing to listen and help you if he can. Mr 'G', as he is affectionately known by his staff, does a considerable amount of work for charitable causes, some of which may be featured on this page, but most of which goes unsung.
The Sheikh is of course a businessman. As such he provides employment for many people in and around Eastbourne. Like all businessmen he is always looking for ways to improve his operations and for new ideas to turn a profit. Mr Gulzar also likes fast cars. Then again, who doesn't. But he likes to balance his extravagances with a keen eye on conservation issues. Not many people will know that he is an animal lover. You will though if you take a visit to the Boship Farm Hotel near Hailsham.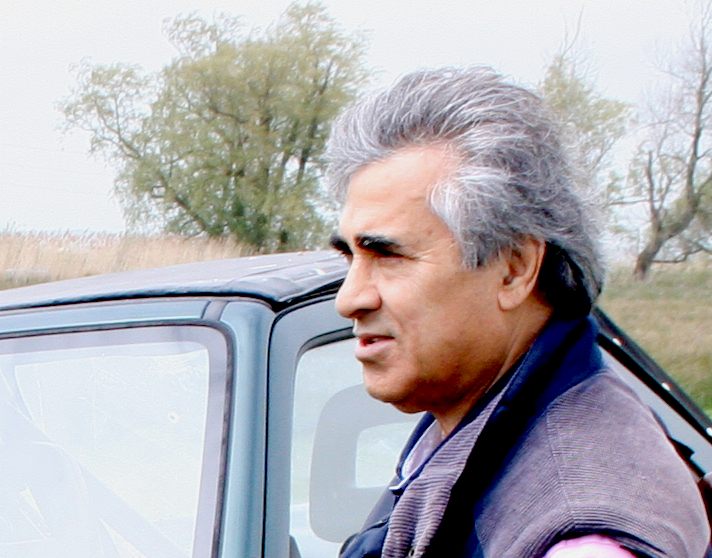 FARM INSPECTION - The Sheikh visits the Pevensey Levels to see what Natural England have left him. Mr Gulzar is the only farmer to have been hauled over the coals in this region. Other neighboring farmers are allowed their permitted development rights. Not unnaturally, it grieves Mr 'G' that he has been singled out for unfavorable treatment, while everyone else is left alone to run their farms. Many deer died as a result of Natural England not recognizing the ordinary rights of a farmer to protect his animals. Anyone who knows the Sheikh, will know that all he was trying to do was look after his flocks.
It was thus with a heavy heart that Mr Gulzar suffered the loss of several deer as rather shamefully, Natural England set about making life for the would be farmer, intolerable. The policies and actions of what should be an institution that protects animals and upholds the aims of the UK in terms of equality, are questionable to say the least.
Natural England insisted that deer proof fencing was removed, knowing full well that the deer would then escape and that some would die, or even cause difficulties for road users. We wonder then how it was that Natural England were not prosecuted by the RSPCA, for indirectly causing harm to animals? With the fencing gone it was a poachers paradise.
When locals invaded the farmland at the Pevensey Levels and damaged a lot of property and stole vehicle parts, etc., the Police appear to have turned a blind eye. At least there is no record of the crime being reported, or what steps they may have taken to investigate the criminal damage.

LINKS & REFERENCE
http://www.eastbourneherald.co.uk/news
Eastbourne Herald Gulzar-furious-over-135-000-court-case
http://www.eastbourneherald.co.uk/news/business/tv-appearance-for-hotel-owner-1-4148095
Channel 5 shows the hotel inspector
Wikipedia List_of_The_Hotel_Inspector_episodes
Lions Boship Farm Hotel Hailsham
Trip Advisor UK Hotel_Reviews The_Boship_Lions_Farm_Hotel Lower_Dicker_East_Sussex_England
Independent UK news we dont want to freeze beside the seaside
Facebook Lord Brett Mclean Hastings
Hastings Observer news local pensioners enjoy free day out
Eastbourne Independent news celebrate_with_the_sheikh_to_help_charities
The Guardian tv and radio 2011 January 21 last-nights planning outlaws
https://www.theargus.co.uk/news/17200360.eastbourne-pier-owner-unveils-new-clock-at-entrance-to-site/
https://www.facebook.com/arcadememorial/
http://www.thetimes.co.uk/tto/business/industries/construction-property/article4594688.ece
http://www.channel5.com/shows/the-hotel-inspector/episodes/episode-5-361
http://www.pistonheads.com/gassing/topic.asp?h=0&f=204&t=1177901
http://www.theguardian.com/tv-and-radio/2011/jan/21/last-nights-tv-planning-outlaws
http://www.eastbourneindependent.co.uk/news/13783872.Celebrate_with_the_sheikh_to_help_charities/
http://www.hastingsobserver.co.uk/news/local/pensioners-enjoy-free-day-out-1-6920660
https://www.facebook.com/lordbrettmcleanhastings/posts/1059775654047605
http://www.independent.co.uk/news/uk/home-news/we-dont-want-to-freeze-beside-the-seaside-8562484.html
http://www.eastbourne.gov.uk/
http://www.lionsboshipfarmhotel-hailsham.com/
http://www.eastbournerotary.org.uk/
http://www.cuerdenleisure.co.uk/
http://www.lionhotelsltd.com/
http://www.lionsboshipfarmhotel-hailsham.com/
http://www.channel5.com/shows/the-hotel-inspector
https://en.wikipedia.org/wiki/List_of_The_Hotel_Inspector_episodes
https://en.wikipedia.org/wiki/The_Hotel_Inspector
https://www.facebook.com/sheikh.gulzar.12382
http://www.eastbourneherald.co.uk/news/business/tv-appearance-for-hotel-owner-1-4148095
http://www.eastbourneam.org/community/
http://www.eastbourneherald.co.uk/news/local/seafront-hotel-goes-up-for-sale-at-3-25m-1-5846176
http://www.eastbourneherald.co.uk/news/local/gulzar-furious-over-135-000-court-case-1-5532821
Eastbourne am community
Eastbourne Herald seafront hotel goes up for sale at £3.25 million
Sussex Express UK news county grand opening as vips help celebrate town-s latest hotel
Eastbourne Herald UK news Gulzar furious over £135,000 court case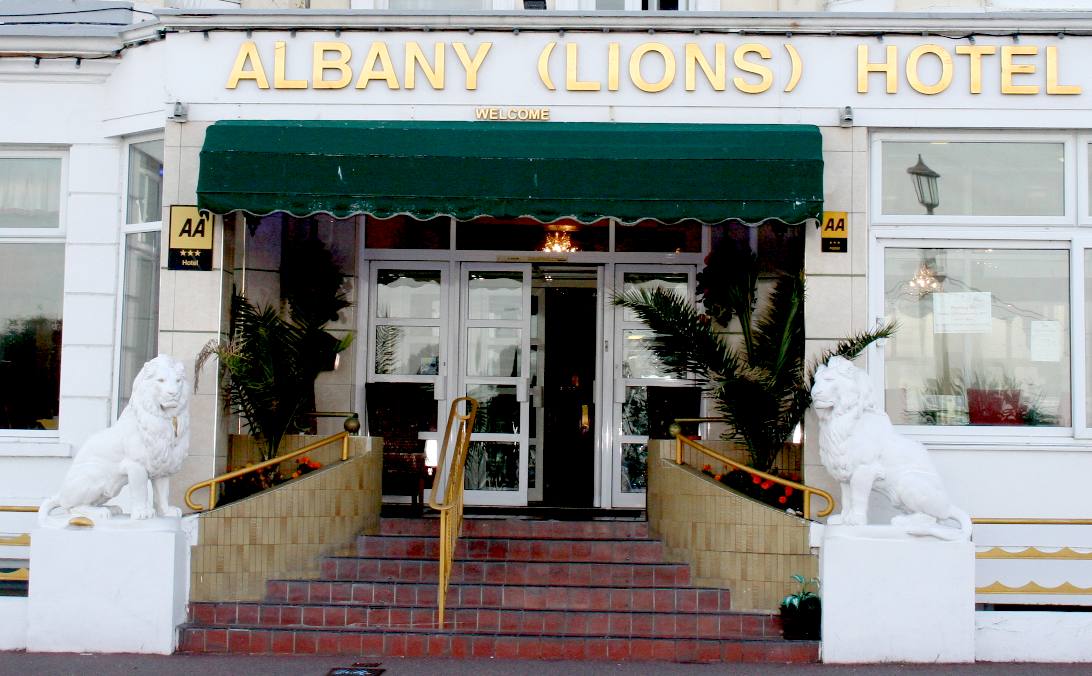 ALBANY LIONS - These are the stone lions that Mr Gulzar is famous for. We kind of like the gold on white colour scheme. We also like the lions and if you like them there are more to see in Lewes and London in particular. The Royals in days gone by also had a thing for lions. So did the Romans and that cost a Christian or two an arm and a leg. Here kitty, kitty.
Eastbourne Borough Council
1 Grove Rd, Eastbourne, East Sussex BN21 4TW
Tel: +44 (0) 1323 410000
Cuerden Leisure Limited
Unit 1 Hillridge Road
Martland Mill Industrial Estate, Martland Park
Wigan WN5 0LS

Tel : +44 (0) 1942 210860

Email : info@cuerdenleisure.co.uk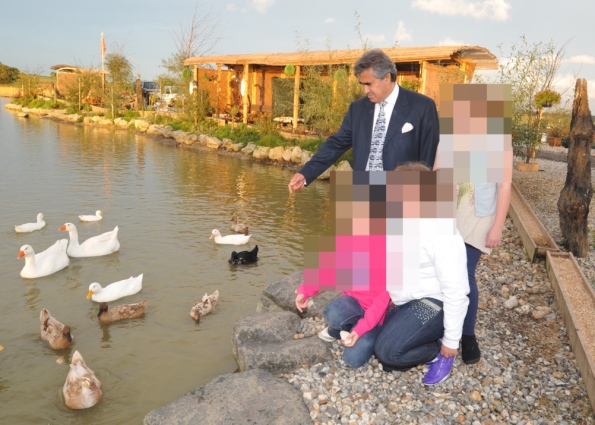 HOME | AFFORDABLE | CLIMATE | DEVELOPERS | ECONOMY | FLOOD | HISTORY | HOMES
LADDER | MORALS | POVERTY | PROPERTY | SLAVERY | TAXES | SLUMS | VALUATIONS | WEALTH