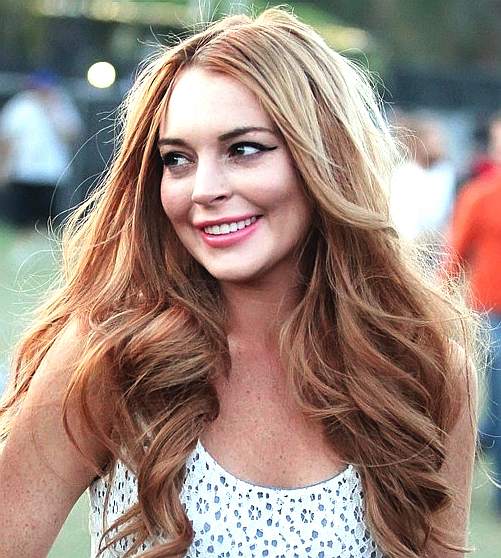 There can be little doubt in anyone's mind that Lindsay (Morgan) Lohan is a superb actress. We only hope that she pulls out of this little nose-dive blip, so that we can all enjoy her superb performances. Come on Lindsay, we're all rooting for you, don't let Major Tom get you down. There's a lot of great stuff in store for you.
HISTORY
Lindsay Dee Lohan was born on July the 2nd 1986. She is an American actress, model and recording artist. She began her career as a child fashion model when she was three, and was later featured on the soap opera Another World for a year when she was 10. At age 11, Lohan made her motion picture debut in the brilliant remake of Disney's 'The Parent Trap' from 1988, which was both a critical and commercial hit. Her next motion picture, Disney's remake of Freaky Friday (2003), was also a success at the box office and with critics. With the release of Mean Girls (2004), another critical and commercial success, Lohan became a household name and a frequent focus of paparazzi and tabloids. The two films earned her several MTV Movie Awards and Teen Choice Awards.

Lohan's debut studio album, Speak (2004), was certified platinum. Her second album, A Little More Personal (Raw) (2005), was certified gold.

Earlier in 2005, Lohan starred in Disney's Herbie: Fully Loaded, another box office success. In 2006, she received positive comments on her work in independent films, including Robert Altman's A Prairie Home Companion and Emilio Estevez's Bobby. In 2007, two driving under the influence incidents led to Lohan being put on probation, and together with three visits to rehabilitation facilities caused the loss of several movie deals.

In 2008 and 2009, Lohan worked as a fashion model and launched the clothing line 6126. She resumed her acting career with recurring appearances in the TV series Ugly Betty in 2008 and starred in the TV film Labor Pains in 2009. She was featured in Robert Rodriguez's feature film Machete (2010). She spent much of 2010 and 2011 entangled in legal problems stemming from probation violations and a necklace theft. After her supervised probation was lifted in 2012, she did further television work, including starring as Elizabeth Taylor in the biographical TV film Liz & Dick (2012).

In 2006, Lohan attended Alcoholics Anonymous meetings. Lohan, who has suffered from asthma since the age of two, is also a smoker. In early January 2007, production on the film I Know Who Killed Me was put on hold when Lohan underwent appendix surgery. Later in the month, Lohan admitted herself to the Wonderland Center rehabilitation facility. Lohan checked out on February 16, 2007 after completing a 30-day stay. During the stay she continued shooting the film, returning to the facility at night. Shortly thereafter, Lohan withdrew from a film adaptation of Oscar Wilde's A Woman of No Importance, her publicist stating that Lohan needed to "focus on getting better." Lohan was replaced in The Edge of Love in April 2007, shortly before filming was to begin, with the director citing "insurance reasons" and Lohan later explaining that she "was going through a really bad time then." In May 2007, Lohan dated British TV personality Calum Best.

Lohan was then cast in the film Poor Things. On May 26, four days before production was set to start, she lost control of her car and ran it up a curb. After receiving treatment for minor injuries, she was arrested on a charge of driving under the influence of alcohol (DUI.) The film's producers initially voiced support and production was put on hold as Lohan entered the Promises Treatment Center rehabilitation facility where she stayed for 45 days. Upon her release to outpatient care, Lohan was voluntarily fitted with a SCRAM bracelet to monitor her sobriety. On July 24, three weeks before filming was scheduled to resume on Poor Things, Lohan refused a field sobriety test and was taken to a police station where her blood alcohol level was found to be above the legal limit. The police also found a small amount of cocaine in her pocket. She was booked on charges of possession of cocaine, driving under the influence and driving with a suspended license. In August Lohan entered the Cirque Lodge Treatment Center in Sundance, Utah for a third stint at rehabilitation, staying for three months until discharge in October. While in rehab Lohan met and dated snowboarder Riley Giles. Ultimately Lohan was replaced in the Poor Things production.

In the wake of her second DUI arrest, Lohan withdrew from a scheduled appearance on The Tonight Show with Jay Leno in which she had been due to promote I Know Who Killed Me, a low-budget thriller-mystery in which she stars as a stripper with a dual personality. The film premiered to what Entertainment Weekly called "an abysmal $3.5 million." It earned Lohan dual Golden Raspberry awards for Worst Actress, with Lohan coming first and second, tying with herself.

Hollywood executives and industry insiders commented that it would be difficult for Lohan to find employment until she could prove that she was sober and reliable, citing possible issues with securing insurance.

In May 2010, Lohan traveled to the Cannes Film Festival to promote the biographical drama Inferno, in which she was set to star as the lead, adult-film performer Linda Lovelace. While she was in court mandated rehab in November, it was announced that Lohan would be replaced by another actress. Because she was in Cannes, Lohan missed a mandatory DUI progress hearing. A bench warrant was issued for her arrest which was rescinded after she posted bail. Lohan was ordered to attend alcohol education classes, wear an alcohol-monitoring bracelet, and undergo random drug tests to remain free on bail. At a July 6 hearing, the judge determined that Lohan had violated the terms of her probation by missing several mandatory classes and meetings. She was sentenced to 90 days in jail followed by 90 days of inpatient rehab treatment. Lohan served only 14 days of the jail sentence, between July 20 and August 2, due to overcrowding. She then entered an inpatient rehabilitation facility, from where she was released after only 23 days. She was ordered to submit to random drug and alcohol screenings and attend therapy.

On September 24, 2010, Lohan's probation was revoked following a failed drug test. She spent part of the day in jail before being released on bail. A few days later she entered the Betty Ford Center, a drug and alcohol treatment center, where she remained on court order for three months until early January 2011.

On February 9, 2011, Lohan was charged with the theft of a necklace reported stolen from a jewelry store in January. She was sentenced to 120 days in jail and 480 hours of community service for misdemeanor theft and probation violation, to which she pled no contest. She was also ordered to remain under supervised probation until the completion of her community service. Due to jail overcrowding, Lohan served the sentence under house arrest wearing a tracking ankle monitor for 35 days between May 26 and June 29. In November Lohan was found to have violated the terms of her probation by failing to perform the required community service. She was sentenced to 30 days of jail and 400 hours of community service. On November 7, Lohan spent less than five hours in jail due to overcrowding. On March 29, 2012, Lohan's supervised probation ended but she remained under informal probation for the necklace theft.
Okay, so she left the rails big-time, but that's all part of coming to terms. Starting in acting at a young age does this to people. As with so many other fans we are concerned at her weight loss. It matters not that she's going through the wars, so long as she comes out the other side stronger.
LEGAL FEES 9 JUNE 2013

When Lindsay fired Shawn back in January, LiLo owed the lawyer $150,000. When Shawn agreed to come back last month, she demanded assurance she'd get paid.

Sources connected with Lindsay tell said: "The actress has made good on the debt and is earmarking money for future services so she doesn't fall behind again."

Lindsay Lohan has finally paid her battle-weary lawyer Shawn Holley $150,000 in legal fees for many years of skillful service as part of a deal to convince Holley to return as her representation.

In January, Lohan fired her highly competent lawyer, Holley, and replaced her with Mark Heller. Heller fumbled Lohan's case last month when he tried to ship her off to a rehab facility that had its license revoked.

Lohan then went back to Holley who agreed to return on one condition – that Lohan pay $150,000 in legal fees owed for several years' worth of representation.

Digital Spy is now reporting that Lohan finally delivered on her end of the deal. Not only did she pay the debt in full but Lohan has also set aside savings for future legal fees.

Lohan was serving a 90-day stint at the Betty Ford rehab center as part of a plea deal to avoid jail time.

She was reportedly doing very well there right up until she recently requested to leave the facility a month ahead of schedule so she could celebrate her 27th birthday on July 2, we reported.

A source revealed that Lohan was "hell bent" on convincing her doctors and the courts to grant an early release due to her good progress.

However, her doctors believe the actress will benefit most from completing the 90-day sentence and unfortunately Lindsay, so do we. Not to mention that if she walks out of rehab she'd be walking right into jail for breaking her plea deal.
HEROIN ADDICTION
Could meth use be behind Lindsay Lohan's rapidly decaying looks? Lindsay Lohan's father said that the young starlet (she's only 26) had abused meth.

"That's from smoking a pipe with meth or crack," Michael Lohan said in a televised interview. "She's smoking either crack or meth, one or the other. I'm not going to shade it."

Heroin is the most expensive drug on the market and celebrity addicts can use more than $500 worth of the drug daily. Meth is affordable costing $20-$40 a day.

Meth reportedly supplies a more powerful high, is an appetite suppressant, and apparently spikes the sex drive. In reality, meth also causes hallucinations, rapid tooth decay, skin ailments and can trigger long-term psychosis. Oh, and meth kills.
A CURE
Please someone tell Lindsay that she is beautiful and talented. Okay, she must know that, but something must be missing in her life to have started down this road. Find out what is missing, fill the void and do something solid to break the hold these substances have on you. Life is good without alcohol. I know, I don't drink or smoke and I enjoy myself without drugs - well - except perhaps caffeine in tea and coffee, the only problem being some weight watching as you get older.
PRISON DIARY EXTRACT

Day 11, 12 pm

They're saying I'll get out any day now, and that's good, because I'm seriously done with sleeping on concrete. I would write that when I go home, I'll be much more appreciative of everything I have at home, but I don't appreciate anything. It's simply not in my nature.

The only thing I'm excited for is to be able to step outside freely, with my hair blown dry and my clothes pressed clean and my cigarettes in my pocket instead of in the warden's. That's getting old right quick. Also, all the girls in here keep asking me questions, like what clubs to go to, what movies to see, what guys to date, what cigarettes to smoke. It's like they don't know anything! Part of me wants to tell them to mind their own business and shut up, but then I realize that if nobody wants anything from me, then I'll really be in trouble.

Day 10, 1 pm

I really appreciate my family bringing me Twizzlers. It fixates me orally, so I'm not thinking about the cell I'm confined to, but rather, the music I'm dedicated to writing in here so the second I get out, I can record an album and it'll be a monstrous hit. I can promote it on all the talk shows that are already begging me to give them a post-jail interview, and by the time the album comes out, I will have revamped my entire career in music. The fantastic thing is I'm so emotional in here that writing the songs comes so easily! Not even the biggest or best producer in the country is going to want to add or delete anything from my lyrics because they will be (or are already) perfect. I don't know why everyone in prison isn't writing down what they feel - the walls are so concrete here and the bars so so barred that your emotions become uncontrollable and you just gotta do something with them! (Without having to use anything illicit, of course, which makes it dramatically less fun.)


LINDSAY LOHAN - YOUTUBE