The Times - May 8 2006 - David Sanderson
Police persecuted me, says De Menezes whistleblower
THE whistleblower who leaked information about the shooting of Jean Charles de Menezes to a television journalist has described how she was treated as "the worst kind of criminal" by police.

Lana Vandenberghe - I would do it all again'
Lana Vandenberghe, who worked for the Independent Police Complaints Commission, said that ten officers broke down her front door in a dawn raid. She was placed in a cell without food or access to a lawyer for eight hours by bullying officers who told her that she would go to prison.
Despite the ordeal, Ms Vandenberghe, who lost her home, her job as an administration secretary and was treated for depression after being arrested, said that she would do it all again to expose the deliberate police "cover up". Ms Vandenberghe, 44, leaked details from the IPCC inquiry into the fatal shooting of Mr de Menezes, 27, at Stockwell Tube station in South London on the day after the July 21 bombings. The information contradicted the Metropolitan Police's initial version of events. It had said that the Brazilian had vaulted the station ticket barrier and run down an escalator to escape firearms officers who were following him. Officers said that he was wearing a bulky coat that could have concealed explosives. But evidence collated by Ms Vandenberghe for the IPCC revealed that he was wearing a light denim jacket and had walked calmly into the station, picked up a free newspaper and then walked down the escalator.
After he boarded a train, officers shot him seven times in the head.
Ms Vandenberghe said, in an interview to be broadcast on ITV News tonight, that she leaked the evidence in August to show that the police were "lying".
She was arrested on September 21. "I was scared to death," she said. "It never crossed my mind that I would be treated as if I was a criminal for telling the truth. Unlike the police, I hadn't killed an innocent person."
The IPCC is due to present its report in the summer.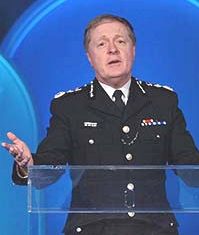 Ian Blair - give us a break
---
Mon May 8 2006 - ITV News
The secretary who leaked details of the Jean Charles de Menezes inquiry believes she did the right thing despite it changing her life forever.
The leak led to ITV News reporting details from the inquiry which appeared to contradict much of what had previously been believed about the shooting at Stockwell Tube station in south London last year.
Lana Vandenberghe, risked everything to bring the truth of the shooting to the world, and when police realised it was her they wasted no time. She said: "There was a lot of banging, they did break through a door. There must have been ten officers involved, they forced their way in. "I was not expecting it at all, I was terrified."
After she was arrested, she was left in a jail cell after having her DNA and fingerprints taken. She said: "I was treated like the worst kind of criminal.
"I was left in the cell, my greatest fear was that I would never be let free".
It was announced on Friday that Ms Vandenberghe, a former secretary at the Independent Police Complaints Commission (IPCC), will not face criminal charges following a police investigation.
The revelations led to claims of a cover-up and to calls from the de Menezes family for Metropolitan Police Commissioner Sir Ian Blair to resign. Ms Vandenberghe said: "When I first saw that story on the news that night, I though 'Oh my god, what have I done!'"
However, despite losing her home, her job and being treated for depression after being arrested, she said that she would do it all again to expose the deliberate police "cover up".
On the shooting itself, she said: "I do not blame the officers involved for the shooting at all, they were under orders from a certain commander [Cressida Dick].
"She was in charge that day and she should have to answer for what happened."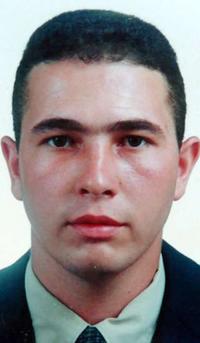 Brazilian electrician Jean Charles de Menezes
The Times - January 30 2006 - Stewart Tendler
Police tampered with log on dead Brazilian 'suspect'
UNDERCOVER detectives altered a surveillance log to avoid blame for the death of Jean Charles de Menezes in a bungled counter-terrorist operation, according to police watchdogs.
The disclosure, in a report by the Independent Police Complaints Commission, puts fresh pressure on Sir Ian Blair, the Commissioner of the Metropolitan Police, and his officers over the shooting.
Mr de Menezes, 27, was shot seven times in the head by a firearms team on a train at Stockwell Underground station on July 22 last year as police hunted for terrorists who had tried to attack the London transport system the day before. Police sources say that the report, which is being studied by the Crown Prosecution Service, shows that a Special Branch logbook describing Mr de Menezes's last movements had been altered to hide that he had wrongly been identified as a suspect.
Mr de Menezes was shadowed by a Special Branch team as he headed to Stockwell station. They believed that they were following a deadly attacker and radioed another officer with reports on what was happening. He kept a log. One of the team identified Mr de Menezes as the terrorist suspect. This was noted, although the IPCC also found that elsewhere in the log there were "degrees of doubt" raised by the team.
The log was changed at a debriefing meeting at 8pm that night, about ten hours after the shooting. Police were still saying that Mr de Menezes might have terrorist links. The log originally said that there was a positive identification but the word "not" was then added. None of the radio traffic during the operation was recorded, which meant that blame for the events leading to Mr de Menezes's death could have fallen on the commanders and controllers rather than the team.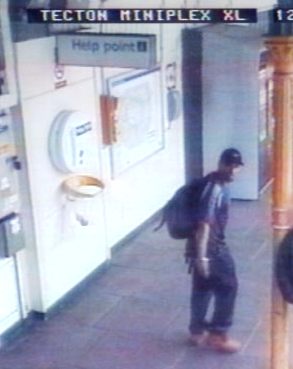 Jean Charles de Menezes - London Underground
The IPCC team is said to have been alerted by a whistle-blower. A scientific technique for checking changes in documents showed the change that had been made. The team has denied changing the log. Later that night the Anti- Terrorist Branch SO13 finally cleared Mr de Menezes but the IPCC found that the Commissioner was not told until 10.30am the next morning, more than 24 hours after the death. The delay will raise more questions about the handling of the operation and its tragic conclusion and why Sir Ian was left in ignorance for so long.
The report is said to make uncomfortable reading for police, drawing attention to a string of errors. There are questions not only about identification but also communications, what orders were issued and by whom, and who did what.
Mr de Menezes's family last night called for Sir Ian to reconsider his position in light of the disclosure. "It seems that Sir Ian Blair was not aware of any of this information for quite a while following Jean's death, which does raise certain questions about how in touch he was with the operation," Asad Rehman, a spokesman for the family, said. "Sir Ian Blair is ultimately responsible for the safety of people in London and this country. It seems he didn't have his eye on the ball."
Ten officers have been named in the IPCC report as facing possible charges. They include a senior officer, a middle-ranking officer and junior officers involved in the operation.
The most senior is Commander Cressida Dick, the officer empowered to order officers to open fire under the rules of Operation Kratos, a special set of rules for dealing with the threat from suicide bombers. She denies that she gave the key codeword. Yesterday the IPCC refused to comment on the report, which has been with the CPS for ten days and is now being examined with a file of evidence by counsel.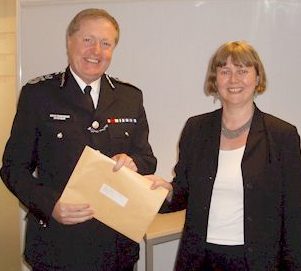 Metropolitan Police Commissioner Sir Ian Blair and Brown Envelope
Wrongful killing whistleblower 'suspended'
The person responsible for the leaking of documents about the police shooting of Brazilian Jean-Charles De Menezes has been suspended, BBC and Sky news said.
The person was not identified but was said to be a member of the Independent Police Complaints Commission, which is investigating the shooting of De Menezes on July 22, after he was wrongfully suspected of being a suicide bomber.
The commission has neither confirmed nor denied the reports that one of its members was fired.
The leaked documents, including witness statements and photographs, suggested that a series of errors led to the shooting of the 27-year-old Brazilian. He was shot eight times and killed in a south London subway station one day after a failed attempt to repeat the London bombings of July 7, in which 56 people including four apparent suicide bombers were killed.
The leak has led to pressure on the Metropolitan Police, whose chief, Ian Blair, said yesterday there was no attempt to cover up the killing. The leaked pictures showed De Menezes was wearing a light denim jacket rather than a coat big enough to conceal a bomb as suggested in earlier reports, and that he was not behaving suspiciously, as Scotland Yard had earlier implied.
Pictures showed him entering the subway calmly, picking up a free newspaper and catching a train normally. It also emerged that the Metropolitan Police "initially resisted" what should have been an automatic referral to the complaints commission.
The commission (IPCC) was launched in April last year as a "fiercely independent" new body to investigate complaints against the police in Britain. It has its own team of investigators.
Pressure groups had long complained that under the former system, allegations against police officers were investigated by other police officers belonging to the Police Complaints Authority. The commissioners are public appointees who, by law, must not have a police background.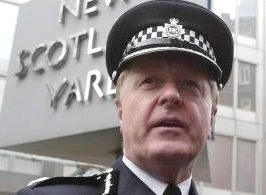 Sir Ian Blair - should he resign?
---
LINKS:
Jan 29: Cover up claims in de Menezes shooting
Oct 10, 2005: De Menezes family launch campaign
http://www.timesonline.co.uk/article/0,,200-2170685,00.html
Senior officers undermine Yard claims on shot Brazilian
MI5 facing criticism over 7/7 bomber surveillance
Rescuers 'were paralysed' by fears of a second bomb
Menezes shooting tactics ditched
Police deny new claims on de Menezes case
WE ACCEPT NO RESPONSIBILITY FOR THE ACCURACY OF ANY FEATURED LINKS
FAIR USE NOTICE
This site contains copyrighted material the use of which has not always been specifically authorized by the copyright owner. We are making such material available in our efforts to advance understanding of environmental, political, human rights, economic, scientific, and social justice issues, etc. We believe this constitutes a 'fair use' of any such copyrighted material as provided for in section 107 of the US Copyright Law. In accordance with Title 17 U.S.C. Section 107, the material on this site is distributed without profit to those who have expressed a prior interest in receiving the included information for research and educational purposes.
For more information go to: http://www.law.cornell.edu/uscode/17/107.shtml. If you wish to use copyrighted material from this site for purposes of your own that go beyond 'fair use', you must obtain permission from the copyright owner.
This site is protected under Article10 of the European Convention on Human Rights and Fundamental Freedoms.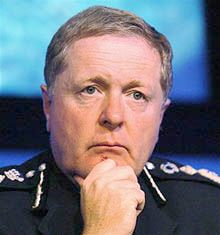 Sir Ian Blair - should he resign?
---