A hormone (from Greek horman - "to set in motion") is a chemical messenger from one cell (or group of cells) to another. All multicellular organisms produce hormones (including plants - see article phytohormone).
The best-known animal (and human) hormones are those produced by endocrine glands of vertebrate animals, but hormones are produced by nearly every organ system and tissue type in a human or animal body. Hormone molecules are secreted (released) directly into the bloodstream; however, some hormones, called ectohormones, are secreted to the outside environment. They move by circulation or diffusion to their target cells, which may be nearby cells (paracrine action) in the same tissue or cells of a distant organ of the body. The function of hormones is to serve as a signal to the target cells; the action of hormones is determined by the pattern of secretion and the signal transduction of the receiving tissue.
Hormone actions vary widely, but can include stimulation or inhibition of growth, induction or suppression of apoptosis (programmed cell death), activation or inhibition of the immune system, regulating metabolism and preparation for a new activity (e.g., fighting, fleeing, mating) or phase of life (e.g., puberty, caring for offspring, menopause). In many cases, one hormone may regulate the production and release of other hormones. Many of the responses to hormone signals can be described as serving to regulate metabolic activity of an organ or tissue. Hormones also control the reproductive cycle of virtually all multicellular organisms.
Q. How do you make a Hormone?
A. Refuse to pay her.
13 things PMS stands for:
1. Pass My Shotgun
2. Psychotic Mood Shift
3. Perpetual munching spree
6. Provide me with sweets
13. Potential murder suspect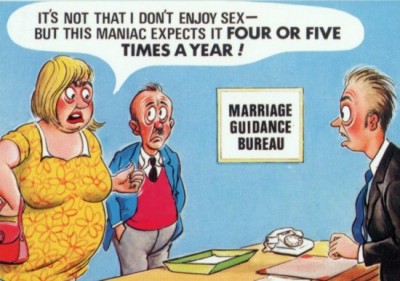 Conversational Strategy:
There are days in the month when all a man has to do is open his mouth and he takes his very life into his own hands. See the handy guide below, that should perhaps be as common as a driver's license in the wallet of every husband, boyfriend or whatever.
DANGEROUS: What's for dinner?
SAFER: Can I help you with dinner?
SAFEST: Where would you like to go for dinner?
ULTRASAFE: Here, have some chocolate.
DANGEROUS: Are you wearing that?
SAFER: Gee, you look good in brown.
SAFEST: WOW! Look at you!
ULTRASAFE: Here, have some chocolate.
DANGEROUS: What are you so worked up about?
SAFER: What did I do wrong?
SAFEST: Here's fifty dollars.
ULTRASAFE: Here, have some chocolate.
DANGEROUS: Should you be eating that?
SAFER: You know, there are alot of apples left.
SAFEST: Can I get you a glass of wine with that?
ULTRASAFE: Here, have some chocolate.
DANGEROUS: What did you do all day?
SAFER: I hope you didn't overdo it today.
SAFEST: I've always loved you in that robe!
ULTRASAFE: Here, have some chocolate.
PRE MENSTRUAL TENSION
The term 'premenstrual tension', or PMT, is used to cover a range of symptoms experienced by some women for up to two weeks before their monthly period. As many as three out of four women suffer from the condition.
The symptoms of PMT cause varying degrees of discomfort, but are largely harmless, and may be physical and/or psychological.
Physical symptoms of PMT include:
Food and alcohol cravings.

Headaches.

Skin problems.

Swollen joints, particularly ankles.

Water retention.

Weakness.

Weight gain.
Psychological symptoms of PMT include:
Decreased sex drive.

Depression.

Insomnia.

Irritability.

Poor concentration.

Weepiness.
The main cause of PMT is an alteration in the balance of female hormones during the menstrual cycle, which creates an accumulation of salt and water in the system, and a reduction in progesterone, the hormone that prepares the uterus to receive a fertilised egg. Hormone imbalance can also be caused by a lack of essential fatty acids, such as Linoleic Acid in the diet. Lack of Vitamin B6 also causes irregularity in the menstrual cycle.
Women suffering from PMT may not experience all the symptoms, and can suffer them in varying degrees of severity. Some women experience psychological symptoms of PMT to such an extent that they may act like a completely different person, experiencing violent mood swings, and even demonstrating physical violence towards loved ones. Judgment is often affected in PMT sufferers, and they may become accident prone at this time.
Avoid putting yourself under unnecessary stress or setting unreasonable goals.

Eat less salt to reduce water retention.

Reduce alcohol intake, as alcohol robs the body of essential vitamins and minerals.

Reduce caffeine intake by cutting down on tea, coffee and cola drinks, as caffeine lowers the body's ability to absorb certain essential nutrients, and can aggravate skin problems.

Reduce intake of saturated fats by eating less meat and dairy produce, as these can inhibit the body's production of essential fatty acids, which can result in a hormone imbalance.

Reduce sugar intake to combat weight gain and depression. Control sugar cravings by taking a Vitamin B complex with added magnesium and chromium.

Relax by taking gentle exercise, such as yoga, and by taking warm baths.
A healthy, balanced diet and regular exercise can help to reduce the symptoms of PMT. Therapies such as acupuncture, aromatherapy, Bach remedies, homoeopathy and massage may also help to alleviate the physical and psychological symptoms of PMT.
Vitamin B, particularly Vitamin B6, and the mineral Magnesium have been shown to be very effective in relieving some of the physical and psychological symptoms of PMT, and in regulating the menstrual cycle. Medical practitioners frequently prescribe Vitamin B6 and a course of Evening Primrose Oil (described below) for PMT sufferers.
Camomile tea, taken two or three times a day in the week or fortnight before the start of a period is calming, and acts as a diuretic, removing some of the body's retained fluid. Stronger herbal diuretics, such as boldo, dandelion, juniper and parsley piert can also be used. Most herbal diuretics work gently on toning and strengthening the body's kidney function, with none of the harsh effects of conventional diuretics. Evening Primrose Oil and Starflower Oil both contain the fatty acid Gamma Linoleic Acid, which helps to regulate hormone balance, and has been shown to relieve abdominal swelling and breast discomfort, and also to reduce irritability and depression.
The herb Wild Yam, which contains phytoprogesterone, a natural form of progesterone, and successfully used in the treatment of menopausal symptoms, may be used as an alternative to the synthetic hormone, progesterone, which is often prescribed in various forms to be taken during the second half of the menstrual cycle to restore hormone levels. Many women feel more confident taking a 'natural' rather than a synthetic hormone.
WE ACCEPT NO RESPONSIBILITY FOR THE ACCURACY OF ANY FEATURED LINKS