A barn is an agricultural building used for storage and as a covered workplace. It may sometimes be used to house animals or to store farming vehicles and equipment. Barns are most commonly found on a farm.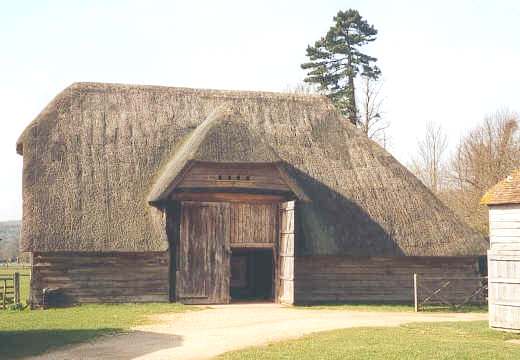 On older style barns, the upper area was used to store hay and sometimes grain. This is called the mow or the hayloft. A large door at the top one of the ends of the barn opened up so hay could be put in the loft. The hay was hoisted into the barn by a system containing pulleys and a trolley that ran along a track attached to the top ridge of the barn.
A farm often has pens of varying shapes and sizes used to shelter large and small animals. The pens used to shelter large animals are called stalls. Other common areas, or features, of a typical barn are a tack room (where bridles, saddles, etc. are kept), a feed room (where animal feed is stored), a drive bay (a wide corridor for animals or machinery), and a silo (a where grain is stored).
Many barns in the northern United States are painted red with white trim. One possible reason for this is that ferric oxide, which is used to create red paint, was the cheapest and most readily available chemical for farmers in New England and nearby areas. [1]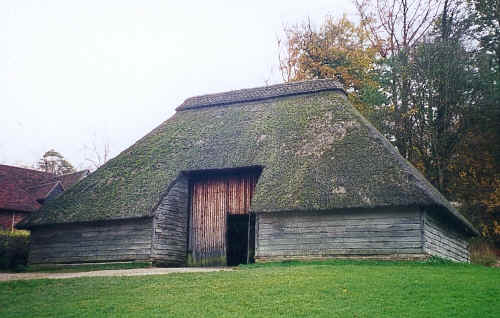 Many people would like to convert these old country buildings, to make a home with style and character. Though a popular concept, it all depends where in England or elsewhere, you want to create your dream home. One of the worst districts to consider such an undertaking is Wealden, in East Sussex. We heard of a case where a gentleman dismantled his oak barn to make it easier to install improved foundations, only to find he then lost his planning permission. Imagine the financial losses involved!
If you are considering such an enterprise, be sure to check out the local authority. Make sure you get everything in writing and record crucial meetings. This could save you losing a fortune later on. Delays are the main cause of rising costs. Wealden District Council have been known to delay proposals for more than two years. Then, after the two year delay, to then force the applicant to appeal, so causing another 9 - 14 months delay.
However, if you have the time and a good planning consultant, then the wait could be worth it.
---
Historic barns and traditional agricultural buildings are an essential element in the landscape and heritage of southern England. The pleasantness and character of the countryside would be greatly impoverished by their gradual loss.
Over the years, however, many of these fine barns and other interesting agricultural buildings, granaries, cart shed, implement stores, animal shelters and sheds, storage buildings, dovecotes, dairies, milking parlours and pigsties have not been used in an economic way and are now falling into disrepair, due to changes in agricultural management and practices. Sometimes they are in a state of serious dilapidation or decay and are often in need of urgent repair.
The majority of historic barns are typically of C16 or C17 timber frame construction, on a red brick and flint plinth and are clad in black weatherboarding with a beautifully weathered old tile or thatched roof.
Associated buildings may be of similar construction or might be of C18 or C19 brick and slate or pantile.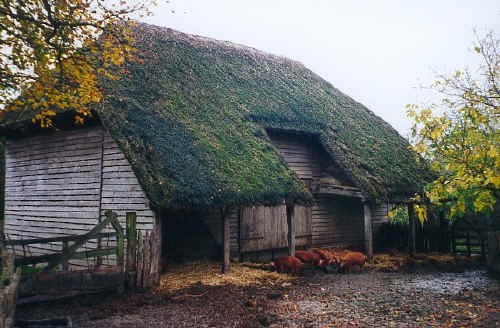 Most barns are of 3, 4 or 5 bays in size, although there are a number of notable examples of exceptionally large 10 and even 12 bay barns; some are single or double aisled. The barns are characterised by a steeply pitched sweeping roof, over unbroken dark walls often with a gabled porch (midstrey); a simple and robust form and a solid outline.
In recent years, there has been a substantial increase in the number of planning and listed building applications relating to the conversion of listed barns and other associated agricultural buildings. Many barns and outbuildings were included in the re-survey of buildings of special architectural and historic interest (1973 to 1988).
It is essential, therefore, that their special character is conserved, both as buildings and structures of interest, and as landscape features in England's pleasant countryside.
Brick chimney stacks are alien to the form of barns and are unacceptable - black painted metal flue pipes may be acceptable but should not be prominently located or project above the ridge of the roof. Any stack is unlikely to be acceptable in a thatched roof.
The setting of the barns and outbuildings is an essential part of the character of the building or group. Treatment of boundaries, paved areas, planting and gardens should be simple, plain and robust. The public side of the building or group should reflect the original agricultural character of the building - grass, gravel or simple clay brick paving may be appropriate and must not include any of the residential paraphenalia referred to above. It is always preferable to err on the side of plainness and simplicity. Simple post and rail fencing or native, indigenous hedging and tree planning is in most cases functional and appropriate to define boundaries and to provide privacy.
The conversion of a barn should retain the sense of internal space that is so much a part of the barn character. Open plan layouts are therefore the preferred internal design form. Where partitions and inserted upper floor platforms are proposed they should be structurally independent of the timber frame. A large proportion (usually at least one half) of the internal volume must remain open from ground floor to ridge.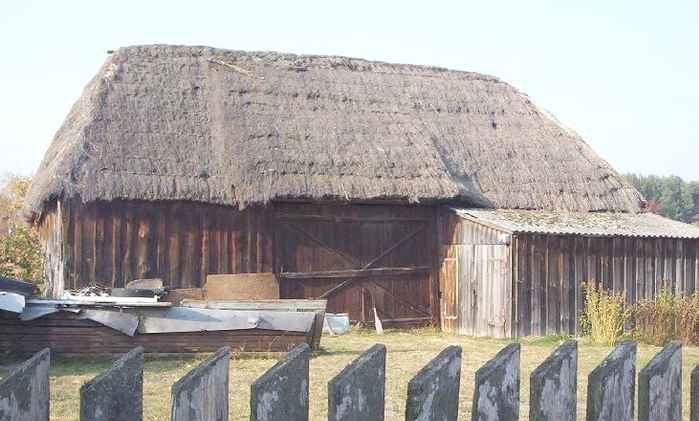 Trivia
A popular expression for a person having poor aim when throwing an object or when shooting as something is "he couldn't hit the broad side of a barn".

The physics unit "barn", which is a unit of exceedingly small area, was named for the "barn", given the surprisingly large size of this property for a particular element.
WE ACCEPT NO RESPONSIBILITY FOR THE ACCURACY OF ANY FEATURED LINKS