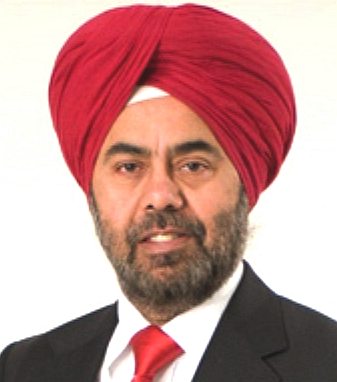 Telford & Wrekin Council leader Kuldip Sahota
We are following a case where this council gave planning permission to an elderly couple, then enforced against them because a door frame and step was in the wrong place height wise. It turns out that the council may have misread the plans, and that this information was not put to the Planning Inspector hearing the case, hence, the decision that he took, ordering total demolition and removal of all building materials on the site, may be ultra vires. The officer dealing with this matter at the moment is Michael Barker, the assistant director of the planning department.
In our opinion the order to remove building materials from site was in denial of the owners right to construct the house that they were given planning permission for. Where they will need building materials on site - and by this rather obtuse and overbearing order, appear to be denied the right to build. That in itself seems an unreasonable condition, suggesting that the Inspector was not fully conversant with the situation and as such, would most probably not have inspected the plans with due diligence. And, that may explain why the height issue has never been fully explored.
At this time there is no right of appeal to the High Court on anything but a point of law. Thus, no appeal may be lodged to look at any of the facts as may have been put to the Inspector incorrectly. This of course raised issues under Article 13, which we do not have in the English Human Rights Act 1998. Indeed, our government knew that much of our existing statute was incompatible with the Convention Right under European law. So, they left our Articles 1 and 13. Thirteen being the right to an effective remedy.
If a demolition were to take place and subsequently in the European Court, the owners of this property were found to have had their rights violated under Article 13, then damages may flow as an award of just satisfaction, in addition to declaratory relief. I.e. a declaration that the domestic law is incompatible with the European Convention.
We hope that this is brought to the attention of the members of this council is such a way that they have to opportunity to review the information for themselves. This is the last opportunity for domestic remedy, where the Local Government Ombudsman may not award Human Rights damages and certainly cannot issue a declaration of incompatibility. At least we believe that to be the case and are seeking clarification. Perhaps the Bar Pro Bono unit may assist.
Such total demolition most probably constitutes a violation of Article 8, in that such requirement is bound to cause financial hardship. The Secretary of State should properly have considered ways to minimize the cost of such alterations to that agreed with this council - and that would have required an independent survey. The Inspectorate simply cannot rely on information provided by a council, because council enforcement personnel are notorious for not presenting the facts in a balanced way, but will routinely craft a case to win an appeal - even in that means leaving out vital information, and most especially, to our knowledge, no council officer has ever admitted a mistake once litigation is under way. That said, we look forward to hearing from any council that has done so, to enable us to be proven wrong and provide a balanced view?
We hope that this matter may be resolved amicably at local level without the need to go to Europe and without putting the potential appellants through that process. The matter rests solely with the members, were the officers probably cannot do anything other than obey the Inspector's decision, no matter whether is is right or wrong.
PLEASE NOTE: These are the views of our planning consultants, built up over 20 years of experience dealing with many councils (both good and bad) and not the views of the owners of the site concerned. Horse Sanctuary Trust had no part in the applications or appeals relating to this site - having only recently heard about the case.
ABOUT TELFORD & WREKIN COUNCIL
Telford & Wrekin Council,
Addenbrooke House
Ironmasters Way
Telford
TF3 4NT
http://www.telford.gov.uk/
LINKS
Environmental services - out of hours emergencies (8 requests)
Emergency duty team (social care) (3 requests)
Councillors services and advice (2 requests)
Disabled Facilities Grant (2 requests)
Children and young people's service (2 requests)
Employment Services - Payroll (2 requests)
Property demolition - services for council tenants affected by - alternative housing
Property alteration by tenant (2 requests)
Educating your child at home (1 requests)
Major emergency incident (1 requests)
Elections - standing as candidate (1 requests)
Equipment and adaptations to the home (1 requests)
Core Strategy Development Plan (1 requests)
PLANNING COMMITTEE
The Planning Committee's main role is to determine applications for planning permission within the Borough. Not all applications come before the Planning Committee – decisions on many small applications are delegated to Officers. The Committee has powers in relation to listed building and conservation area consent and the making of tree preservation orders. It also has enforcement powers to take action against unauthorised developments. The Planning Committee consists of 9 Members, politically balanced.

Meetings of the Planning Committee are normally held every 3-4 weeks. The agenda is available on the web site 5 working days prior to the Committee meeting (which will also include the minutes of the previous Committee meeting). The minutes of the latest Committee meeting will be presented to the next Committee meeting.

The meetings are open to the public, and members of the public are allowed to speak. For further details on the arrangements for public speaking please contact the council.
Other Councillors are allowed to address the Committee on any applications that are located in their Ward in accordance with the scheme. This Committee was previously known as Plans Board.
WHO SITS ON THE PLANNING COMMITTEE?

The Council's Planning Committee consists of nine Councillors (elected Members) and is Chaired by Councillor John Minor. The Vice-Chair is Councillor Shirley Reynolds. Officers who are employed by the Council to advise on Planning, Legal and Administrative matters will also sit at the Committee table but their role is advisory only and they do not take part in decision making or vote on applications.
Chaired: Councillor John Minor and Vice-Chair Councillor Shirley Reynolds
Nigel DUGMORE - Member
Ian Thomas Wells FLETCHER - Member
Kevin GUY - Member
Amrik Singh JHAWAR - Member
Terry KIERNAN - Member
John Charles MINOR - Chairman
Gilly REYNOLDS - Member
Shirley REYNOLDS - Vice-Chairman
Chris TURLEY - Member
You may speak at meetings provided that you have registered your interest with these departments. We'd also suggest that you either record any meetings or request a good quality recording of the meeting. You will find such verbatim evidence is necessary with most councils, when analyzing any advice from planning officers to the members who are making decisions. You will probably find a failure to advise or two during the process - and you'll need to nail down the issues in writing for any appeal - if you are to have any chance at all.
Public Speaking & Meeting Procedure Queries:

Democratic Services
01952 383215
Planning Application Queries:

Development Management
01952 380380
planning.control@telford.gov.uk
FIND YOUR MEMBER
ARTICLE 8
Article 8 (right to respect for private and family life) of the Human Rights Act prohibits interference by a public authority against a person private and family life and his home. This applies to local authority in the exercise of their powers.
Article 8 also applies where your local authority fail to act to protect your rights, hence this important legislation introduces for the first time positive rights. In the past you only had negative rights.
There is a strict time limit to begin litigation of just 12 months. In some special circumstances the Courts will extend this time limit.
Article 8 should be taken in context with Article 14 (prohibition of discrimination) seeking to prevent discrimination on any ground. Therefore, council's may not treat some members of society favorably, while in other cases using all their powers to obstruct lawful development and prevent targeted persons enjoying their home.
Perhaps this is a contributing factor to the plethora of reported serious abuses of authority plaguing Council's up and down the country. Where planning is concerned there is very limited access to justice! What is your MP doing about it in between filling in his expenses claims?