Vicky Price and Chris Huhne
This could have been one of the most expensive speeding tickets in English history, but resulted in just two months detention and a resignation.
R v Huhne and Pryce

In May 2011 Huhne's estranged wife Vicky Pryce approached a reporter for the Mail on Sunday with a claim that Huhne had "pressurised people to take his driving license penalty points" on his behalf in 2003. Huhne denied the allegations of perverting the course of justice, contrary to common law. Essex Police said: "We take allegations such as this one extremely seriously and will take action where necessary."

In a YouGov opinion poll, before any decision to prosecute, almost half the respondents thought that Huhne should resign over the allegations.

Essex Police sent initial papers to the Crown Prosecution Service regarding the allegations and Huhne exercised his right to remain silent in response to police questions in May. On 25 June 2011, Essex Police said that a judge at the Crown Court at Chelmsford had granted them a court order to take possession of a recording from The Sunday Times in which the ex-couple apparently discuss the case. It then emerged that Huhne had again been interviewed by police concerning the allegations, and on 28 July the police handed the file to prosecutors. On 17 August 2011, the Crown Prosecution Service remitted the matter to Essex Police with a direction to investigate the matter further. On 25 August 2011, Essex Police re-submitted their allegations to the CPS. A decision on whether criminal proceedings would be instituted for the alleged offence was expected to be made by the end of September 2011.

On 28 October 2011, the Crown Prosecution Service referred the matter to Essex Police for further investigation, having completed a "full review" of the allegations. At a private hearing in October 2011, a judge in the Crown Court at Chelmsford ordered The Sunday Times to produce email messages between Pryce and the newspaper's political editor in relation to the police investigation. On 22 November, the Director of Public Prosecutions, Keir Starmer QC announced that the CPS was "very close" to deciding whether to prosecute. The reason for the delay was that The Sunday Times was seeking judicial review of the court order the CPS had obtained. The DPP stated "we do not shy away from prosecuting politicians". The judicial review hearing was scheduled for 20 January 2012. However, on that date The Sunday Times dropped its application for judicial review and said that it would comply with the court order for delivery of the documents.

The emails were delivered to Essex Police, who said there was no need to conduct further interviews. Essex Police had recommended to the CPS that both Huhne and Pryce be prosecuted for the alleged offences.

The DPP announced on 3 February 2012 that both Huhne and Pryce had been charged with perverting the course of justice. Huhne thereupon resigned from the Cabinet. As a result of his resignation, and in accordance with the rules governing severance payments to resigning ministers, Huhne received a tax-free payment of £17,000. Huhne and Pryce appeared before Mr Justice Saunders in the Crown Court at Southwark on 2 March 2012. A trial was timetabled for early October 2012, with the possibility that the case might start earlier. Neither defendant entered a plea and both were granted unconditional bail. At a plea and case management hearing on 1 June 2012, Huhne announced his intention to apply to the court to have the charge dismissed. Pryce entered a plea of not guilty, and would advance a defence at trial of marital coercion: that is, that her then husband coerced her into taking his penalty points. On 5 October 2012, the trial was adjourned until 14 January 2013 for "legal reasons" which were not disclosed. On 28 January 2013, Huhne was arraigned and pleaded "not guilty" to the indictment. A new trial date was set for 4 February 2013.

On 4 February Huhne pleaded guilty on re-arraignment, and was appointed to the Chiltern Hundreds, thus resigning his seat in Parliament and triggering a by-election. He was remanded on unconditional bail until sentencing at a date to be notified.

In February 2013, at the trial of Vicky Pryce it was revealed that Constance Briscoe had been arrested in relation to statements she had made to police that she had not had any involvement with the leaking of the driving licence points-swapping story. Briscoe was arrested on 6 October 2012. No announcement had been made at that time as to the nature of the allegations against her. Prosecutor Andrew Edis told the jury that Briscoe and Pryce had "started it together by approaching a man called Andrew Alderson (a journalist working for the Mail on Sunday)", falsely claiming that one of Huhne's aides, Jo White, took points for him in 2003. Edis stated that Briscoe was a neighbour and friend of Pryce and that the "two of them appear to have cooked up a plan" to bring about Huhne's downfall.

On 11 March 2013, Huhne and Pryce were each sentenced to eight months imprisonment. Huhne started serving his sentence in HM Prison Wandsworth but was reportedly transferred to HM Prison Leyhill.

On the day after sentencing, David Burrowes MP wrote to the Attoney-General Dominic Grieve, asking him to exercise his power of referral to the Court of Appeal, as in Burrowes's view the sentences were too lenient. Grieve had until 8 April - 28 days after the original sentence - to decide whether to refer the case to the Court of Appeal, which has the power to increase sentences.

Huhne and his ex-wife were released on 13 May 2013, having both served two months of their eight-month sentences, both are subject to Electronic tagging. Huhne must stay in his home between 7 pm and 7 am.
THE UNOFFICIAL PRISON DIARIES CHAPTER 1
A series of publications using official records, contemporaneous notes, prison applications, and forensic documents that were not available for the trial, but have since been published as a result of a compilation of advanced clinical trials conducted outside the United Kingdom (where the UK does not support such research). These unofficial volumes are not for publication in the UK, until the appeals of the subject have been finally disposed of.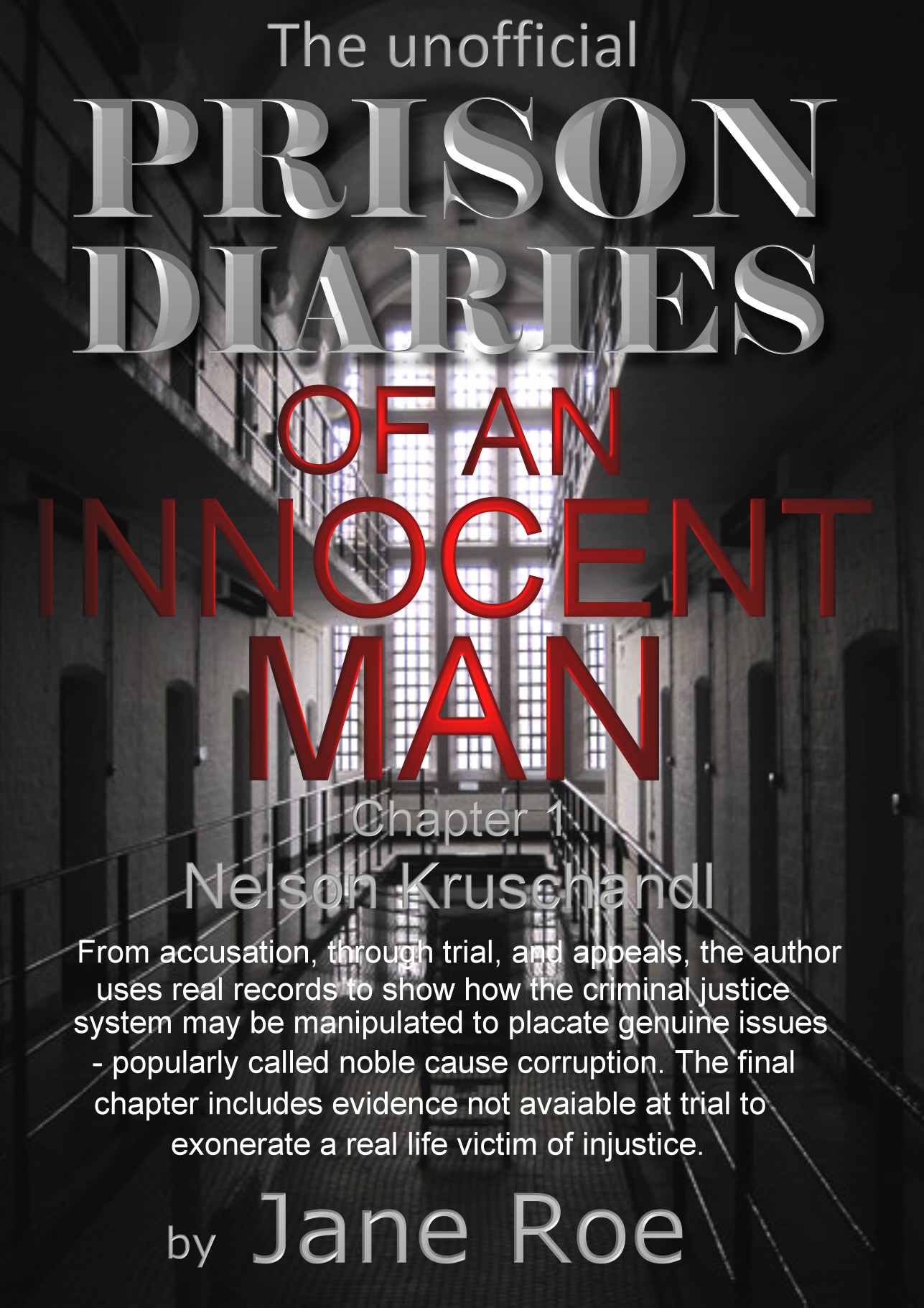 In what could be an eye opener for the Ministry of Justice, this is the first in a trilogy of diaries that shows how any man (men in particular) can be falsely accused and convicted by a doe- eyed bambi, given the right circumstances. No man is safe until the law is changed back to where it was before 2003. After 2003 a man accused of a sexual offence is guilty until he proves his innocence, rather than innocent until proven guilty. According to Article 6, a person accused of a crime shall be presumed innocent.
These Chapters also highlight flaws in the British appeal system, where a Legal Aid is set so low that Barristers don't follow procedural etiquette, because it would take too much of their time. Time, is of course money. Without the money available for proper representation, Article 6(3) cannot be complied with
This man was convicted on junk science. You'll have to wait for the subjects appeals in the ECHR to conclude before this book is published. But you can contact us in strict confidence if you have information that might help us lobby for change, or you would like information for a case.
LINKS
http://theprisonersdiaries.blogspot.co.uk/
http://www.vice.com/en_uk/read/are-britains-prisons-turning-into-factories
http://www.bobbysandstrust.com/
http://www.dailymail.co.uk/femail/article-2039225/TLC-Prison-Diaries-Inside-mind-Emilia-Carr-death-row.html
http://www.dailymail.co.uk/home/Norways-controversial-cushy-prison-experiment-catch-UK.html
http://news.bbc.co.uk/1/hi/uk/2301717.stm
http://news.bbc.co.uk/1/hi/uk_politics/2305603.stm