SUSSEX INDUSTRIAL ARCHAEOLOGY SOCIETY
Inspired by Ron Saunders and confirmation of the generating history Victor contacted Ron Martin, the general secretary of the above society. Ron lost no time visiting the site and from his first survey was confident enough to recommend his Society support the 1998 application for permission to restore the buildings via conversion.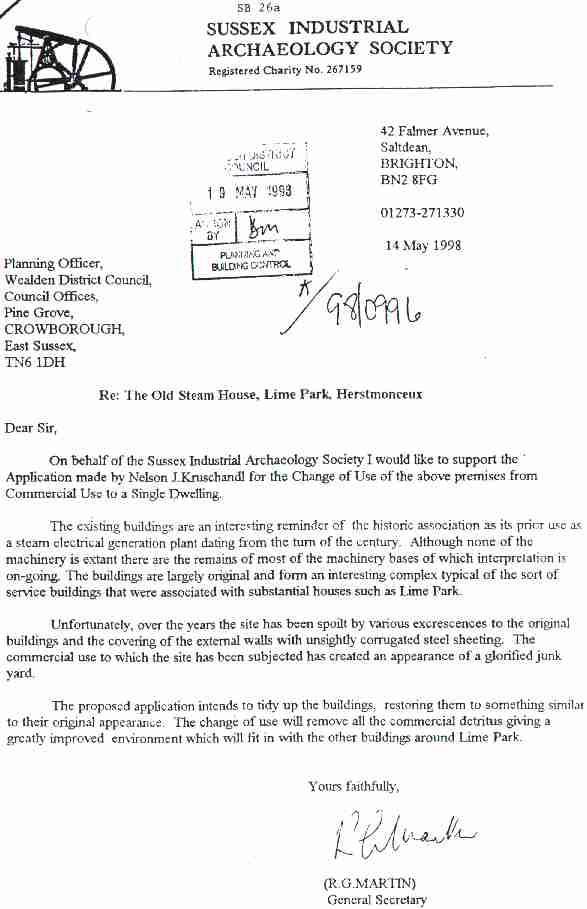 Our thanks go to Ron Martin and the Society for their help in getting this building recognised for what it is.
Herstmonceux Electricity Generating Works Circa. 1900 - 1936
Introduction | Instructions | ISBN | Batteries | Boiler Room | Floor Plan | Ron Saunders
Industrial Revolution | Lime Park | Machinery | Map | Power House | Argus 1999
Public Supply | Roof Construction | Rural Supply | Sussex Express 1913 | Conclusion
Archaeology South East | East Sussex CC | English Heritage | SIAS | Sx Exp 1999