About a year ago a Herstmonceux man wrote to the Rt Hon Gregory Barker MP to complain about injustice occasioned by Wealden District Council. The complaint was of discrimination and obstruction.
Mr Barker acknowledged the complainant at first. Then Mr Barker contacted Rupert Thornely-Taylor, Leader of the council complained of (and a fellow conservative) after which nothing further has been heard from the gent.
We thought MP's were there to represent their constituents. Apparently, Mr Barker appears not that bothered where the complaint may reflect badly on a fellow conservative. At the very least Mr Barker could have taken the trouble to investigate the matter.
Perplexed at the lack of representation from his local member of Parliament, the Herstmonceux man wrote to the Rt Hon Iain Duncan Smith MP, leader of the conservative party. Mr Duncan Smith declined to intervene.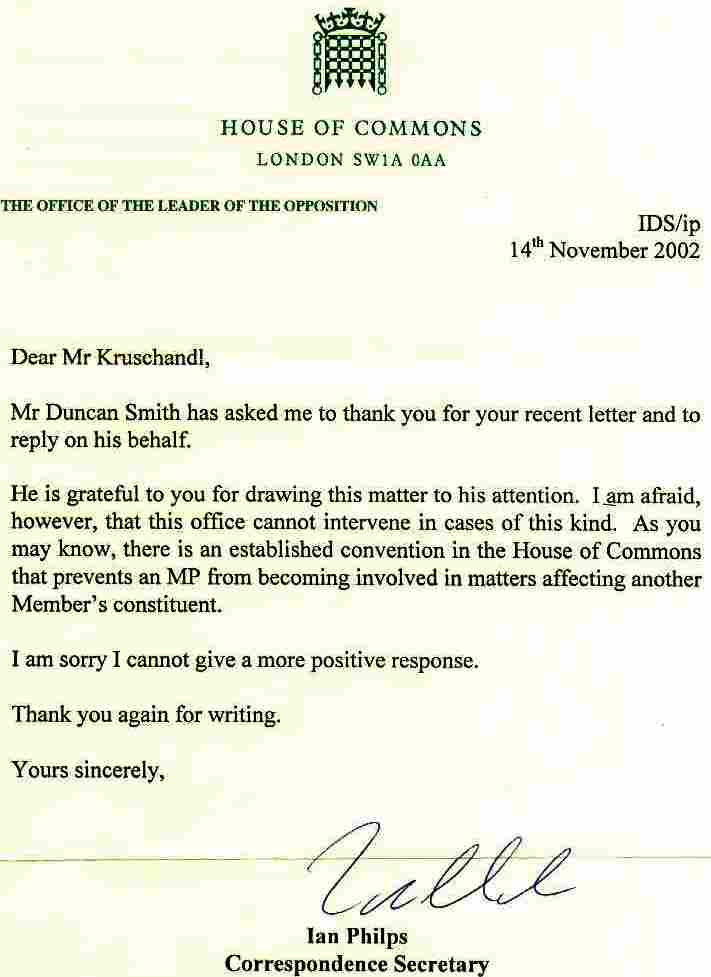 It further appears that a constituent may be denied representation, where politics of convenience exist. Is there anyone out there who knows how to put the matter right?
The case continues..............
Gregory Barker Esq, MP





Bexhill and Battle
Con majority 10,503


PARTY
Conservative

DATE OF BIRTH
8 March 1966

MARITAL DETAILS
Married Celeste Harrison 1992 (1 daughter 2 sons)

EDUCATED
Steyning Grammar School;
Lancing College, West Sussex

FURTHER EDUCATION
Royal Holloway College, London University (BA modern history, economics, history, politics 1987)

PROFESSION
Researcher Centre for Policy Studies 1987-89;
Equity analyst Gerrard Vivian Gray 1988-90;
Director International Pacific Securities 1990-97;
Associate partner Brunswick Group Ltd 1997-98;
Head investor communications Siberian Oil Company 1998-2000;
Director Daric plc (Bartlett Merton) 1998-2001

SELECT COMMITTEES
Member: Environmental Audit 2001-

CURRENT SELECT COMMITTEES
Environmental Audit
Got a story to tell?