Perplexed at the lack of representation from his local MP, a Herstmonceux man wrote to the Rt Hon Iain Duncan Smith MP, leader of the Conservative party, seeking an explanation. Mr Duncan Smith declined to intervene. The letter below reveals the reason given for refusing to look into the matter, but does not offer a remedy!
I can assure you this is the standard response where you are getting the bums-rush. Delay and denial is one of the most basic tools used by MPs when they want to look the other way. I had the pleasure of meeting Mr Duncan Smith during one of his clinics. On that occasion, another Wealden resident was furnishing him with evidence of serious maladministration in his area, enough to make any MP worth his salt, sit up and take notice. Cllr Sivia TIdy was in attendance, then a newly elected member, now a cabinet member. Mr Duncan Smith said "these are serious charges." He then refused to take a bundle of evidence from the Wealden resident, and said: "when you have some proof, come back and see me"!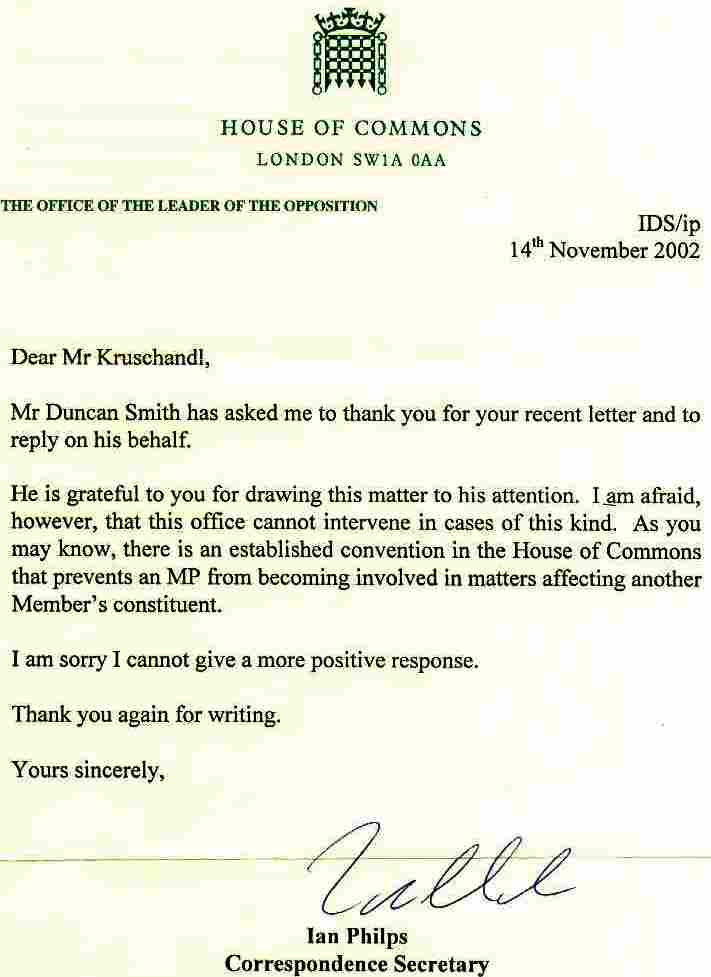 The sad fact is your MP can refuse to represent you. When he does, the above letter confirms there is no other channel for you to bring a matter to the Parliamentary Ombudsman. So much for a safety net!
Got a story to tell? See our Contacts page.