HISTORY
Cement has been around for at least 12 million years. When the earth itself was undergoing intense geologic changes natural, cement was being created. It was this natural cement that humans first put to use. Eventually, they discovered how to make cement from other materials.
MIXING SAND AND CEMENT FOR MASONRY WORK
This table is only a guide. You may prefer to build retaining walls, for example, out of sharp sand and cement alone. We have included lime to allow the walls to breathe a little. A colouring can be added to the mortar to match any existing colours and this should be added to the cement before it is mixed with sand and water. The correct procedure for mixing mortar is shown below.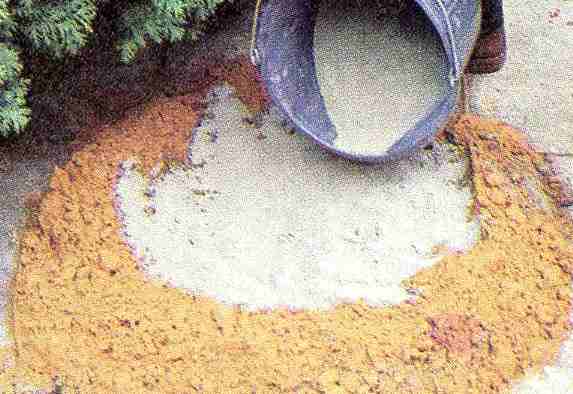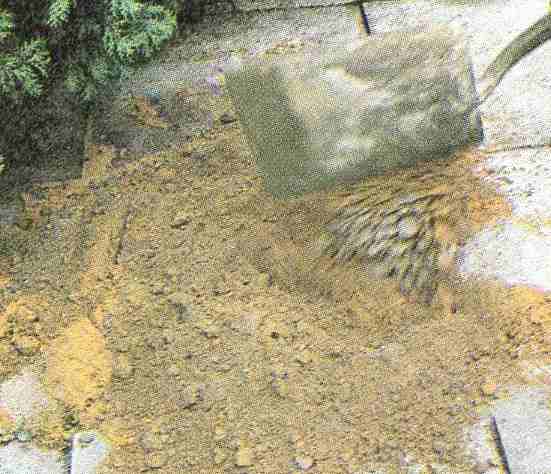 Measuring out the sand & cement - dry mix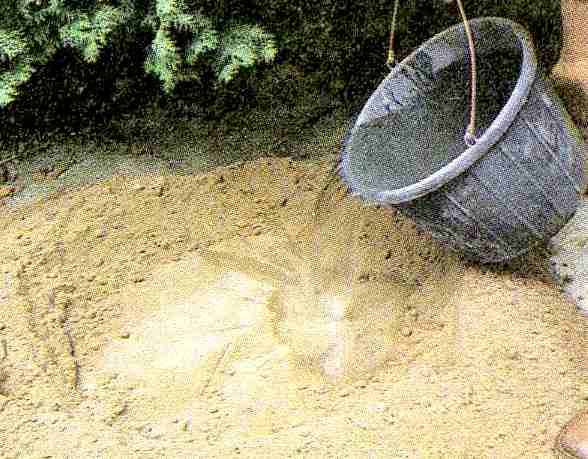 Adding water
Having mixed and aggregates (soft and sharp sand + lime) together, form a circle with the mixture and hollow out the centre. Tip or shovel in the required amount of cement. Mix together shovelling in towards the centre. When the complete mix is one uniform colour, hollow out the centre once again. Tip water into the centre. Start with ½ a bucket and (after the first mix you will learn how much water your mix will take, until then you may have to keep adding it in small amounts. It is much better to have too little and add some more, than to have too much. Mix everything into the middle once again and keep "turning over" until the whole mix is an even colour and consistency.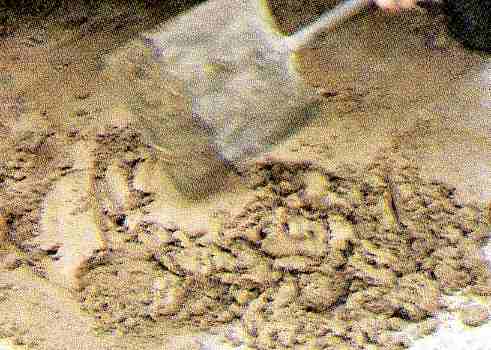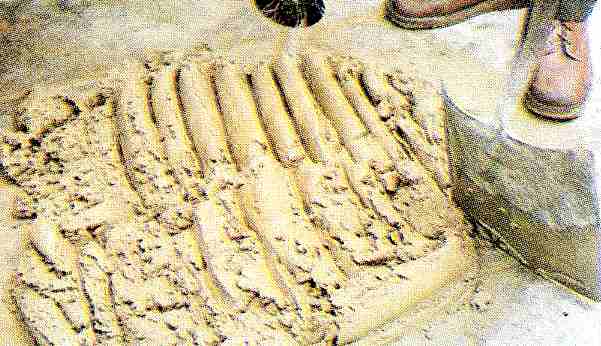 Shovelling into centre then stepping for uniformity
About P
ortland Cement
Lime and Pozzolana concretes continued to be used intermittently for nearly two millennia before the next major development occurred in 1824 when Joseph Aspdin of Leeds took out a patent for the manufacture of Portland cement, so named because of its close resemblance to Portland stone. Aspdin's cement, made from a mixture of clay and limestone, which had been crushed and fired in a kiln, was an immediate success. Although many developments have since been made, the basic ingredients and processes of manufacture are the same today.
| | | | | |
| --- | --- | --- | --- | --- |
| Application | Cement | Builders (soft) sand | Lime (if chosen) | Sharp sand |
| House walls - bricks | 1 | 5 | 2 | |
| Ditto Blocks | 1 | 5 | 1 | |
| Retaining walls brick | 1 | 3 | 2 | 1 |
| Ditto blocks | 1 | 3 | 1 | 1 |
| Coping stones & cills | 1 | 2 | ½ | 2 |
| Chimneys | 1 | 5 | 2 | |
| Haunching for chimneys | 1 | | 1 | 4 |
| Joints for paving | 1 | 3 | | |
| Bed for paving slabs | 1 | | | 6 |
| Pointing brickwork | 1 | 3 | 2 | |
| Floor screed | 1 | | | 4 |
| External render 1st coat | 2 | 3½ | 1 | 3½ |
| Ditto 2nd coat | 2 | 4½ | 2 | 4½ |
Mixing Table
Composition of Portland Cement
Portland cement is a complex mix of many compounds, some of which play a major part in the hydration or chemical characteristics of the cement. It is manufactured commercially by heating together a mixture of limestone and clay up to a temperature of 1300 to 1500°C. Although twenty to thirty percent of the mix becomes molten during the process the majority of the reactions which take place are solid-state in nature and therefore liable to be slow. Once cooled, the resulting clinker is ground to a fine powder and a small amount of gypsum (calcium sulphate dihydrate) is added to slow down the rate at which the cement hydrates to a workable level.
The work of early investigators using optical and X-ray techniques, starting in 1882 with Le Chatelier, has shown that most Portland cement clinkers contain four principal compounds. These are tricalcium silicate (3CaO.SiO2), aluminate (3CaO.Al2O3) and a ferrite phase from the (2CaO.Fe2O3 - 6CaO.2Al2O3.Fe2O3) solid solution series that at one time was considered to have the fixed composition (4CaO.Al2O3.Fe2O3). These phases were named alite, belite, celite and felite respectively by Tornebohm in 1897.
Hydration of Portland Cement
When water is mixed with Portland cement a complicated set of reactions is initiated. The main strength giving compounds are the calcium silicates which react with water to produce a calcium silicate hydrate gel (C-S-H gel) which provides the strength, and calcium hydroxide which contributes to the alkalinity of the cement. Tricalcium silicate reacts quickly to provide high, early strengths while the reaction of dicalcium silicate is far slower, continuing, in some cases, for many years. The other cement compound of particular relevance to steel reinforced concrete is tricalcium aluminate. It reacts rapidly with water to produce calcium aluminate hydrates.
The amount of tricalcium aluminate present may well be limited as in the case of sulphate resisting Portland cement, to prevent adverse reactions between the hydrate and sulphates from the environment which can result in swelling and cracking of the cement matrix.
The great advantage of tricalcium aluminate is its ability to combine with chlorides, so removing them from the liquid phase of the cement. Chloride ions, as will be seen, are one of the major causes of corrosion of embedded steel in reinforced concrete.
CEMENT MIXING
Small jobs only need a shovel and a flat area to mix your cement, but once more cement is needed for building walls for houses, you will need a cement mixer to save your back. These days you have a wide choice of electric and petrol mixers that you can buy from a builders merchants such as Wickes, Stamco, Travis Perkins and many more, or you can buy online from Ebay and Amazon or other online shops.
---
COMMENT
It is essential to provide housing at affordable prices for every person in the United Kingdom. At present houses are kept artificially high. For this reason life is harder for young couples starting out.
Part of the reason houses are so expensive, is that the planning officers employed by town councils are not accountable to the ratepayer. MANY ARE ON THE TAKE and in property themselves. In addition, councillors are usually retired or well off, or perhaps do not need to work.
Instead of worrying about providing housing for the man in the street, they simply want to make their plot worth more. It stands to reason. If you had the chance to make your porperty worth more, what would you do? Whatever the reason, councillors do not argue against some planning applications, but will argue against other identical proposals. The opposite is also true. Some planning applications are approved before they hit the committee room. While other applications more in line with good planning policy, get a rough ride - delays - questions and requests for more details.
It really all depends on who is making the application. If you are not on the list of friends and associates, you stand much less of a chance of obtaining planning permission.
THIS SITE CONTAINS MANY EXAMPLES OF COUNCIL'S UNREASONABLE BEHAVIOUR - With thanks to Action Groups across the country for the supply of real case history and supporting documents. *THAT THE PUBLIC MAY KNOW*