Residents of Desborough are furious that works to Pipewell Bridge should have been allowed to proceed by their council, without previously agreed conditions being met. Further complaint stems from the fact the residents were not notified of the proposed works to be able to air their concerns that construction described as "sewer works" are in fact "road works". The photograph below says it all.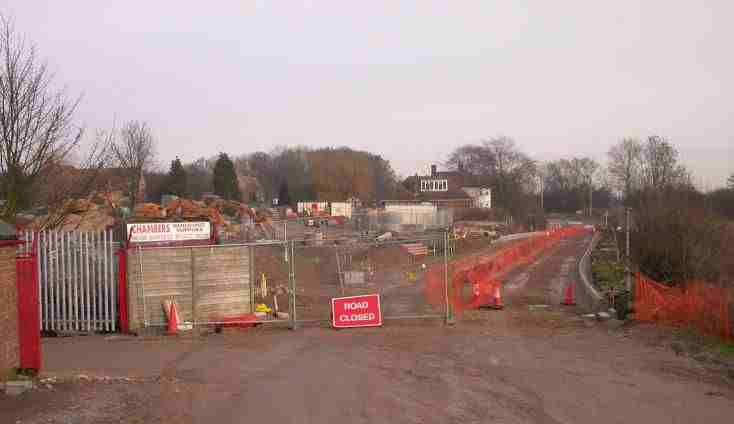 Pipewell Bridge road works in progress
Complaints to the council have secured reply to the effect that the council consider they have acted properly under present statute, however, it would seem they confirm that no proper procedure exists for notifying the parties and/or other interested parties as to works likely to affect their amenity.
It seems to us that in such circumstances the Planning process (Acts) should be amended to give victims of planning blight, indifference or negligence a third party right of appeal to an independent tribunal established in law. Such a provision would comply with Article 6 of the Human Rights Act 1998 - your right to a fair hearing. We are also surprised the Councils concerned have not recognised the disturbance to your home and peaceful enjoyment of property - the above development is surely causing, contrary to Article 8 and Protocol 1 Part 1.
If as a result of exhausting the various complaint procedures, the residents are unable to obtain an effective remedy, in denail of their Convention Rights, then this may become a matter for the European Courts under Article 13.
NOTE: We understand the Planning Acts are under review at this time in the House of Lords, but that third party rights may be disallowed!
Article 13 is not domestic law, our government refusing to implement such provision for fear of the implications, where we are burdened by corruption and unfairness at every level of local government. They are content to sit back in the full knowledge the trickle of complaints (those they do not stifle) will be judged by the watered down powers of the European Court, who must then consider if UK law allows our government to undermine our rights in the interests of the state. Sadly, that argument has been upheld several times in Europe. Domestic rights would have the effect of developing UK law consistent with that intended by the European Convention - i.e. no watering down.
Got a story to tell? Send your comments directly to planning@eastbourne.gov.uk
With thanks to Action Groups across the country for the supply of real case history and supporting documents.
*THAT THE PUBLIC MAY KNOW*