UK: Politics Sunday, February 8, 1998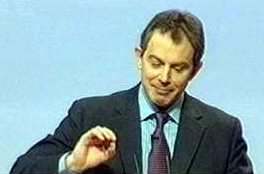 Tony Blair appeared relaxed and confident at Labour conference
The Prime Minister, Tony Blair, appeared happy, if not flustered, making his first speech after his four-day stay with President Clinton. Addressing the Labour faithful, he ran through a list of his achievements, playing the crowd alternately for laughs and applause.
But beneath the jokey, relaxed style, Mr Blair's message to the local government conference was clear - modernisation remains essential. He warned those who oppose reform of the health service and the benefits system that failure do do so would leave these services vulnerable to more drastic attack by future right-wing governments.
"The purpose of reform and change is not to obliterate basic value, it's to make them live again," he said. "That's the choice - it's between reform and change or obliteration of the basic values in which we believe." The speech emphasised the Prime Minister's promise to ensure corruption and malpractice are stamped out of local councils.
"We will publish proposals, based on Lord Nolan's report on conduct in local government, for a new framework on standards in local authorities. Tony Blair: "One strike and you are out" (1'07")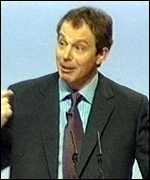 Blair: stamp out corruption
"Every council will have to introduce its own code of conduct on a national model. Every council in its code will need to include provisions for the investigation of malpractice. The investigations will be independent. They will be swift, they will be searching and their findings will be put into place.
"I know corruption is not widespread, we all know that. That's precisely why one case is one too many. For us in the Labour Party, it's one strike and your'e out and that's how it should be." his gained long applause but the clapping was loudest in Scarborough when Mr Blair promised to "end the absurd situation where you've got hereditary peers sitting in the House of Lords."
But the Prime Minister became more evangelical as he wound up his speech and made his case for continued reform, not just of the Labour party and councils but of the whole country. He paid tribute to the modernisation process begun by Neil Kinnock and continued by John Smith's introduction of one member, one vote.
"We changed the Labour party but we have to change the country," he said. "It's a far bigger thing to do and its also far more important but I know it is within our capacity to be great again. "This is a country where in the minds of each of those young people going through school today there is an enormous potential to innovate and do good and be decent responsible members of society.
"Our task is take the enormous potential of people and liberate it and we can do it. "I am in the Labour party because in the end I believe there is such a thing as society and we have an obligation to other people as well as ourselves. I want to make that basic principle live again today."