Neil Hamilton's name first came to public attention over the cash for questions scandal. Mr Hmilton is quoted as saying: "My primary concern in fighting the case is to clear my name, but I am also determined to remove the slur the cash-for-questions case has cast over Parliament as a whole."
He went to court to try to salvage a reputation that had become synonymous with Tory "sleaze"; he failed leaving it in tatters.
The former MP had wanted to clear his name of accusations that he had accepted envelopes stuffed with cash from Harrods boss Mohamed Al Fayed in exchange for asking parliamentary questions.
The allegations effectively ended his ministerial career and led to Mr Hamilton becoming a political pariah even to many of his Conservative colleagues.
Having entered Parliament in 1983 as MP for Tatton, he had risen through the ranks to become a government whip and corporate affairs minister.
But the cash-for-questions row led to him being booted out of Westminster at the 1997 general election in disgrace - unseated by the former BBC correspondent Martin Bell running on an anti-corruption ticket.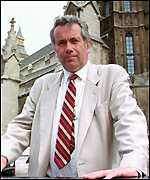 Martin Bell: Defeated Mr Hamilton on an anti-sleaze ticket
Conference ban
Then in 1998 Tory leader William Hague singled Mr Hamilton out as one of the MPs who had brought the party into disrepute and asked him to stay away from that year's Conservative conference.
However, Mr Hamilton refused to go quietly - even after he dropped his libel action against the Guardian on the eve of the case coming to court.
With his formidable wife Christine always by his side, he continued to protest his innocence to anyone who would listen.
The Hamiltons became regular guests on daytime TV. Such was their thirst for publicity that they even attempted to launch their own celebrity cooking series.
While many observers regarded the couple with increasing amusement and scorn, Mr Hamilton appeared deadly earnest about clearing his name.
As an MP, he had successfully defended his reputation in a libel action against the BBC in the mid 1980s over allegations about his right-wing views.
And with the financial backing of wealthy Tory sympathisers, he fended off Mr Al Fayed's attempts to prevent the cash-for-questions allegations from going before a jury. In the end though, the jury did him no favours.
In May 2001 Neil and Christine Hamilton were arrested by police investigating an alleged rape, with an inevitable blaze of publicity. The investigation against them was dropped in August of that year. In June 2003 their accuser, Nadine Milroy-Sloane, was jailed for attempting to pervert the course of justice.
The following links are not part of the Haringey Council web site. Please read our legal disclaimer before using these links.