Tuesday, March 3, 1998 UK Tall, dark and ugly - Leylandii trees face the axe

Some say Leylandii trees have forced them to move house.
A fast-growing conifer which has been at the root of bitter neighbourhood disputes may face the chop from the government.
Ministers are considering how to tackle the problem of the Leylandii, which grows up to 100ft high and is blamed for sucking the goodness from soil, killing nearby grass and flowerbeds, and turning the best of friends into the worst of enemies.
Richard Caborn, the Planning Minister, says he is looking at whether "some form of intervention" is necessary to control the use of the Leylandii, following a number of high-profile court cases.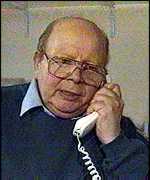 Michael Jones: hopeful something will be done.
One option being considered is changing planning laws so that anyone wanting to plant a Leylandii would require planning permission.
Michael Jones from Birmingham is one of hundreds who are urging action to be taken.
He spent more than six years in a row with his neighbour over a 26ft Leylandii hedge, which cost £100,000 in legal fees.
He now runs a victim support group called Hedgeline to help other conifer sufferers. He has received more than 600 calls.
Councils have also received hundreds of complaints from people who say their views and light have been blocked by the trees, which grow up to three feet a year.
Those who have suffered under the shadow of the Leylandii have described it as a "monster". Some claim they have been forced to move house by the "curse of the Leylandii". Others say thousands of pounds have been cut from the value of their homes.
The Leylandii is a hybrid that was first discovered in South Wales in 1888. There are now about 55 million in Britain.
"Leylandii growers will be social outcasts" says Michael Jones (0' 17")
---