The Kirkby Times believes that corruption is still endemic in the UK. This corruption is so widespread that it has affected all levels of society. White Collar crime is simply thought of as business, it's almost second nature to many businessmen. Our local councils have been exposed time and time again for dirty dealings. Accusations are now flying in towns and cities in the UK with the internet becoming the means in which whistleblowers can, at last, have a public platform to air their concerns. New Labours willingness to tackle this corruption has been less than enthusiastic. Kirkby Times can reveal that trust in our local councils is at an all time low. Trust in the political process itself is now so bad that many people in Kirkby accept that the powers that be are corrupt. This is not Kirkby Times saying it - its most ordinary people in England saying it.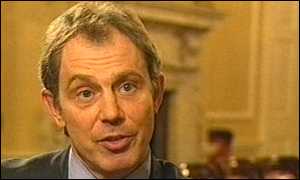 Tony Blair is warning councils they must modernise
CANCER IN THE LABOUR HEARTLANDS
Below is just a small sample of the political cancer which is eating away at the Labour Heartlands. The councillors on the list of shame below, sold out whatever principles they had (if they ever had any that is) and were caught for the well known 'councillor's fiddles' such as claiming extra travel expenses and pushing up the hotel accommodation bills. Easy little fiddles to detect if a good auditor goes over every claim in the past few years. Look carefully at the list below and you can see the sort of tricks which the below New Labourites seemed to think were just the perks of the job. Are we to believe that this was just an isolated case or is it just the tip of the iceberg? Many believe the latter.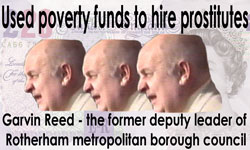 Gavin Reed - former deputy leader Rotherham MBC
THE GUILTY SO FAR
19 Doncaster councillors who have passed through the courts and been found guilty are:

Jack Riley: appeared July 1998. Jailed for 28 days for falsely claiming £214.

David Jobes: appeared August 1998. Jailed for six months for falsifying expense claims totalling £3,700.

Derek Hughes: appeared in court September 1998. Fined £500 after pleading guilty to one charge of falsifying an expenses claim form.

Mick Collins: appeared September 1998. Jailed for eight months for expenses fraud involving Doncaster council totalling £2,000. He denied stealing nearly £2,000 from his local Labour party branch. The judge ruled these charges were not to be proceeded with, but ordered compensation to be paid to the party branch.

Len Dyson: appeared February 1999. Jailed for four months after admitting falsely claiming £325 in expenses.

Pat Mullaney: appeared July 1999. Given 200 hours' community service after admitting expenses fraud totalling £1,290. Had already repaid it to the council. Ordered to pay £500 costs.

Steve Judge: appeared August 1999. Sentenced to 120 community hours for falsifying his expenses. Ordered to repay £289 and £500 prosecution costs.

Terry Sellars: appeared Sept 1999. Three months suspended for two years and ordered to re-pay £490.

Tony Sellars: appeared December 1999. Three-month sentence suspended for two years for falsifying his expenses. Ordered to pay £664 in compensation.

Roland Cox: appeared April 2000. Given two six-week jail terms to run concurrently and suspended for a year for making a false claim for £137.60 hotel accommodation and for claiming a £120 rail fare when he had paid less.

Michael McAteer: appeared May 2000. Fined £250 for falsely claiming £139.60 for two nights at a hotel. Paul Farley: appeared May 2000. Ordered to carry out 120 hours' community service after pleading guilty to making a false claim for accommodation and train fares totalling £243. He was ordered to pay £118 costs.

Former leader Malcolm Glover: appeared July 2000. Sentenced to three months suspended for a year on each of three charges, to run concurrently and ordered to pay £1,000 costs. On three occasions he had falsely claimed a total of £177.50. Two of the charges related to claiming first class rail fare when he had travelled standard, and the third related to a mileage claim for a 450-mile round trip when he had actually travelled in a company representative's car.

Gordon Jones: appeared July 2000. Fined £250 with £118 costs for falsely claiming for a £140 rail ticket when his ticket had cost him £66.

Former deputy mayor Norman Fisher: appeared September 2000. Jailed for nine months for falsely claiming £639.20 for hotel accommodation.

Brian Day: appeared October 2000. Fined £300 with £250 costs after pleading guilty to making a £69.70 false claim for overnight hotel accommodation.

Jean Elwick: appeared January 2001. Given a two-month sentence suspended for a year and ordered to pay £750 costs on two counts for claiming false expenses totalling £200.50.

Ex-deputy leader Michael Farrington: appeared February 2001. Given a two-month sentence suspended for a year for claiming two extra nights' hotel accommodation valued at £137.60.

Jack Meredith:appeared June 2001. Given a four months sentence suspended for 12 months and ordered to pay £500 costs after pleading guilty to six specimen charges of expenses fraud. Meredith, 65, a former mayor and chair of South Yorkshire Passenger Transport Authority, had faced 16 charges of false accounting, the highest number faced by any former or serving member of the authority.

Note: It is not known whether Labour Party membership was withdrawn from the above corrupt despicable dregs of local government.

WHISTLEBLOWERS
The Whistleblowers who alert Labour to corrupt councils are generally frozen out and are not exactly a cherished part of any Labour run Council. Ron Rose, a playwright and Labour Party stalwart was the main force behind outing these corrupt councillors. Rose applied to be a Labour Councillor on 26 November 1998. He was asked at the selection meeting 'Are you willing to abide by the Labour whip at all times?'. Rose's answer was "Not if the party's hiding corruption, I've a duty to expose that." Not surprisingly, he never got selected. Five other candidates, judged by the party's panel to be worthy representatives of the people were later interviewed and charged by the cops. New Labour, for all its talk of openness, seems to have established a pattern whereby selection of local candidates for Councillors seems to favour those councillors who follow the party whip, even if it is detrimental to the community.

TOUGH POLICY GOES SOFT
Tony Blair told a Labour local government conference that corrupt members of the party would be sacked immediately under a tough "one strike and you're out" regime. In February 1998 he said that "the party would set up hit squads to root out corrupt or incompetent councils." Tony Blair, who accepted £100,000 off a porn baron, went on to add "If authorities cannot or will not take the lead, we will have the powers to intervene." Readers of Kirkby Times may well recall John Prescott threatening to intervene over the sale of St Kevs. He never did. 13 members of the Labour Group here called for an investigation over that particular set of events. Kirkby Times wonders what efforts New Labour has taken at National level to investigate the dealings in Knowsley after dismissing the councillors who actually stood up to whistle-blow? After all, Militant had less land deals under their belts but was subject to many party and police investigations. Is it possible Labours 'higher ups' will be taking the lead up here in Knowsley soon? Or would Blair risk losing another Council in some clean up campaign?

LIVERPOOL FOOTBALL CLUB LAND DEAL
Tony Blair was bluffing when he said he'd take the lead and investigate Councils. St Kevin's field is living testament to that. And Windy Harbour sold to Liverpool in a land deal which is the deal of the century and may well have made Liverpool FC enough money to invest in another team. Or another stadium perhaps? Had a private individual done the same land deal - they'd be thought of as insane. Now we see the Council behind this plundering of public funds being touted as the possible Council of the Year. The New Labour spin-doctors behind this are insane enough to back this idea - we are, after all, dealing with people who tell us Blair never lied about Iraq. Living under new Labour is becoming more and more like something straight out of George Orwell's book '1984'.

Thanks to the Guardian, the BBC and the internet in general for supplying some of the facts and figures and the list of the New or Old Labour lowlife.


"Never underestimate the effectiveness of a straight cash bribe." - Claude Cockburn

"The time to guard against corruption and tyranny, is before they shall have gotten hold on us. It is better to keep the wolf out of the fold, than to trust to drawing his teeth and talons after he shall have entered." - Thomas Jefferson, Notes on the State of Virginia (1787) Could have been about Knowsley! We should carve that in stone and put it above Kirkby suite.

"Our worst enemies here are not the ignorant and the simple, however cruel; our worst enemies are the intelligent and corrupt." - Graham Greene, The Human Factor, 1878

Last but not least - "A criminal is a person with predatory instincts who has not sufficient capital to form a corporation." - Howard Scott, The New Dictionary of Thought, 1957
Kirby Times Council Corruption Spotlight