House prices have fallen slightly for the second time in three months, the Nationwide building society has said.
The average price of a home fell 0.2% this month following a 0.9% gain in November, the mortgage lender said. The annual rate of increase, 12.7% as against 15% in November, was at its lowest level in three years.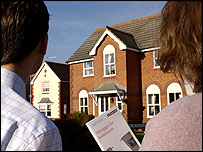 The property boom is finally coming off the boil
Analysts say the figures provide more evidence that the long-running property boom has come to an end after five rate rises took the steam out of the market.
The Nationwide said the housing market was experiencing an "orderly slowdown" following the Bank of England's efforts to cool the market which begun in November 2003.
However, the decline was smaller than expected, which pushed up the value of sterling as hopes waned of a near-term fall in interest rates.
Stable market
Subdued growth in average earnings, and doubts over affordability, which have put off first-time buyers, have also kept a lid on the market.
House prices had trebled since 1995, according to Nationwide, but average pay has risen by only 50% over the same period, making it tough for first-timers to get a foot on the property ladder.
Only 349,000 homes were bought by first-time buyers in 2004, the lowest amount since the mortgage market was deregulated in the mid-1980s.
More and more homeowners have been dropping the asking price for their properties because they no longer expected prices to continue to rise rapidly, Nationwide said.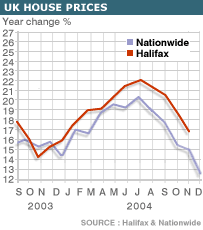 'Soft landing'
The slowdown in December means that the value of the average property rose by just over £17,000 this year - or £47 per day.
"The recent slowdown in monthly house price growth and the falls in housing market activity, in part, reflect the changing economic backdrop," said Alex Bannister, Nationwide's group economist.
"Indications are that following the downward shift in activity and price growth during late 2004, the housing market may be beginning to stabilise."
Looking ahead, Nationwide said property prices were likely to grow by 2% in 2005, but growth of up to 5% was also possible due to a shortage of new houses and the "broadly favourable" economic climate.
Any 1990s-style crash in house prices was ruled out by the Nationwide and analysts.
"House price surveys are still pointing to a relatively soft landing for the UK property market," said Adam Cole, senior currency strategist at RBC Capital Markets.
LINKS :
What rise means to you?
Interest rate rise


With thanks to Action Groups across the country for the supply of real case history and supporting documents. *THAT THE PUBLIC MAY KNOW*