COMMENT: Our Webmaster has no editorial control of the Wealden Action Group's website, although he is a supporter of their good work. Our Webmaster was contacted by Chris Pollard and explained that this website is run separately to the WAG website. Our webmaster is a trustee of Horse Sanctuary UK Limited, a non-profit making company with charitable objects set up to provide care and a home for disadvantaged animals.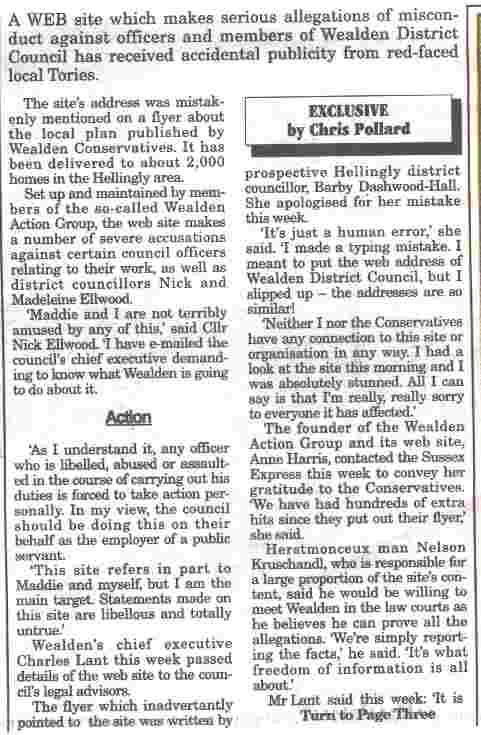 SUSSEX EXPRESS ARTICLE
14 February 2003 18 April 2003
Wealden District Council will not co-operate with our charity to assist our cause. They will not even answer our correspondence. We believe this is because Gordon Worcester roundly defeated this council's Dirty Trio on appeal in obtaining permission to use his farm buildings for stabling rescued animals - giving this Trio a punch in the eye - then we beat these same officers again at appeal in 1997 - giving the 'Trio' and their new sibling, yet another pasting.
But at what cost to the ratepayer? Should these officers have been given authority to bulldoze the buildings and waste yet more of the ratepayers purse on a grudge match? The Planning Inspectorate said not? Injustice? We think so.
IF YOU HAVE ANY GOOD STORIES TO TELL WE'D LIKE TO HEAR FROM YOU.
With thanks to the Wealden Action Group and other Action Groups across the country for the supply of real case history and supporting documents.
*THAT THE PUBLIC MAY KNOW*