Shirley Porter offers £10m to settle vote rigging scandal March 2004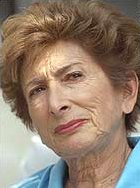 Dame Shirley Porter: sold council homes cheaply to boost Conservative support
Dame Shirley Porter, the former Westminster council leader found guilty of corruption over the "homes for votes" scandal, is seeking a deal to pay only £10 million of her £37 million fine.
A Westminster council official confirmed last night that negotiations were under way between Dame Shirley's lawyers and Stephenson Harwood, the council's lawyers. "A line of communication has been opened up," he said.
Dame Shirley is thought to be exploring a deal in which she would only pay a maximum of £10 million, provided that this represents a full and final settlement and Westminster council does not pursue her for the remaining £27 million.
Even this, however, would represent a capitulation by the Tesco heiress, who fled to Israel in 1994 and has not returned to Britain since, except on rare visits for legal business, while insisting that she could not pay anything.
When ordered by the courts to disclose her wealth in January 2002, Dame Shirley, who inherited more than £60 million, claimed that her fortune had dwindled to only £300,000. That included the value of all her jewellery, her paintings and all her cash in the bank.
She appears to have been forced to the negotiating table after Stephenson Harwood isolated several trust funds in Guernsey with a total value of about £25 million. The trust funds had been set up supposedly to benefit members of the Porter family.
The council's lawyers, however, believe they can show that at least one of those trusts - containing about £10 million - is a sham that exists to give Dame Shirley control of and access to the money in it. Stephenson Harwood also believes that Guernsey trusts containing a further £15 million - linked to her husband Sir Leslie Porter - are in fact controlled by her.
Dame Shirley, the daughter of Jack Cohen who founded the Tesco supermarket chain, led Westminster council in the 1980s when the authority's housing policy was used to try to keep the Conservative Party in power. Labour-voting council tenants were allegedly exported from marginal wards in Westminster, while Tory voters were lured in by selling them homes at reduced prices under right-to-buy legislation.
Dame Shirley and David Weeks, the former deputy leader, guilty of "wilful misconduct" and "gerrymandering". Dame Shirley appealed, but the House of Lords upheld the findings. The law lords agreed that she should repay a £37 million surcharge to the council because of the ratepayers' money she had lost by selling council properties at substantial discounts. They said that her behaviour had been "corrupt" and a "deliberate, blatant and dishonest misuse of public power".
Dame Shirley is believed to have been in contempt of court by refusing to pay the £37 million despite the final ruling. The prospect of a £10 million deal does not appeal to everyone on Westminster council - because if Dame Shirley paid all of the fine originally imposed, Westminster council taxpayers would see their rates reduced by £370 for the following year.
"The council has a duty to ensure that every last penny of the Porter surcharge is recovered on behalf of council ratepayers," said Paul Dimoldenberg, a Labour councillor. "This was the biggest local government scandal ever."
Westminster council officials deny that they have been in any way reluctant to pursue Dame Shirley. They say that a special sub-committee handles the recovery of Dame Shirley's fine. It is comprised of three Tory councillors untainted by connection to the Porter era, and is overseen by the independent Audit Commission.
The sub-committee, however, met only once in the 18 months between December 2001, when it was set up, and the summer of 2003, when BBC Radio 4's Today programme revealed that the council had decided there was no basis to pursue John Porter, Dame Shirley's son, to examine whether some of her assets had been given to him. Nine days after the Today broadcast, the council decided to secure an order requiring John Porter to disclose his bank transactions. It was that step that eventually led to the discovery of the Guernsey trusts.
The council's "recovery sub-committee" will meet again tomorrow to discuss its next action. It is faced with the problem that if the current negotiations with Dame Shirley break down, the council's legal bill - which now stands at around £1.5 million - will continue climbing.
There are also fears that if the fight moves to the courts in Israel, Dame Shirley will file for bankruptcy.
As one person close to the negotiations put it: "The dilemma for the council is whether a bird in the hand now is worth two in the bush." Dame Shirley was unavailable for comment last night. She has consistently claimed that she has been "completely accurate" about the size of her personal assets. Responding to journalists questions late last year, she said: "It is notable that Stephenson Harwood have sought to involve trusts whose principal beneficiaries have no conceivable connection with this case."

Related articles
13.12.2001: Dame Shirley ordered to repay £26.5m for homes scandal
14.12.2001: Analysis: fallout from a struggle of wills
18.06.2001: Tory borough set to cash in on new housing grants
9 November 2002: Court help sought to find assets of Porter
29 December 2001: Porter 'wins more time to pay £27m bill'
14 December 2001: 'Corrupt' Porter told to pay £26m over 'homes for votes'


Useful sites
Westminster city council

Around the Guardian Unlimited network
01.05.1999: Court clears Dame Shirley
05.11.1999: £62 a week for one of London's best addresses. £90 for a council flat
22.07.1999: MP with the taste for a scrap
10.05.1999: New audit condemns Porter over repairs
30.04.1999: Liar Porter must pay £27m
01.05.1999: The dame who never lets go
23.03.1999: Lady Porter 'victim of mud-slinging'
30.04.1999: Dame Shirley wins home-for-votes appeal Dame Shirley of Tel Aviv
14.12.1998: Main players: scandal-hit council's secret plan for pay-offs
10.12.1998: Westminster back in the dock