Chipboard, or particle board, is an engineered sheet made from small wood chippings, bound together by a synthetic resin. It is one of the most cost-effective building materials around. Chipboard is a rigid material and is relatively smooth, meaning it lends itself to paint or even laminate if required. It can serve a number of purposes, from use in packaging to sub-floors and even in the construction of furniture.

It's a cheap and reliable board which is easy to install and fix, and it is this combined with the fact that it is far cheaper than other wood boards that make it a very popular material within the construction industry. If strength and low cost are a priority, chipboard is the ideal material. We supply it in either 18mm or 22mm to suit your needs.

A lot of flatpack kitchen units and work surfces are made of plastic faced chipboard.

Tongue and grooved floorboard sheets 2.4m x 600mm are also popular.

Chipboard
Conifer
Cherry
Dahoma
Dant
Douglas fir
Elm
Greenheart
Iroko
Khaya
Ligneous
Mahogany
Maple
Meranti
MDF
Oak
Oak, European
Opepe
Okoume
Pine
Pitch Pine
Plywood
Poplar
Redwood, European
Sapele
Sitka Spruce
Southern Yellow Pine
Teak
Utile
Walnut
Western Hemlock
Western Red Cedar
Whitewood, European


Bamboo is versatile and has notable economic and cultural significance in South Asia, Southeast Asia, and East Asia, being used for building materials, as a food source, and as a raw product, and depicted often in arts, such as in bamboo paintings and bambooworking. Bamboo, like wood, is a natural composite material with a high strength-to-weight ratio useful for structures. Bamboo's strength-to-weight ratio is similar to timber, and its strength is generally similar to a strong softwood or hardwood timber.
Wood is good. It is a natural material growing all over the planet as trees. As these trees grow, they convert carbon dioxide to timber for humans to harvest and cut up in sawmills, after the dead tree has had time to season.
Planting more trees than we cut down is one way of sustainably managing forests, so that we don't upset the balance and reduce the carbon sink that keeps our planet cool. Unfortunately, some logging is not properly policed, such as the clearing of large swathes of jungle, to grow cash crops.
We should be going the other way, re-wilding areas, instead of farming them. But, wood is useful to build houses and make furniture. Hence, we should plan our assault on the natural world more carefully. Even if it means creating laws to stop the plunder in the Amazon and other rainforests.
We also need wood to make plywood, MDF, stirling board and chipboard. Wood is the basis of paper and cardboard. Pound for pound, some timbers are stronger than steel.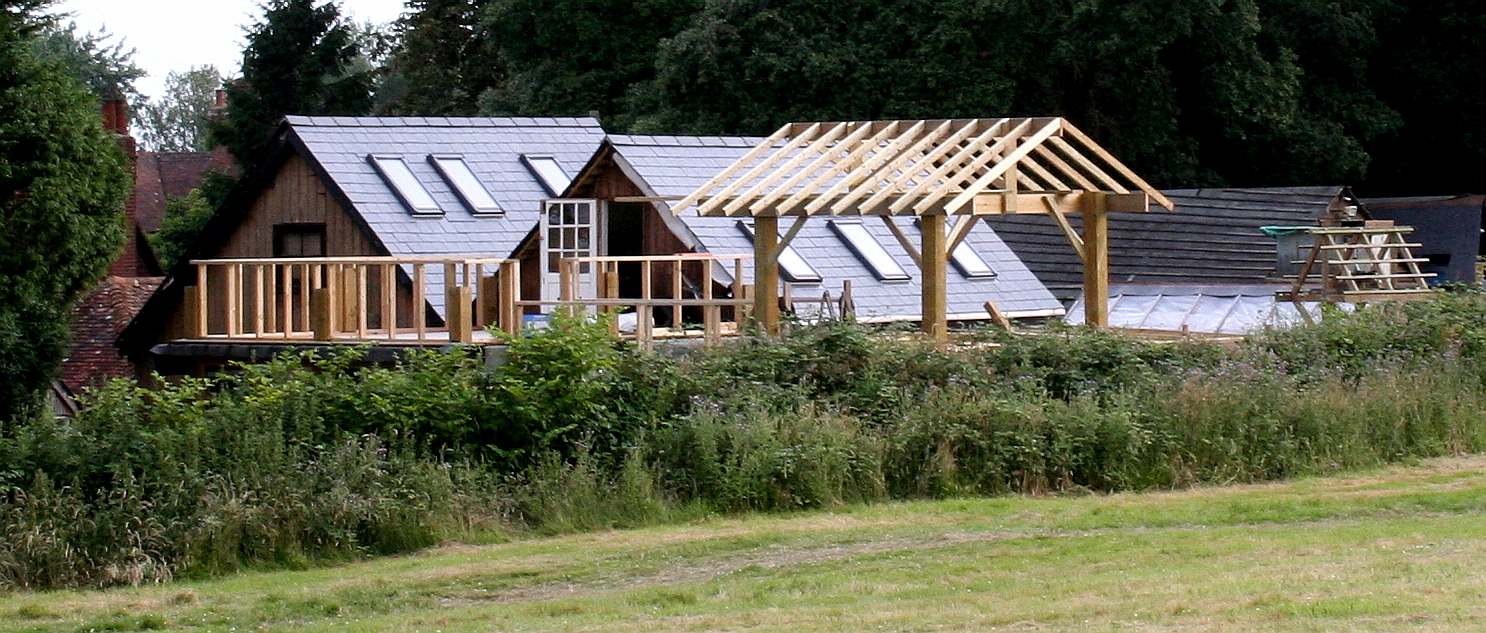 WOOD - This building dating from C. 1900 is of wooden construction, seen here undergoing re-roofing in 2018. When built the timbers were not treated. Amazingly, despite serious flora invasion and insects, the building is in relatively good condition. A good example of carbon lock, and something that perhaps a circular economy should be based on.
HERSTMONCEUX GENERATING STATION
The generating station just 400 yards from Gardner (High) Street, in the Sussex village of Herstmonceux, is the oldest surviving early example of municipal electricity generation, in a rural setting in the whole world. For this reason the generating buildings are now being converted by the Lime Park Heritage Trust. At present, the complex enjoys no reasonable of beneficial use to pay for general maintenance and security, as a heritage asset in a relatively exposed position, and constructed of timber. Fortunately, the walkers in this field are a great bunch. Very friendly and chat with each other. Also keeping an eye out for anything out of the ordinary.