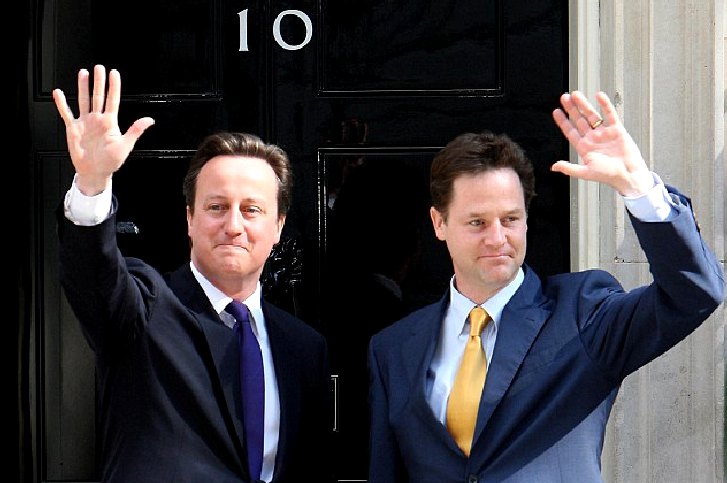 LIBERAL DEMOCRATS SELL OUT - As Deputy Prime Minister Nick Clegg embraced the renewal of the Trident nuclear deterrent, albeit with three submarines rather than four. How the UK can afford so many nuclear submarines and a couple more aircraft carriers with our National Debt so high beats the hell out of us.
The Liberal Democrats are a political party that joined forces with the Conservatives in 2010 following a general election revelation from voters that the public had no real preference for any of the election promises - mainly because the policies were all about nothing - or the voters believed that they would come to naught, which amounts to the same thing - and they did.
ENVIRONMENT

In pursuit of the parties' policies on creation of "a low carbon and eco-friendly economy", a range of measures would be adopted. In transport, a high speed rail network would be established, while the proposed third runway at London Heathrow Airport would be cancelled, and no new runways would be approved for London Gatwick Airport or London Stansted Airport.

The legislation required for the building of new nuclear power stations would proceed, without public subsidy for the projects. Any new coal-fired power stations would be required to implement carbon capture and storage, while the targets for energy from renewable sources would be increased, subject to the advice of the Climate Change Committee.

Other measures include a smart grid, smart meters and feed-in tariffs, a green investment bank would be created, and promotion of anaerobic digestion of waste for energy, marine energy, home energy improvement, green spaces and wildlife corridors, and electric car recharging networks. Home Information Packs would be abolished, albeit retaining the energy performance certificates. Import or export of illegal timber would be criminalized.

BUDGET DEFICIT

To tackle the budget deficit and national debt, the agreement detailed "significantly accelerated reduction in the structural deficit" over the Parliament, with £6,000,000,000 cuts to be made in the financial year 2010–11, with plans to be published in an emergency budget within fifty days.

David Cameron, the new prime minister, welcomes his deputy prime minister, Nick Clegg, to Downing Street for their first day of coalition government.
The United Kingdom has many political parties, some of which are represented in the House of Commons and the House of Lords. Below are links to the websites of the political parties that were represented in the House of Commons after the 2015 General Election:
SOCIAL DEMOCRATIC AND LABOUR PARTY
LIBERAL DEMOCRAT LINKS
http://www.lewes-eastbourne.gov.uk/