The Clydesdale breed originated in the Clyde Valley, Lanarkshire, Scotland, in the mid-eighteenth century, when the Sixth Duke of Hamilton (1742 - 1758) imported a flemish stallion (male horse) from Flanders (a region of Northern Europe currently encompassed by France, Belgium, and the Netherlands). Itís from this stallion mating with a work horse mare that the Clydesdale breed developed.
A PAIR OF CLYDESDALES
Following contributions from Flemish and Frisian stallions, the definitive characteristics of the breed were fixed at the beginning of the eighteenth century. This breedís official debut under the name Clydesdale was at the 1826 Glasgow Exhibition in Scotland. The Clydesdale was bred for hauling coal and doing farm work. In Scotland it eventually replaced the Shire breed as a carriage horse.
WORLDWIDE DISTRIBUTION
Clydesdales are bred in the United States, Canada, United Kingdom, Africa, New Zealand and Australia. Clydesdales were introduced to the United States Prior to the Civil War.
USA FACTS
The estimated United States Clydesdale population is between 2,500 and 3,000. Approximately 400 Clydesdales are registered in the United States each year. Anheuser-Busch currently maintains the largest Clydesdale herd in the world, between 225 and 250 horses.
One of two breeding farms for the Anheuser-Busch Clydesdales is Grantís Farm, located in south St. Louis, Missouri. Approximately 15 to 20 foals (a horse under six months of age) are born there each year. Grantís Farm is the former home of Ulysses S. Grant, Civil War commander and the eighteenth president of the United States.
The second breeding farm is located near Romoland, California, about 60 miles southeast of Los Angeles. Approximately 15 to 20 foals are born there each year.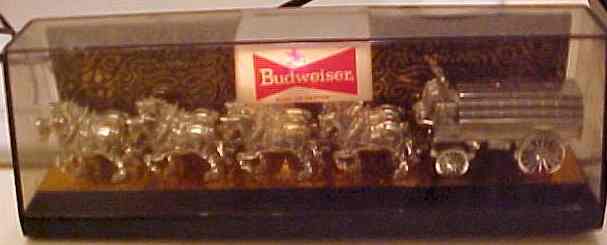 BUDWEISER CASH REGISTER GLASS CLYDESDALES
Scientific Classification History and Distribution Physical Characteristics
Senses Behavior Diet and Eating Habits Birth and Care of Young
Longevity and Causes of Death Anheuser-Busch Clydesdale Teams