After spending 14 years virtually inseparable, never apart day or night it is with great sadness that Brickfields must report the death of Bud on November 24th 2003. Fearing that Weiser would pine badly for his twin, extra care was taken to make sure he was never alone, therefore he was immediately moved in with the other Shires, where he has fortunately settled well.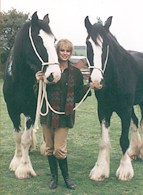 Joanna Lumley
Since their birth on 1st August 1989 the unique twins, Bud and Weiser, have become Britains most famous Shire horses. Their mother, Country Girl, was sent to Furze Hill Stud near Farnham in Surrey, to foal down.This decision probably saved the lives of all three as no-one knew she was carrying two foals. Bud and Weiser took everyone by surprise, but thanks to Sue Backh, her staff and vet Stuart Duncan they had the best possible attention.
Bud was the first to be born, arriving just twenty minutes ahead of his brother. Both he and his mother were badly affected by the birth and took several days to recover. Although it is not unusual for a mare of any breed to carry twins, it is very rare for two to be born alive, and in fact only one other set of twin Shires has ever been recorded, that being in America.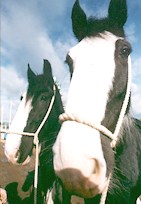 Bud & Weiser
From the very beginning Bud and Weiser developed a quite amazing bond which has persisted ever since. Their relationship is quite uncanny and so close that they undoubtedly know what their other twin is thinking! Many of their actions such as stretching or yawning are virtually simultaneous.